Open Access This article is
freely available
re-usable
Review
Taxon- and Site-Specific Melatonin Catabolism
Johann Friedrich Blumenbach Institute of Zoology and Anthropology, University of Göttingen, Bürgerstr 50, D-37073 Göttingen, Germany
Received: 3 November 2017 / Accepted: 20 November 2017 / Published: 21 November 2017
Abstract
:
Melatonin is catabolized both enzymatically and nonenzymatically. Nonenzymatic processes mediated by free radicals, singlet oxygen, other reactive intermediates such as HOCl and peroxynitrite, or pseudoenzymatic mechanisms are not species- or tissue-specific, but vary considerably in their extent. Higher rates of nonenzymatic melatonin metabolism can be expected upon UV exposure, e.g., in plants and in the human skin. Additionally, melatonin is more strongly nonenzymatically degraded at sites of inflammation. Typical products are several hydroxylated derivatives of melatonin and
N
1
-acetyl-
N
2
-formyl-5-methoxykynuramine (AFMK). Most of these products are also formed by enzymatic catalysis. Considerable taxon- and site-specific differences are observed in the main enzymatic routes of catabolism. Formation of 6-hydroxymelatonin by cytochrome P
450
subforms are prevailing in vertebrates, predominantly in the liver, but also in the brain. In pineal gland and non-mammalian retina, deacetylation to 5-methoxytryptamine (5-MT) plays a certain role. This pathway is quantitatively prevalent in dinoflagellates, in which 5-MT induces cyst formation and is further converted to 5-methoxyindole-3-acetic acid, an end product released to the water. In plants, the major route is catalyzed by melatonin 2-hydroxylase, whose product is tautomerized to 3-acetamidoethyl-3-hydroxy-5-methoxyindolin-2-one (AMIO), which exceeds the levels of melatonin. Formation and properties of various secondary products are discussed.
Keywords:
5-methoxytryptamine; CNS; dinoflagellates; indole metabolism; kynuramines; plants; yeast
1. Introduction
While melatonin biosynthesis is frequently studied and considered to be highly relevant, the awareness of melatonin catabolism is largely restricted to a very few compounds, among which some of them are often thought to be more or less irrelevant because they are mostly found in low quantities. The relatively fast hepatic catabolism by cytochrome P
450
subforms that preferably leads to 6-hydroxymelatonin is known to limit the presence of melatonin in the blood. Therefore, this process is often believed to represent the only route of biological significance. However, at a closer look, such a view turns out to be too much centered on the circulation and on mammals. The disregard of melatonin catabolism in other organs can be misleading, since metabolites other than 6-hydroxymelatonin may attain relevant concentrations in some tissues and also in the cerebrospinal fluid (CSF), as will be discussed in this article. Moreover, conditions can exist under which another catabolic route can become more important, as has been found to occur under the influence of inflammation [
1
,
2
]. Generally, it seems important to distinguish between the different roles of melatonin within an organism, roles that exceed that of a hormone in the classic definition [
3
] as being released from a specific gland and distributed via the circulation. Melatonin is known to be synthesized in numerous organs and cells, and the quantities of extrapineal melatonin are by orders of magnitude higher than those in the pineal gland and in the circulation [
4
,
5
]. The role of 6-hydroxymelatonin is closely associated with melatonin's function of a short-lived chronobiological signaling factor that is rapidly eliminated by conversion to an easily excretable compound. 6-Hydroxylation is the prerequisite of conjugation, mainly by sulfation, which leads to the urinary metabolite 6-sulfatoxymelatonin. These requirements are not necessarily valid for many other tissues that produce melatonin in high quantities, but often release it only in low amounts [
4
,
6
]. The fate of extrapineal melatonin in tissues is often incompletely understood.
Another need related to considering other routes of melatonin catabolism follows from the discovery of this compound in almost all taxa tested, including bacteria, various phyla of eukaryotic unicells, plants, fungi and invertebrate animals [
7
,
8
,
9
]. As will be outlined in this article, considerable differences exist concerning the quantitative prevalence of specific catabolic pathways between major taxa. The differences will be also discussed in terms of the properties of the respective major metabolites. These properties can be decisive for understanding the biological meaning of the pathways in ecologically different groups of organisms. Moreover, these considerations will not only be restricted to enzymatic mechanisms, but also comprise nonenzymatic reactions based on reactive oxygen and nitrogen species (ROS, RNS) and, in particular, photochemical reactions that are of importance at sites exposed to UV light.
3. Other Hydroxylation Mechanisms
Hydroxylations are possible by enzymatic and nonenzymatic reactions. From a fundamental point of view, nonenzymatic hydroxylation by free radicals should be possible in any aerobic species, in any cell type and also in the extracellular space. However, this does not imply by any means that the rates of these reactions are always more or less the same. In fact, the quantitative relevance of these reactions can strongly vary, depending on free radical-generating processes that may be strongly increased, in vertebrates, e.g., by inflammation or, in many organisms, at sites exposed to environmental stress, such as UV radiation, in phototroph species even by visible light that causes free radical formation in the photosystems.
4. The Deacetylation Pathway
5. Formation of Kynuramines and Their Secondary Products
To date, studies on AMK have been mainly restricted to vertebrates or cell-free chemical systems. Moreover, AMK is not always easily accessible to experimental approaches because of its low concentrations. However, it is important to be aware that concentration may be mainly of importance for effects mediated via binding sites. Other effects concerning modification of reaction partners may instead be determined by rates of formation, especially if the adduct is rather stable. Because of its high reactivity, AMK can rapidly disappear even when it is generated at reasonable rates. Perhaps, it might be recommendable to not only determine AMK levels, but also to measure in the future amounts of its stable products, such as AMMC and MQA, which may allow conclusions on formation rates that are not deduced from AMK concentrations.
6. Conclusions
In vertebrates, nonenzymatic melatonin catabolism can be assumed to be elevated at sites of inflammation, because of the increased rates of superoxide and HOCl release by neutrophils and macrophages. In all these cases, enhanced nonenzymatic melatonin hydroxylation, e.g., to cyclic 3-hydroxymelatonin, and generation of AFMK and AMK can be expected. If AMK is formed under inflammatory conditions, the concomitant release of •NO should lead to AMMC. In plants, too little is yet known about AMK.
Conflicts of Interest
The author declares no conflict of interest.
Figure 1.
The main catabolic route of circulating melatonin in vertebrates. Abbreviations: ASMT,
N
-acetylserotonin
O
-methyltransferase (formerly known as hydroxyindole
O
-methyltransferase, HIOMT); CYP, cytochrome P
450
. Hydroxylation and demethylation reactions by CYP isoforms, as indicated, are not only known from liver, but also from the brain [
1
]. Nonenzymatic formation of 6-hydroxymelatonin by free radicals is also chemically possible, but of minor importance relative to the CYP-dependent pathway.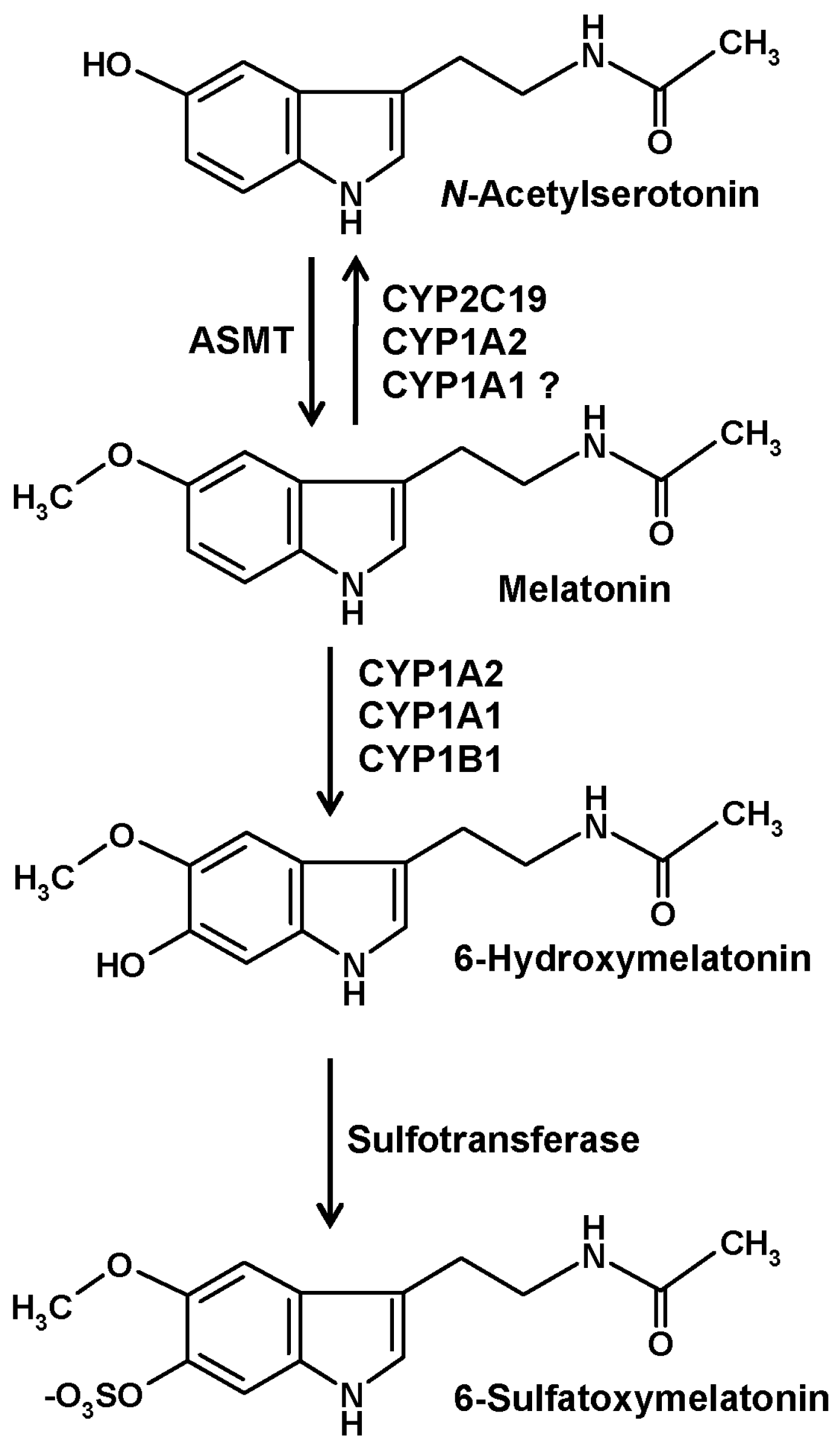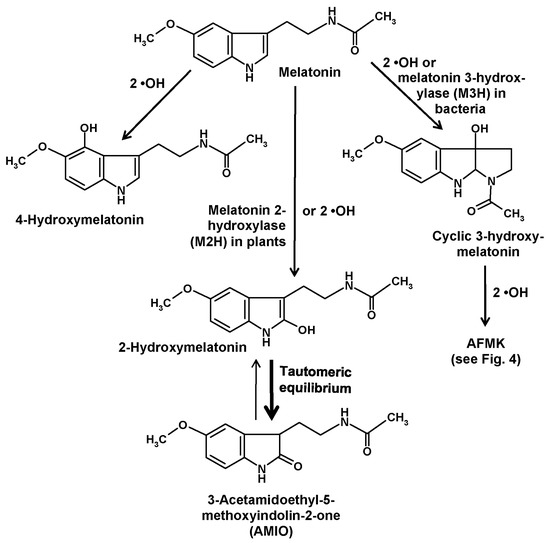 Figure 2.
Hydroxylation reactions at ring atoms 2, 3, and 4 of melatonin. Abbreviation: AFMK,
N
1
-acetyl-
N
2
-formyl-5-methoxykynuramine.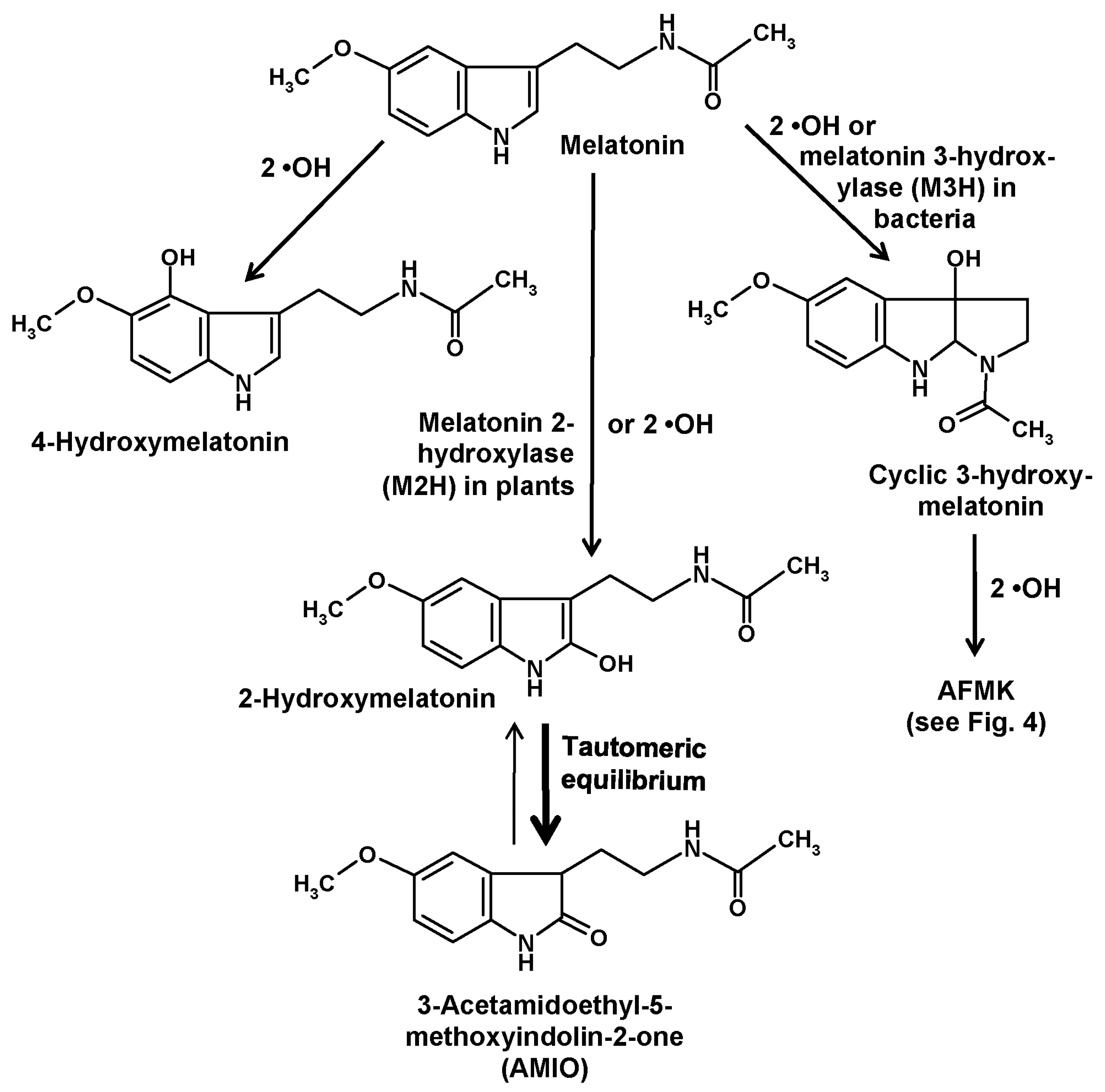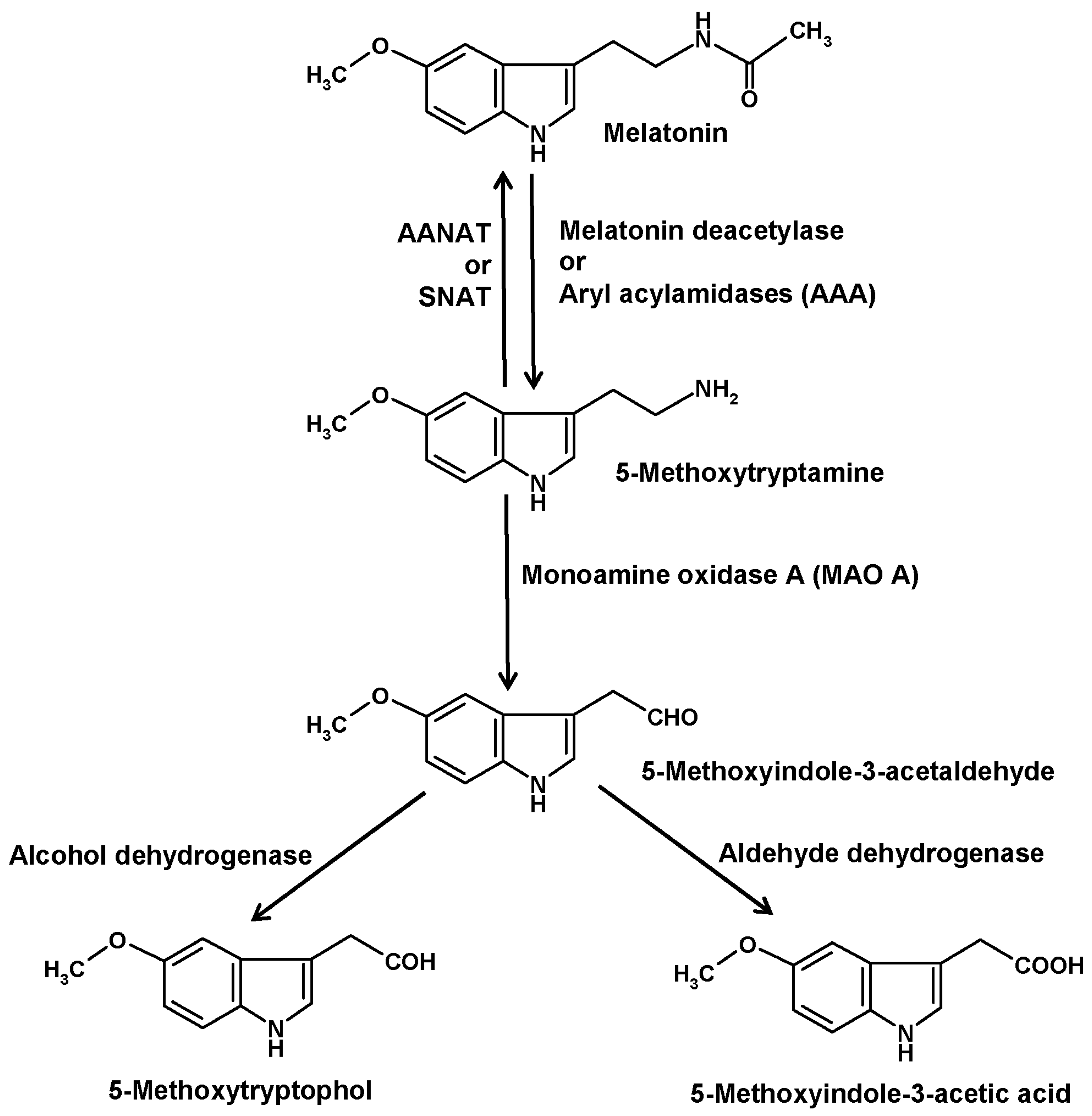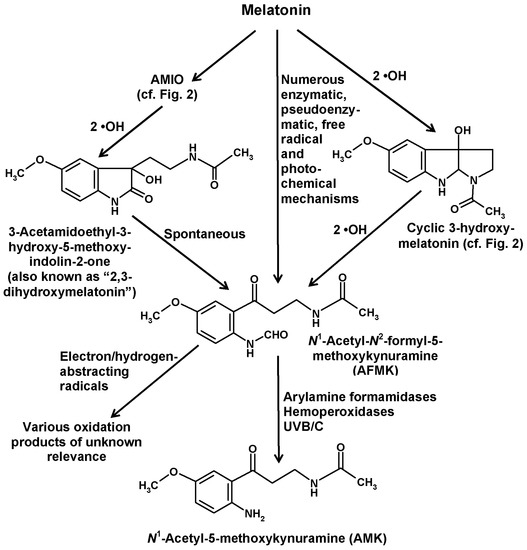 Figure 4.
Formation of the kynuric metabolites AFMK and AMK from melatonin. Abbreviation: AMIO, 3-acetamidoethyl-5-methoxyindolin-2-one. For further details of reactions leading to AFMK formation from melatonin see References [
29
,
89
,
90
]. Products from oxidation of AFMK by electron/hydrogen-abstracting radicals have been characterized in Reference [
121
].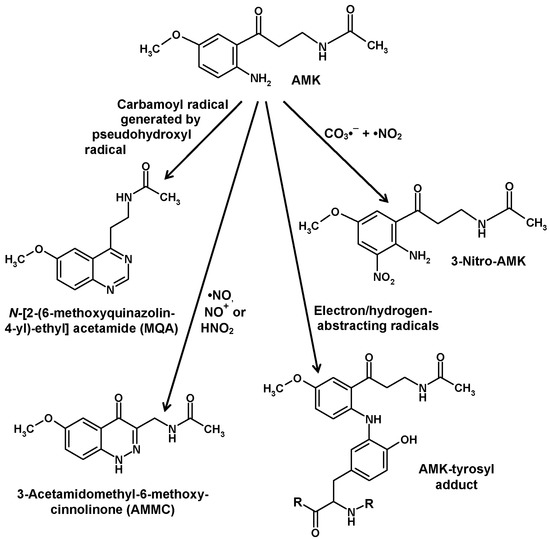 Figure 5.
Various nonenzymatic reactions of
N
1
-acetyl-5-methoxykynuramine (AMK). The AMK-tyrosyl adduct, as it was concluded to occur in some proteins, was deduced from interactions of AMK with the tyrosine side chain fragment, 4-ethylphenol [
139
]. Additionally, electron/hydrogen-abstracting radicals led to the formation of several chemically identified AMK dimers and oligomers [
138
] and to noncharacterized products formed by interaction with tryptophan [
29
].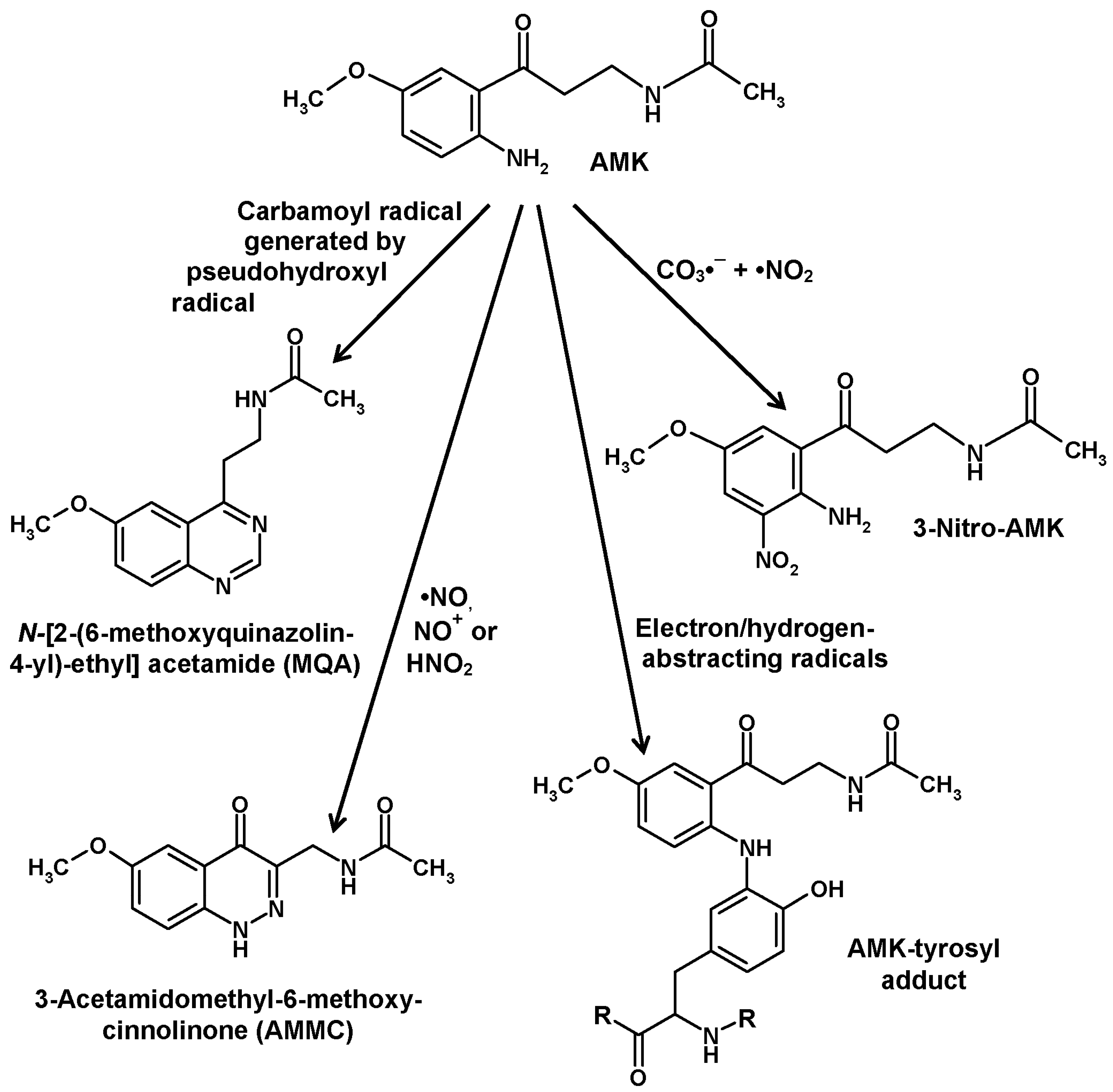 © 2017 by the author. Licensee MDPI, Basel, Switzerland. This article is an open access article distributed under the terms and conditions of the Creative Commons Attribution (CC BY) license (http://creativecommons.org/licenses/by/4.0/).