An Experimental Study to Evaluate the Protective Effects of
Solanum lycopersicum

Seed Essential Oil on Diabetes-Induced Testicular Injuries

1

DVM Student, Faculty of Veterinary Medicine, Razi Universtiy, Kermanshah 6714414971, Iran

2

Department of Basic and Pathobiological Sciences, Faculty of Veterinary Medicine, Razi Universtiy, Kermanshah 6714414971, Iran

3

Fertility & Infertility Research Center, Kermanshah University of Medical Sciences, Kermanshah 6715847141, Iran

*

Authors to whom correspondence should be addressed.

Received: 22 June 2019 / Revised: 14 August 2019 / Accepted: 15 August 2019 / Published: 19 August 2019
Background and Objectives
: Diabetes is a chronic metabolic disorder that can effectively influences male reproductive performance. The present study was conducted to investigate the protective effects of
Solanum lycopersicum
essential oil (SL) on diabetes-induced testicular injuries.
Materials and Methods
: Adult male rats were randomly allocated into five groups (n = 8 in each group). 1: control; 2: diabetic; 3: diabetic + 30 mg/kg of SL essential oil; 4: diabetic + 90 mg/kg of SL essential oil; 5: diabetic + 270 mg/kg of SL essential oil extract. Diabetes was induced by a single dose of streptozotocin (55 mg/kg) intraperitoneally. Testicular changes were assessed quantitatively using stereological method followed by measuring antioxidant enzymes including catalase, superoxide dismutase, and glutathione peroxidase, and the serum testosterone level. Malondialdehyde (MDA) levels and
Bcl
-2expression were also evaluated in the tissue samples.
Results
: Diabetes resulted in significant deleterious changes in the structure of testicular tissue, suppressed antioxidant enzymes and testosterone levels, and increased lipid peroxidation. The expression of
Bcl
-2 was downregulated in diabetic testis and resulted in enhanced apoptosis. Following 8 weeks of treatment with SL essential oil, there were noticeable improvements in the structural changes of testis and the restoration of antioxidant defense and testosterone levels in testicular tissue, especially at higher doses.
Conclusion
: In conclusion, these findings reveal that the essential oil of
Solanum lycopersicum
has potent antioxidant properties and can attenuate the adverse effects of diabetes on male reproduction.
View Full-Text
►

▼

Show Figures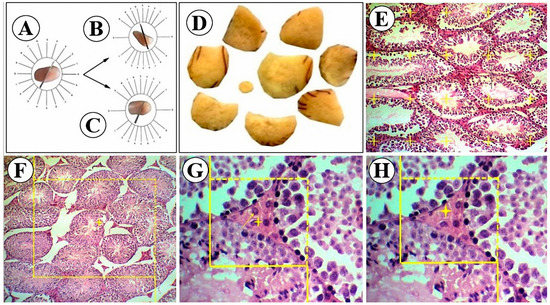 Figure 1
This is an open access article distributed under the
Creative Commons Attribution License
which permits unrestricted use, distribution, and reproduction in any medium, provided the original work is properly cited

MDPI and ACS Style
Kermani, J.; Goodarzi, N.; Bakhtiari, M. An Experimental Study to Evaluate the Protective Effects of Solanum lycopersicum Seed Essential Oil on Diabetes-Induced Testicular Injuries. Medicina 2019, 55, 499.
Show more citation formats
Show less citations formats
Note that from the first issue of 2016, MDPI journals use article numbers instead of page numbers. See further details
here
.