Open Access This article is
freely available
re-usable
Review
Irisin as a Multifunctional Protein: Implications for Health and Certain Diseases
1
Department of Glycoconjugate Biochemistry, Institute of Zoology and Biomedical Research, Faculty of Biology, Jagiellonian University, Gronostajowa 9, 30-387 Krakow, Poland
2
Department of Ergonomics and Exercise Physiology, Faculty of Health Sciences, Jagiellonian University, Medical College, Grzegorzecka 20, 31-531 Krakow, Poland
*
Author to whom correspondence should be addressed.
Received: 29 June 2019 / Accepted: 12 August 2019 / Published: 15 August 2019
Abstract
:
Sedentary life style is considered to be an independent risk factor for many disorders, including development of type 2 diabetes, obesity, immune dysfunction, asthma, and neurological or coronary heart disease. Irisin is released from myocytes during physical activity, and acts as a link between muscles and other tissues and organs. This myokine is produced as a result of proteolytic cleavage of FNDC5 protein present in the membrane of myocytes. Secretion of irisin is regulated by
N
-linked oligosaccharides attached to the protein molecule. The two
N
-glycan molecules, which constitute a significant part of the irisin glycoprotein, regulate the browning of adipocytes, which is the most important function of irisin. A receptor specific for irisin has still not been discovered. In some tissues irisin probably acts via integrins, which are widely expressed transmembrane receptors. Many studies have confirmed the multifunctional role of irisin and the beneficial effects of this molecule on body homeostasis. Irisin reduces systemic inflammation, maintains the balance between resorption and bone formation, and modulates metabolic processes and the functioning of the nervous system. It suppresses the expression and release of pro-inflammatory cytokines in obese individuals and attenuates inflammation in adipose tissue. The impact of irisin on cancer cell proliferation, migration, and invasion has also been demonstrated in numerous studies, which proves its role in carcinogenesis. Owing to these pleiotropic and beneficial properties, irisin may be a potential option to prevent and treat civilization-related diseases which are, nowadays, considered to be the major health problems in Western societies.
Keywords:
irisin; FNDC5;
N
-glycosylation; physical activity; obesity; inflammation; cancers
1. Introduction
Skeletal muscle is the largest organ in the human body [
1
]. During or immediately after physical exercise myocytes secrete molecules called myokines, mainly chemokines and cytokines. Myokines regulate a variety of metabolic processes in various tissues and organs, such as liver, bones, brain, or fat tissue through endocrine, paracrine, or autocrine signaling pathways. The major myokines include interleukin 6 (IL-6), monocyte chemotactic protein 1 (MCP1), insulin-like growth factor-1 (IGF-1), and myostatin [
2
,
3
]. In 2012, Boström et al. reported the discovery of a new molecule that is secreted by myocytes. That molecule was able to induce changes in adipose tissue and activate thermogenesis [
4
]. Moreover, that molecule was proposed to act as a link between the muscles and other tissues of the body; the newly discovered protein has been called "irisin," derived from the name of the Greek goddess Iris [
5
]. Since then, irisin has been the subject of extensive research, which enabled the gaining of insight into its pleiotropic properties.
2. Structure and
N

-Glycosylation of Irisin
3. Occurrence, Serum Concentration, and Possible Receptors of Irisin
Irisin is an adipomyokine secreted mainly by skeletal muscles as well as subcutaneous and visceral adipose tissues. Immunohistochemical studies showed that smaller amounts of irisin are also produced by testes, liver, pancreas, brain, spleen, heart, and stomach [
16
,
17
]. Boström et al. demonstrated that the level of irisin increases in the blood after physical exercise. They observed a 65% increase in irisin concentration in mice running regularly for 3 weeks. An increase in the level of this adipomyokine by two times was also found in the blood of healthy people after 10 weeks of supervised training [
4
]. Irisin concentration was found to be higher in active rather than in sedentary subjects (
p
= 0.006), and its level also depends on the activities performed at residential place, because its levels were found to be significantly higher in the serum of rural individuals compared to urban inhabitants (
p
< 0.0001) [
18
]. Furthermore, physical exercise is known to increase the level of irisin in people with metabolic disorders [
19
]. However, the impact of exercise on irisin concentration in the blood is not clear. People who train regularly usually show a lower irisin serum level [
20
]. It is suspected that the type of physical activity plays a role, because irisin upregulation was noted after high-intensity exercise [
21
] and after resistance training, but not after endurance exercise [
22
]. Whole-body vibration training also contributes to the elevation of irisin concentration [
23
]. In addition to physical exercise, diet, and hormonal regulation also affect the irisin levels [
24
]. The pathological conditions associated with different diseases significantly influence the release of irisin into the blood circulation. Lower irisin concentrations were observed in obese individuals and patients suffering from type 2 diabetes [
25
], chronic renal failure [
26
], and prolonged hypothyroidism [
27
]. The concentration of irisin was found to be about 3.6 ng/mL in the blood of sedentary people and rises to 4.3 ng/mL in active subjects [
15
].
Till date, no specific receptor for irisin has been identified. The results of recent studies have shown that in some tissues irisin exerts its action via binding to integrins, especially the members of αv integrin family [
28
]. Integrins are widely expressed transmembrane receptors that bind extracellular matrix ligands (cell–matrix interactions), membrane proteins of neighboring cells (intercellular interactions), and recognize soluble ligands [
29
]. They are responsible for the adhesion, migration, and aggregation of cells [
30
]. Stable noncovalent interactions between 18 α-subunits and eight β-subunits produce 24 functionally different integrin heterodimers [
29
]. Kim et al. demonstrated the binding of irisin to several integrins present in the fat cells and osteocytes, including α1β1, and with the highest affinity, to α
V
β5 integrin. The treatment of osteocytes with irisin significantly increased the phosphorylation level of focal adhesion kinase (FAK), the major intracellular signal molecule responsible for integrin signaling. The use of RGD peptide which binds to αvβ5 and acts as an integrin inhibitor, suppressed any signaling response triggered by irisin. The authors suggest that the heterodimers belonging to the αv integrin family are probably the main receptors for irisin in all the tissues [
28
].
4. Pleiotropic Activity of Irisin
5. Conclusions
The health-promoting effects of physical activity have always been known. The discovery of irisin in 2012 by Boström et al. revealed for the first time the role of this protein in causing the beneficial effects of exercise at a macromolecular level. Shortly after the discovery of irisin, numerous studies proved that this myokine is released into the circulation during physical exercise and that it is a multifunctional protein that regulates the biological functioning of various cells and tissues (
Table 1
). The activity and serum concentration of this myokine depends on the physiological and/or pathological state.
Most of the functions predicted for irisin require further studies to confirm or verify the previous results. First of all, the precise mechanism of irisin action has to be determined, from an interaction with the receptor, through a cascade of the intracellular signal transmission, to the direct effect on target cell metabolism, or with the release of biologically active factors. A recombinant non-glycosylated form of irisin has been used in most of the functional studies. As it was mentioned in
Section 2
,
N
-glycosylation of irisin is crucial to its secretion and the browning of adipocytes (
Figure 2
), and it seems possible that
N
-glycans also affect other activities of irisin. Future studies should be aimed at determining other glycosylation-dependent irisin functions and potential glycosylation changes that occur in pathological conditions, because numerous studies have demonstrated that glycosylation of different proteins is subject to change, mainly in carcinogenesis [
95
,
96
] and inflammation [
97
]. The detailed analysis of irisin glycosylation patterns and the effects of this post-translational modification on irisin actions are also crucial in the context of prophylactic and therapeutic uses of irisin.
Author Contributions
P.K. prepared the original draft of manuscript and the
Figure 1
and
Table 1
; E.P. reviewed and edited the manuscript, and drew
Figure 2
; A.M.-B. wrote
Section 4.5
and reviewed the manuscript.
Funding
This review paper was supported by the research projects No. N43/DBS/000047 (Department of Ergonomics and Exercise Physiology, Faculty of Health Sciences, Jagiellonian University, Medical College) and K/ZDS/008062 (Department of Glycoconjugate Biochemistry, Faculty of Biology, Jagiellonian University).
Conflicts of Interest
The authors declare no conflict of interest.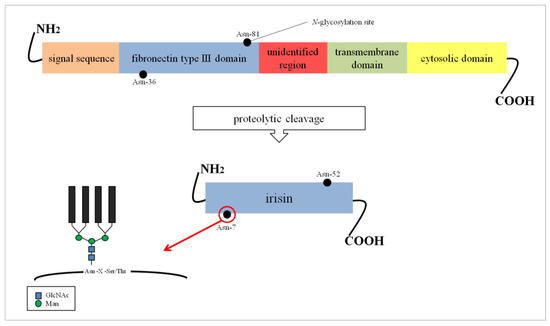 Figure 1.
FNDC5 structure and formation of irisin. The potential
N
-glycosylation sites are marked as black dots. Asn, asparagine; GlcNAc, N-acetylglucosamine; Man, mannose; Ser, serine; Thr, threonine; X, any amino acid except proline.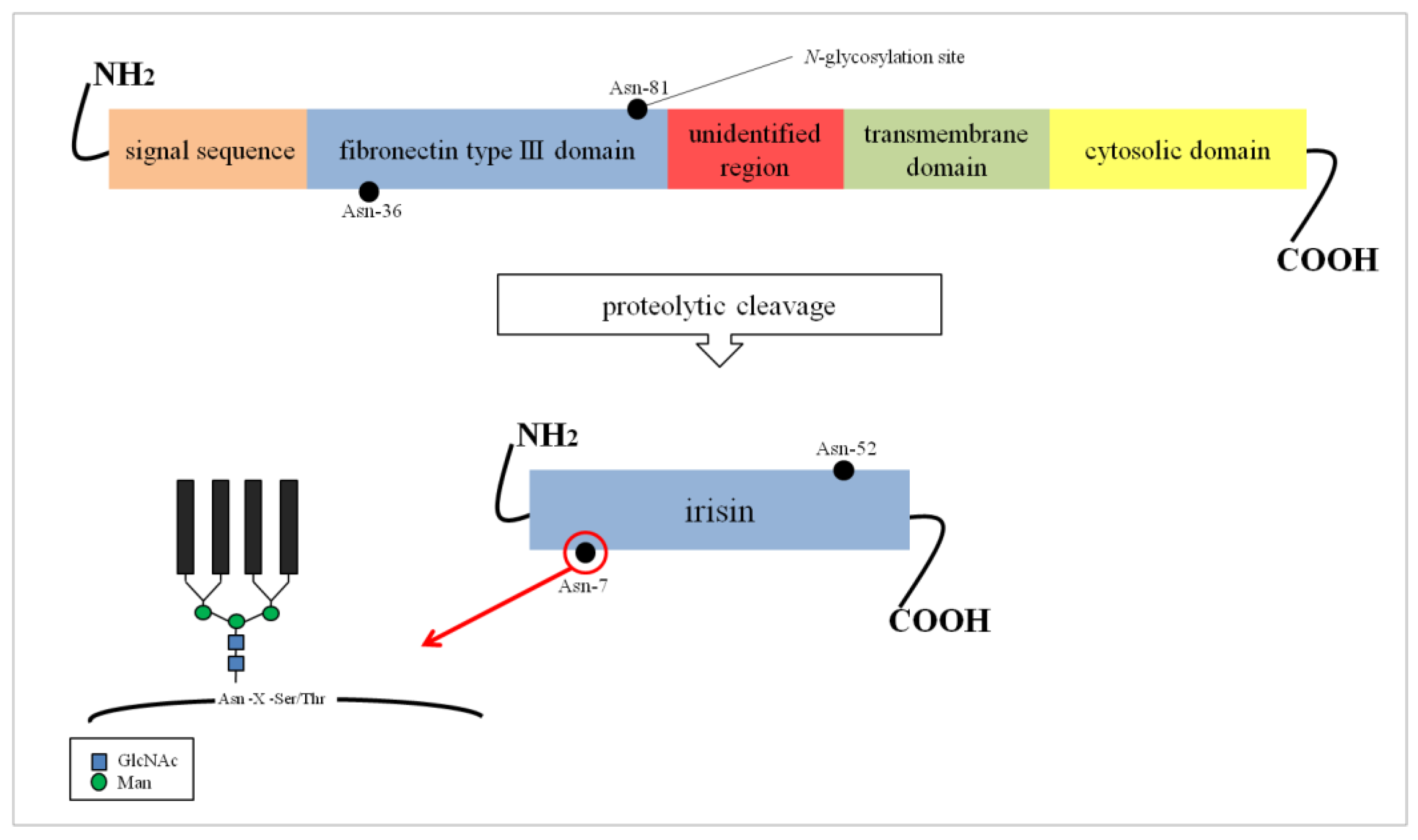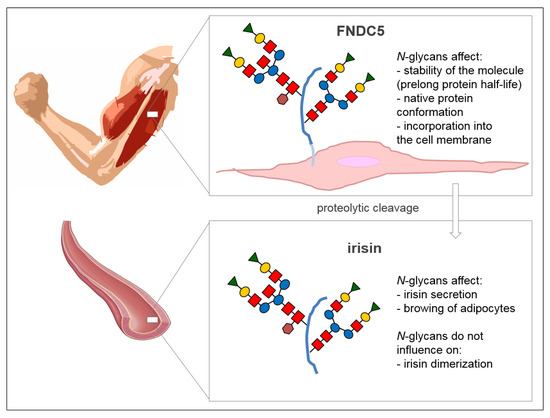 Figure 2.
The role of
N
-glycans attached to FNDC5 and irisin proteins. Schematic structure of
N
-glycan: Red squares,
N
-acetylglucosamine; blue circles, mannose; yellow circles, galactose; green triangles, sialic acid; brown hexagons, fucose. Scheme of an artery comes from the website SMART Sevier Medical Art (
https://smart.servier.com
) published by Les Laboratoires Servier.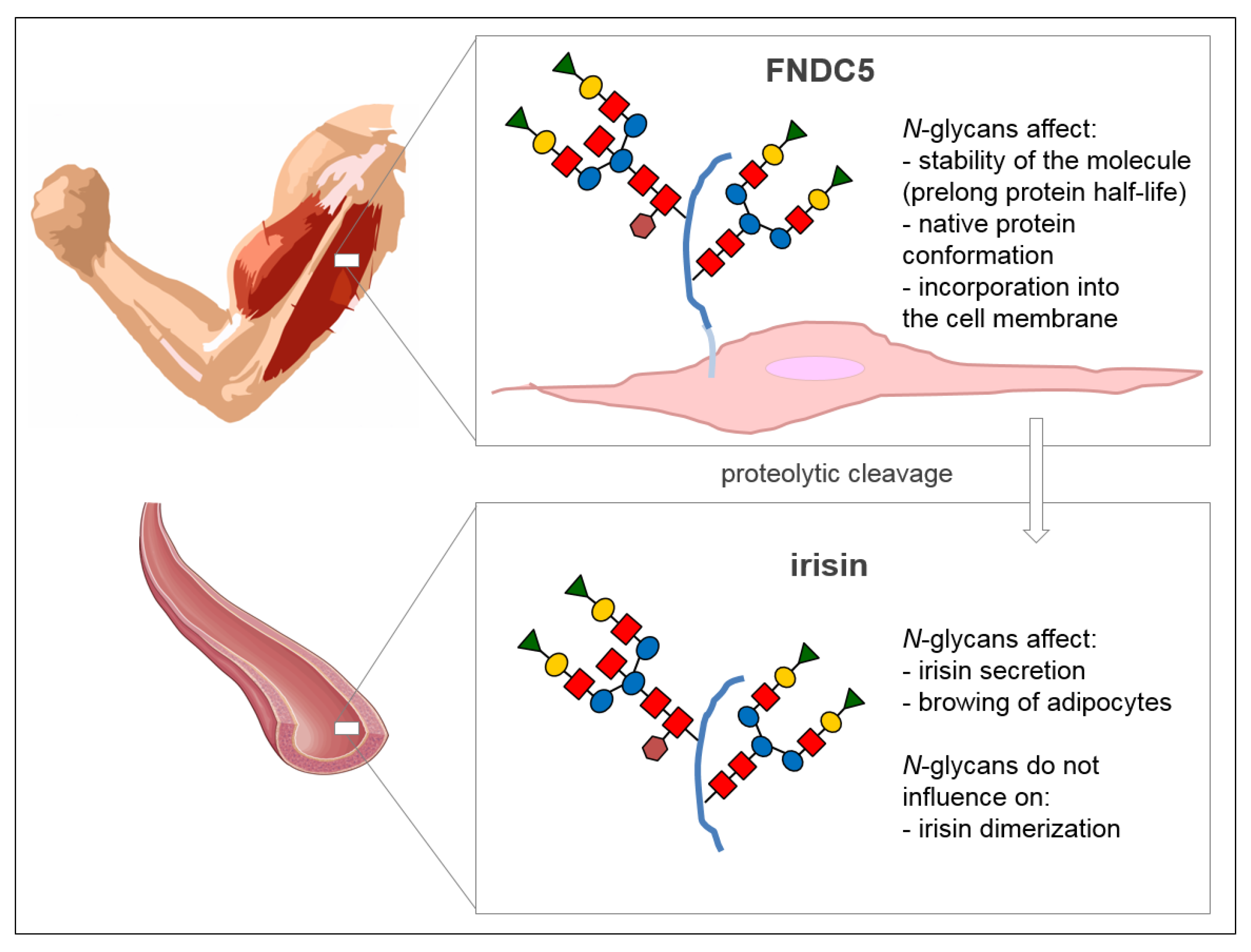 Physiological/Pathological Conditions
Irisin Activity
References
Adipose (obesity)
BAT
—Modulation of UCP-1 expression in mitochondria and enhancement of thermogenesis
[36,37,38]
—Increase of energy consumption and metabolism of lipids and glucose
WAT
—Increase of UCP-1 expression, leading to a conversion of the phenotype to BAT (browning)
[14,39]
Nervous system
—Induction of hippocampal neurogenesis by regulation of BDNF expression
[44,47]
—Reduction of neuronal injury
[48]
Bones
—Increase of cortical bone mass and strength, enhancement of osteoblast differentiation process
[54,55]
—Induction or inhibition of sclerostin expression
[28,61]
—Increase in volumetric BMD or no relationship
[59,60]
Inflammation
—Enhancement of macrophage activity and proliferation, improvement of phagocytosis, and reduction of ROS production
[65]
—Increase of the expression of antioxidative enzymes
[66]
—Reduction of the release of proinflammatory cytokines
[67]
Carcinogenesis
—Suppression of proliferation, migration, and viability of breast, pancreatic, osteosarcoma and lung cancer cells
[89,90,91,92]
—No effect on colon, esophageal, thyroid, and endometrial cancer cell progression
[93]
—Promotion of proliferation, migration, and invasion of hepatocellular cancer cells
[94]

© 2019 by the authors. Licensee MDPI, Basel, Switzerland. This article is an open access article distributed under the terms and conditions of the Creative Commons Attribution (CC BY) license (http://creativecommons.org/licenses/by/4.0/).