Irisin as a Multifunctional Protein: Implications for Health and Certain Diseases
1
Department of Glycoconjugate Biochemistry, Institute of Zoology and Biomedical Research, Faculty of Biology, Jagiellonian University, Gronostajowa 9, 30-387 Krakow, Poland
2
Department of Ergonomics and Exercise Physiology, Faculty of Health Sciences, Jagiellonian University, Medical College, Grzegorzecka 20, 31-531 Krakow, Poland
*
Author to whom correspondence should be addressed.
Received: 29 June 2019 / Revised: 8 August 2019 / Accepted: 12 August 2019 / Published: 15 August 2019
Sedentary life style is considered to be an independent risk factor for many disorders, including development of type 2 diabetes, obesity, immune dysfunction, asthma, and neurological or coronary heart disease. Irisin is released from myocytes during physical activity, and acts as a link between muscles and other tissues and organs. This myokine is produced as a result of proteolytic cleavage of FNDC5 protein present in the membrane of myocytes. Secretion of irisin is regulated by
N
-linked oligosaccharides attached to the protein molecule. The two
N
-glycan molecules, which constitute a significant part of the irisin glycoprotein, regulate the browning of adipocytes, which is the most important function of irisin. A receptor specific for irisin has still not been discovered. In some tissues irisin probably acts via integrins, which are widely expressed transmembrane receptors. Many studies have confirmed the multifunctional role of irisin and the beneficial effects of this molecule on body homeostasis. Irisin reduces systemic inflammation, maintains the balance between resorption and bone formation, and modulates metabolic processes and the functioning of the nervous system. It suppresses the expression and release of pro-inflammatory cytokines in obese individuals and attenuates inflammation in adipose tissue. The impact of irisin on cancer cell proliferation, migration, and invasion has also been demonstrated in numerous studies, which proves its role in carcinogenesis. Owing to these pleiotropic and beneficial properties, irisin may be a potential option to prevent and treat civilization-related diseases which are, nowadays, considered to be the major health problems in Western societies.
View Full-Text
►

▼

Show Figures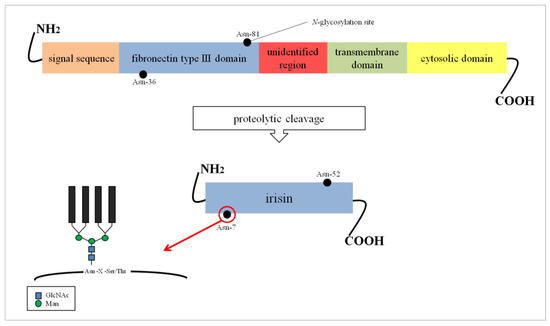 Figure 1
This is an open access article distributed under the
Creative Commons Attribution License
which permits unrestricted use, distribution, and reproduction in any medium, provided the original work is properly cited

Note that from the first issue of 2016, MDPI journals use article numbers instead of page numbers. See further details
here
.