A Novel Noninvasive Approach Based on SPECT and EEG for the Location of the Epileptogenic Zone in Pharmacoresistant Non-Lesional Epilepsy
1
Nuclear Medicine Department, International Center for Neurological Restoration, 11300 Havana, Cuba
2
Department of Nuclear Medicine and Molecular Imaging, University Medical Center Groningen, 9713 GZ Groningen, The Netherlands
3
Department of Radiology, Division of Nuclear Medicine, University of Michigan, Ann Arbor, MI 48103, USA
4
Neurophysiology Department, International Center for Neurological Restoration, 11300 Havana, Cuba
5
Neuroinformatics Department, Cuban Neuroscience Center, 11300 Havana, Cuba
*
Author to whom correspondence should be addressed.
Received: 24 June 2019 / Revised: 5 August 2019 / Accepted: 8 August 2019 / Published: 14 August 2019
Abstract
Background and objectives
: The aim of this study is to propose a methodology that combines non-invasive functional modalities electroencephalography (EEG) and single photon emission computed tomography (SPECT) to estimate the location of the epileptogenic zone (EZ) for the presurgical evaluation of patients with drug-resistant non-lesional epilepsy.
Materials and Methods
: This methodology consists of: (i) Estimation of ictal EEG source imaging (ESI); (ii) application of the subtraction of ictal and interictal SPECT co-registered with MRI (SISCOM) methodology; and (iii) estimation of ESI but using the output of the SISCOM as a priori information for the estimation of the sources. The methodology was implemented in a case series as an example of the application of this novel approach for the presurgical evaluation. A gold standard and a coincidence analysis based on measures of sensitivity and specificity were used as a preliminary assessment of the proposed methodology to localize EZ.
Results
: In patients with good postoperative evolution, the estimated EZ presented a spatial coincidence with the resection site represented by high values of sensitivity and specificity. For the patient with poor postoperative evolution, the methodology showed a partial incoherence between the estimated EZ and the resection site. In cases of multifocal epilepsy, the method proposed spatially extensive epileptogenic zones.
Conclusions
: The results of the case series provide preliminary evidence of the methodology's potential to epileptogenic zone localization in non-lesion drug-resistant epilepsy. The novelty of the article consists in estimating the sources of ictal EEG using SISCOM result as a prior for the inverse solution. Future studies are necessary in order to validate the described methodology. The results constitute a starting point for further studies in order to support the clinical reliability of the proposed methodology and advocate for their implementation in the presurgical evaluation of patients with intractable non-lesional epilepsy.
View Full-Text
►

▼

Figures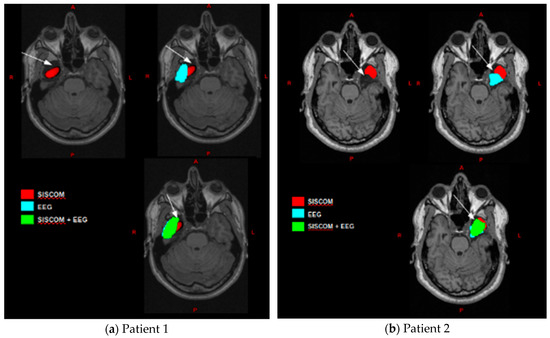 Figure 1
This is an open access article distributed under the
Creative Commons Attribution License
which permits unrestricted use, distribution, and reproduction in any medium, provided the original work is properly cited (CC BY 4.0).

Share & Cite This Article
MDPI and ACS Style
Batista García-Ramó, K.; Sanchez Catasus, C.A.; Morales Chacón, L.; Aguila Ruiz, A.; Sánchez Corneaux, A.; Rojas López, P.; Bosh Bayard, J. A Novel Noninvasive Approach Based on SPECT and EEG for the Location of the Epileptogenic Zone in Pharmacoresistant Non-Lesional Epilepsy. Medicina 2019, 55, 478.
Note that from the first issue of 2016, MDPI journals use article numbers instead of page numbers. See further details here.
Comments
[Return to top]