The Novel Nature Microtubule Inhibitor Ivalin Induces G2/M Arrest and Apoptosis in Human Hepatocellular Carcinoma SMMC-7721 Cells In Vitro
1
College of Marine Science, Shandong University, Weihai 264209, China
2
School of Pharmaceutical Sciences, Shandong University, Jinan 250012, China
3
The Key Laboratory of Chemistry for Natural Product of Guizhou Province and Chinese Academy of Science, Guiyang 550002, China
*
Author to whom correspondence should be addressed.
†
These authors contributed equally to this study.
Received: 30 June 2019 / Revised: 2 August 2019 / Accepted: 8 August 2019 / Published: 12 August 2019
Abstract
Background and Objectives
: Microtubules are an attractive target for cancer chemotherapy. Previously, we reported that Ivalin exhibited excellent anti-migration and anti-invasion activities in human breast cancer cells. Here, we examined the microtubule inhibition effect of Ivalin in human hepatocellular carcinoma SMMC-7721 cells.
Materials and Methods
: We used the 3-(4,5-dimethylthiazol)-2,5-diphenyltetrazolium bromide (MTT) assay to evaluate the cell proliferation effect of Ivalin and flow cytometry analysis to detect the apoptotic and cell cycle arrest effects of Ivalin. Immunofluorescence staining was used to measure the effect of Ivalin on the cytoskeleton network, and Western blotting was used to detect the expression levels of Bax, Bcl-2, Cdc2, phosphor-Cdc2, Cdc25A, Cyclin B1, and tubulin.
Results
: Ivalin induced cell cycle G2/M arrest and subsequent triggered apoptosis in human hepatocellular carcinoma SMMC-7721 cells. Furthermore, microtubules were shown to be involved in Ivalin-meditated apoptosis. In this connection, Ivalin treatment suppressed cellular microtubule network formation by regulating microtubule depolymerization. Moreover, Western blotting revealed Cdc25A and Cyclin B1 were upregulated in Ivalin-meditated cell cycle arrest. Subsequently, the induction of Bax (a proapoptotic protein) and reduction of Bcl-2 (an anti-apoptotic protein) expression were observed in Ivalin-treated SMMC-7721 cells.
Conclusion
: Ivalin induced microtubule depolymerization, then blocked cells in mitotic phase, and eventually resulted in apoptosis in SMMC-7721 cells. Collectively, these data indicate that Ivalin, acting as a novel inhibitor of microtubules, could be considered as a promising lead in anticancer drug development.
View Full-Text
►

▼

Figures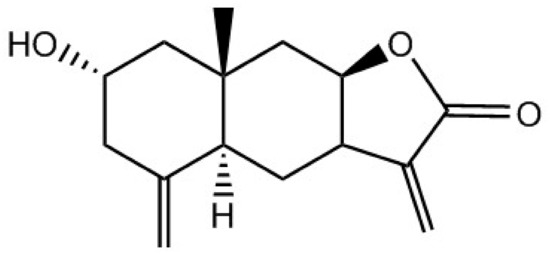 Figure 1
This is an open access article distributed under the
Creative Commons Attribution License
which permits unrestricted use, distribution, and reproduction in any medium, provided the original work is properly cited (CC BY 4.0).

Share & Cite This Article
MDPI and ACS Style
Liu, F.; Lin, S.; Zhang, C.; Ma, J.; Han, Z.; Jia, F.; Xie, W.; Li, X. The Novel Nature Microtubule Inhibitor Ivalin Induces G2/M Arrest and Apoptosis in Human Hepatocellular Carcinoma SMMC-7721 Cells In Vitro. Medicina 2019, 55, 470.
Note that from the first issue of 2016, MDPI journals use article numbers instead of page numbers. See further details here.
Comments
[Return to top]