The Meaning in Life in Suicidal Patients: The Presence and the Search for Constructs. A Systematic Review
1
Department of Psychiatry, Faculty of Medicine, University of Geneva (UNIGE), 1206 Geneva, Switzerland
2
Department of Psychiatry, ASO Santi Antonio e Biagio e Cesare Arrigo Hospital, 15121 Alessandria, Italy
3
Department of Neurosciences, Mental Health and Sensory Organs, Suicide Prevention Center, Sant'Andrea Hospital, Sapienza University of Rome, 00185 Rome, Italy
*
Author to whom correspondence should be addressed.
Medicina 2019, 55(8), 465; https://doi.org/10.3390/medicina55080465 (registering DOI)
Received: 13 June 2019 / Revised: 3 August 2019 / Accepted: 6 August 2019 / Published: 11 August 2019
Abstract
Background and Objectives:
Research on suicidal behavior (SB) has frequently focused more on risk factors than protective factors. Since the historic works of Viktor E. Frankl, who inquired how some Nazi concentration camps prisoners maintained their will to live though confronted with pervasive absurdity, Meaning in Life (MiL) has been interpreted as a potent resiliency factor. MiL then declined along a multitude of theoretical perspectives and was associated with various functioning domains of the individual. Surprising, few studies investigated the role of MiL on SB. We aimed to review and synthetize current literature on possible associations between MiL and SB, which included suicidal ideation (SI), suicidal attempts (SA), and completed suicide, focusing on two MiL constructs (the presence of MiL and search for MiL) from the Michael F. Steger's recent conceptualization.
Material and
Methods:
A systematic strategy following PRISMA guidelines was used to search for relevant articles in Pubmed/MEDLINE, Scopus, PsycINFO, and ScienceDirect (January 1980–February 2019) and yielded 172 articles, 37 of which met our inclusion criteria.
Results:
MiL emerged as a protective factor against SI, SA, and completed suicides, directly or through mediation/moderation models with other SB-related variables. When distinguishing the presence of MiL and the search for MiL, a consensual protective impact was described for the former. Data for the latter were less consistent but rather oriented towards a non-protective impact
Conclusions:
These findings could have clinical repercussions for SB prevention, in both suicide risk assessment refinement and psychotherapeutic interventions. Further research is needed to examine the dynamic interplay of the two constructs.
View Full-Text
►

▼

Figures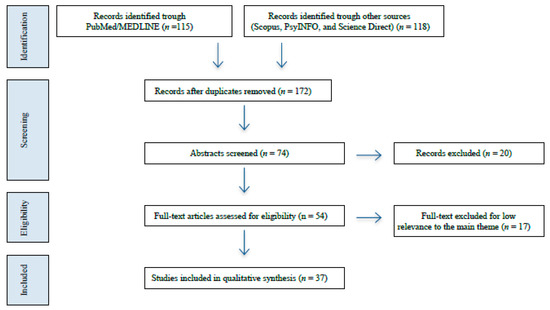 Figure 1
This is an open access article distributed under the
Creative Commons Attribution License
which permits unrestricted use, distribution, and reproduction in any medium, provided the original work is properly cited (CC BY 4.0).
Share & Cite This Article
MDPI and ACS Style
Costanza, A.; Prelati, M.; Pompili, M. The Meaning in Life in Suicidal Patients: The Presence and the Search for Constructs. A Systematic Review. Medicina 2019, 55, 465.
Note that from the first issue of 2016, MDPI journals use article numbers instead of page numbers. See further details here.
Comments
[Return to top]