Epicardial Adipose Tissue Accumulation and Essential Hypertension in Non-Obese Adults
1
Department of Public Health, Institute of Health Sciences, Faculty of Medicine, Vilnius University, LT-03101 Vilnius, Lithuania
2
Department of Radiology, Nuclear Medicine and Medical Physics, Institute of Biomedical Sciences, Faculty of Medicine, Vilnius University, LT-08406 Vilnius, Lithuania
3
Gemeinschaftsklinikum Mittelrhein gGmbH, Academic Educational Hospital of the Johannes Gutenberg University of Mainz, 56073 Koblenz, Germany
4
Department of Physiology, Biochemistry, Microbiology and Laboratory Medicine, Institute of Biomedical Sciences, Faculty of Medicine, Vilnius University, LT-03101 Vilnius, Lithuania
*
Author to whom correspondence should be addressed.
Received: 2 July 2019 / Revised: 3 August 2019 / Accepted: 7 August 2019 / Published: 9 August 2019
Abstract
Background and Objectives
: Epicardial adipose tissue (EAT) is shown to be an important factor in the development of coronary artery disease, but numerous pathophysiological mechanisms of its action are still only partially understood. There is a lack of studies on its association with different grades of essential hypertension (EH). Therefore, we aimed to evaluate the association between size of EAT depots and the risk of EH taking into account its grade.
Materials and Methods
: Non-obese adult patients with various cardiovascular diseases were investigated: 157 of them had essential hypertension and 101 did not. Hypertensive patients were assigned to three groups according to the grade of hypertension. EAT volume and thickness on ventricular free walls (6 locations) and grooves (5 locations) were measured using cardiac magnetic resonance imaging and compared between groups. A regression model for the prediction of EH was constructed.
Results
: In general, thickness (in all locations) and volume of EAT depots was greater among hypertensive patients than in normotensive (NORM) group. Mean EAT thickness in all 11 locations and EAT volume were lower in NORM than in grade 1 hypertension group; similarly, EAT volume was lower in grade 1 than in grade 2 hypertension group. EAT accumulation did not differ between grade 2 and severe hypertension groups. EAT volume, dyslipidaemia status, body mass index, and age were independent predictors for EH in regression model.
Conclusions
: EAT accumulation is larger among hypertensive than normotensive individuals. Measurement of EAT depots could be beneficial for identification of hypertensive patients and prediction of hypertension severity.
View Full-Text
►

▼

Figures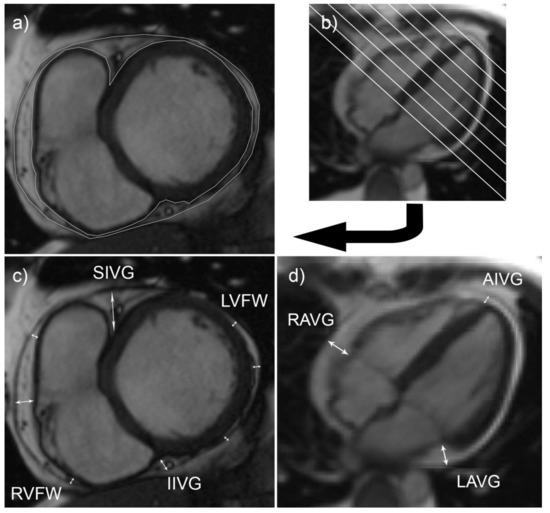 Figure 1
This is an open access article distributed under the
Creative Commons Attribution License
which permits unrestricted use, distribution, and reproduction in any medium, provided the original work is properly cited (CC BY 4.0).

Share & Cite This Article
MDPI and ACS Style
Austys, D.; Dobrovolskij, A.; Jablonskienė, V.; Dobrovolskij, V.; Valevičienė, N.; Stukas, R. Epicardial Adipose Tissue Accumulation and Essential Hypertension in Non-Obese Adults. Medicina 2019, 55, 456.
Note that from the first issue of 2016, MDPI journals use article numbers instead of page numbers. See further details here.
Comments
[Return to top]