Temporary Fixation of Reduction with Fabric Adhesive Bandage in the Surgical Treatment of Pediatric Supracondylar Humerus Fractures
1
Department of Orthopaedics and Traumatology, Duzce State Hospital, Düzce 81000, Turkey
2
Department of Orthopaedics and Traumatology, Bandırma Royal Hospital, Balıkesir 10000, Turkey
3
Department of Orthopaedics and Traumatology, Duzce University, Medical Faculty, Düzce 81000, Turkey
4
Department of Orthopaedics and Traumatology, Cizre State Hospital, Şırnak 73200, Turkey
5
Department of Orthopaedics and Traumatology, Çorum Hitit University, Medical Faculty, Çorum 19000, Turkey
*
Author to whom correspondence should be addressed.
Received: 27 June 2019 / Revised: 5 August 2019 / Accepted: 6 August 2019 / Published: 7 August 2019
(This article belongs to the Special Issue
Trauma care
)
Abstract
Background and objectives:
Supracondylar humerus fractures are common in children and can be surgically treated. However, the general surgical procedures involving reduction and fixation might lead to reduction loss, failure to direct the Kirschner (K)-wire toward the desired position, prolonged surgery, or chondral damage. This study aimed to show that temporary fixation of closed reduction with a fabric adhesive bandage in pediatric supracondylar humerus fractures could maintain reduction so that surgical treatment can be easily performed by a single physician.
Materials and Methods:
Forty-six patients with Gartland type 3 supracondylar humerus fractures who underwent surgical treatment between May 2017 and June 2018 were retrospectively evaluated. Fluoroscopy-guided reduction and fixation were performed from the distal third of the forearm to the proximal third of the humerus using a fabric adhesive bandage. Two crossed pins were applied on the fracture line by first inserting a lateral-entry K-wire and then inserting another K-wire close to the anterior aspect of the medial epicondyle and diverging from the ulnar nerve tunnel. A tourniquet was not applied in any patient and no patients required open reduction.
Results:
The study included 32 boys (69.6%) and 14 girls (30.4%) (mean age, 7.1; range, 2–16 years). The mean hospital stay and follow-up duration were 4.3 ± 3.9 days and 48.1 ± 14.3 weeks, respectively. Heterotopic ossification was detected in one patient, and ulnar nerve neuropraxia was detected in another patient. Functional (according to Flynn criteria) and cosmetic outcomes were excellent in 95.6%, moderate in 2.2%, and poor in 2.2% of patients. The mean duration of fixation of the closed reduction with a fabric adhesive bandage was 8.1 ± 3.9 min, and the mean duration of pinning was 7.9 ± 1.4 min.
Conclusions:
Temporary preoperative fixation of supracondylar humerus fractures that require surgical treatment with a fabric adhesive bandage may be significantly convenient in practice.
View Full-Text
►

▼

Figures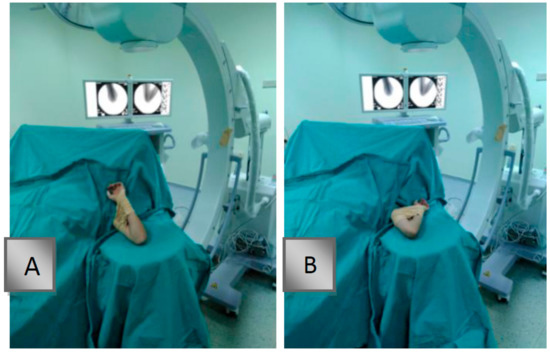 Figure 1
This is an open access article distributed under the
Creative Commons Attribution License
which permits unrestricted use, distribution, and reproduction in any medium, provided the original work is properly cited (CC BY 4.0).

Share & Cite This Article
MDPI and ACS Style
Turhal, O.; Kınaş, M.; Karaduman, Z.O.; Turhan, Y.; Kaya, O.; Güler, C. Temporary Fixation of Reduction with Fabric Adhesive Bandage in the Surgical Treatment of Pediatric Supracondylar Humerus Fractures. Medicina 2019, 55, 450.
Note that from the first issue of 2016, MDPI journals use article numbers instead of page numbers. See further details here.
Comments
[Return to top]