Rising Trends in Hospitalizations for Cardiovascular Events among Young Cannabis Users (18–39 Years) without Other Substance Abuse
1
Division of Cardiology, Atlanta Veterans Affairs Medical Center, Decatur, GA 30033, USA
2
Division of Cardiovascular Medicine, University of California Davis Medical Center, Sacramento, CA 95817, USA
3
Public Health, Western Kentucky University, Bowling Green, KY 42101, USA
4
Smell & Taste Treatment and Research Foundation, Chicago, IL 60611, USA
5
Public Health, New York University, New York, NY 10010, USA
6
Department of Internal Medicine, Texas Health Arlington Memorial Hospital, Arlington, TX 76012, USA
7
Department of Health Sciences, Coleman College of Health Sciences, Houston, TX 77030, USA
8
Division of Gastroenterology and Hepatology, The Wright Center for Graduate Medical Education, Scranton, PA 18503, USA
*
Author to whom correspondence should be addressed.
Received: 28 June 2019 / Revised: 1 August 2019 / Accepted: 2 August 2019 / Published: 5 August 2019
Background and objectives:
Modern-day epidemiologic data on the risk and shifting landscape of occurrence of cardiovascular events in cannabis users remain inadequate and rather conflicting, especially amongst the young adult population. Furthermore, the problem of polysubstance use among youth is challenging for healthcare professionals and policy-makers. Previous studies report higher risk of concomitant use of tobacco, alcohol, cocaine, and amphetamine in young cannabis users. However, most of these studies did not eliminate the confounding effects of concomitant other substance abuse while assessing the incidence and outcome of cardiovascular events in cannabis users.
Materials and methods:
Using weighted discharge records from the National Inpatient Sample (NIS) from 2007–2014, we assessed the national trends in hospitalizations for major cardiovascular events including acute myocardial infarction (AMI), arrhythmia, stroke, and venous thromboembolic events (VTE) among young cannabis users (18–39 years), excluding cases with concomitant substance abuse with alcohol, tobacco, cocaine, and amphetamine.
Results:
Of 52.3 million hospitalizations without other substance abuse, 0.7 million (1.3%) young adults were current/former cannabis users. Among young adults without concomitant substance abuse, the frequency of admissions for AMI (0.23% vs. 0.14%), arrhythmia (4.02% vs. 2.84%), and stroke (0.33% vs. 0.26%) was higher in cannabis users as compared to non-users (
p
< 0.001). However, the frequency of admissions for VTE (0.53% vs. 0.84%) was lower among cannabis users as compared non-users. Between 2007 and 2014, we observed 50%, 79%, 300%, and 75% relative increases in hospitalizations for AMI, arrhythmias, stroke, and VTE, respectively, among young cannabis users as compared to non-users, showing relatively inferior or no ascent in the rates (
p
trend
< 0.001).
Conclusions:
The rising trends in hospitalizations for acute cardiovascular events among young cannabis users without concomitant other substance abuse call for future prospective well-designed studies to assess cannabis-related short-and long-term cardiovascular implications while simultaneously developing focused interventions towards raising awareness among the young population regarding the potential deleterious effects of cannabis use.
View Full-Text
►

▼

Show Figures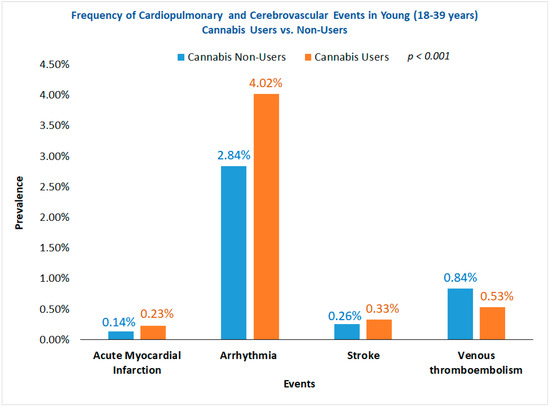 Figure 1
This is an open access article distributed under the
Creative Commons Attribution License
which permits unrestricted use, distribution, and reproduction in any medium, provided the original work is properly cited

MDPI and ACS Style
Desai, R.; Fong, H.K.; Shah, K.; Kaur, V.P.; Savani, S.; Gangani, K.; Damarlapally, N.; Goyal, H. Rising Trends in Hospitalizations for Cardiovascular Events among Young Cannabis Users (18–39 Years) without Other Substance Abuse. Medicina 2019, 55, 438.
Show more citation formats
Show less citations formats
Note that from the first issue of 2016, MDPI journals use article numbers instead of page numbers. See further details
here
.