Advanced Drug-Eluting Poly (Vinyl Chloride) Surfaces Deposited by Spin Coating
1
Department of Science and Engineering of Oxide Materials and Nanomaterials, Politehnica University of Bucharest, 011061 Bucharest, Romania
2
SC Microsin SRL, 032364 Bucharest, Romania
3
Academy of Romanian Scientists, 050094 Bucharest, Romania
4
Department of Microbiology and Immunology, Faculty of Biology, University of Bucharest, 050095 Bucharest, Romania
5
Department of Microbiology and Immunology, Faculty of Biology, Research Institute of the University of Bucharest, 050107 Bucharest, Romania
*
Author to whom correspondence should be addressed.
Received: 3 June 2019 / Revised: 15 July 2019 / Accepted: 19 July 2019 / Published: 30 July 2019
Background and objectives:
Medical devices such as catheters are used on a large scale to treat heart and cardiovascular diseases. Unfortunately, they present some important drawbacks (structure failure, calcifications, infections, thrombosis, etc.), with the main side effects occurring due to adhesion and proliferation of bacteria and living cells on the surface of the implanted devices. The aim of this work is to modify the surface of polyvinyl chloride (PVC), an affordable biocompatible material, in order to reduce these aforementioned side effects.
Materials and Methods:
The surface of PVC was modified by depositing a thin layer also of PVC that incorporates an active substance, dicoumarol (a well-known anticoagulant), by spin coating process. The modified surfaces were analyzed by Fourier-transform infrared (FT-IR) microscopy, Fourier-transform infrared (FT-IR) spectroscopy, Ultraviolet-visible spectroscopy (UV-VIS), and Scanning electron microscopy (SEM) in order to determine the surface morphology and behavior. The samples were tested for Gram-positive (
S. aureus
ATCC 25923) and Gram-negative (
P. aeruginosa
ATCC 27853) standard strains from American Type Culture Collection (ATCC).
Results:
The material obtained had a smooth surface with a uniform distribution of dicoumarol, which is released depending on the deposition parameters. The concentration of dicoumarol at the surface of the material and also the release rate is important for the applications for which the surface modification was designed. PVC modified using the proposed method showed a good ability to prevent salt deposition and decreased the protein adhesion, and the resistance to bacterial adherence was improved compared with standard PVC.
View Full-Text
►

▼

Show Figures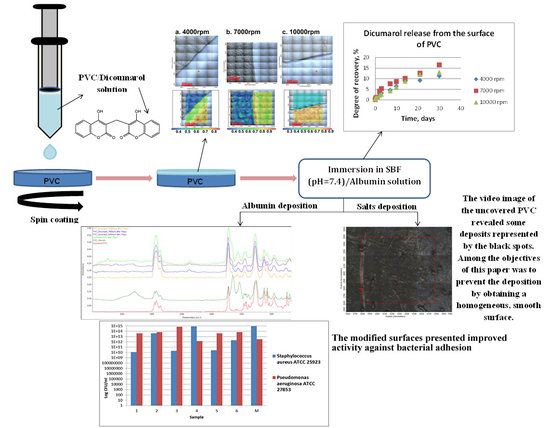 Graphical abstract
This is an open access article distributed under the
Creative Commons Attribution License
which permits unrestricted use, distribution, and reproduction in any medium, provided the original work is properly cited

MDPI and ACS Style
Duta, O.C.; Maximov, M.; Trusca, R.; Ficai, A.; Ficai, D.; Ilie, C.-I.; Ditu, L.-M.; Andronescu, E. Advanced Drug-Eluting Poly (Vinyl Chloride) Surfaces Deposited by Spin Coating. Medicina 2019, 55, 421.
Show more citation formats
Show less citations formats
Note that from the first issue of 2016, MDPI journals use article numbers instead of page numbers. See further details
here
.