Mitigation of Radiation-Induced Lung Pneumonitis and Fibrosis Using Metformin and Melatonin: A Histopathological Study
1
Departments of Medical Physics and Radiology, Faculty of Paramedical Sciences, Kashan University of Medical Sciences, Kashan 8715988141, Iran
2
Department of Radiology, Faculty of Paramedical, Tehran University of Medical Sciences, Tehran 1416753955, Iran
3
Department of Medical Physics, School of Medicine, Iran University of Medical Sciences, Tehran 1449614535, Iran
4
Department of Pathology, Fasa University of Medical Sciences, Fasa 8668874616, Iran
5
Department of Molecular Medicine, School of Advanced Technologies in Medicine, Tehran University of Medical Sciences, Tehran 1416753955, Iran
6
Department of Physiology, College of Medicine, University of Misan, Misan 62010, Iraq
7
Department of Medical Physics and Biomedical Engineering, Faculty of Medicine, Tehran University of Medical Sciences (International Campus), Tehran 1416753955, Iran
8
Radiology and Nuclear Medicine Department, School of Paramedical Sciences, Kermanshah University of Medical Sciences, Kermanshah 6715847141, Iran
*
Author to whom correspondence should be addressed.
Received: 27 June 2019 / Revised: 17 July 2019 / Accepted: 26 July 2019 / Published: 30 July 2019
Abstract
Background and objectives
: Pneumonitis and fibrosis are the most common consequences of lung exposure to a high dose of ionizing radiation during an accidental radiological or nuclear event, and may lead to death, after some months to years. So far, some anti-inflammatory and antioxidant agents have been used for mitigation of lung injury. In the present study, we aimed to detect possible mitigatory effects of melatonin and metformin on radiation-induced pneumonitis and lung fibrosis.
Materials and methods
: 40 male mice were divided into 4 groups (10 mice in each). For control group, mice did not receive radiation or drugs. In group 2, mice were irradiated to chest area with 18 Gy gamma rays. In groups 3 and 4, mice were first irradiated similar to group 2. After 24 h, treatment with melatonin as well as metformin began. Mice were sacrificed after 100 days for determination of mitigation of lung pneumonitis and fibrosis by melatonin or metformin.
Results
: Results showed that both melatonin and metformin are able to mitigate pneumonitis and fibrosis markers such as infiltration of inflammatory cells, edema, vascular and alveolar thickening, as well as collagen deposition.
Conclusion
: Melatonin and metformin may have some interesting properties for mitigation of radiation pneumonitis and fibrosis after an accidental radiation event.
View Full-Text
►

▼

Figures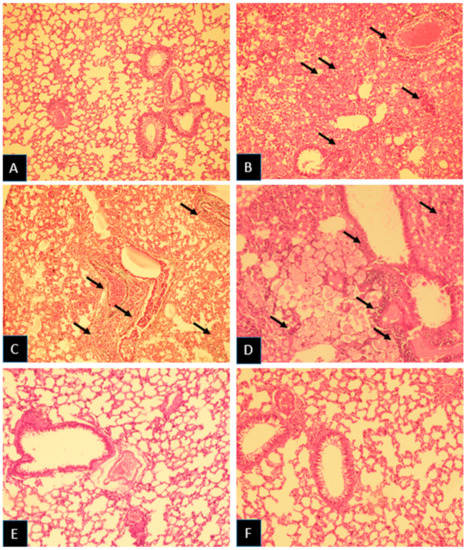 Figure 1
This is an open access article distributed under the
Creative Commons Attribution License
which permits unrestricted use, distribution, and reproduction in any medium, provided the original work is properly cited (CC BY 4.0).

Share & Cite This Article
MDPI and ACS Style
Farhood, B.; Aliasgharzadeh, A.; Amini, P.; Rezaeyan, A.; Tavassoli, A.; Motevaseli, E.; Shabeeb, D.; Eleojo Musa, A.; Najafi, M. Mitigation of Radiation-Induced Lung Pneumonitis and Fibrosis Using Metformin and Melatonin: A Histopathological Study. Medicina 2019, 55, 417.
Note that from the first issue of 2016, MDPI journals use article numbers instead of page numbers. See further details here.
Comments
[Return to top]