The Measurement of Elderly Volunteers' Optic Nerve Sheath Diameters by Ocular Ultrasonography
1
Department of Emergency Medicine, University of Health Sciences, Antalya Education and Research Hospital, 07100 Antalya, Turkey
2
Department of Radiology, Hitit University Medical School, 19040 Corum, Turkey
3
Department of Emergency Medicine, Hitit University Medical School, 19040 Corum, Turkey
*
Author to whom correspondence should be addressed.
Received: 24 June 2019 / Revised: 23 July 2019 / Accepted: 24 July 2019 / Published: 27 July 2019
Abstract
Background and objectives: The optic nerve is a component of the central nervous system, and the optic nerve sheath is connected to the subarachnoid space. For this reason, intracranial pressure (ICP) increases are directly transmitted to the optic nerve sheath. Knowing the normal optic nerve sheath diameter (ONSD) range in a healthy population is necessary to interpret this measurement as a sign of intracranial pressure in clinical practice and research. In this study, we aimed to determine the standard ONSD value in healthy adultsaged65 years of age or older who had not previously been diagnosed with a disease that could increase the ICP. Materials and Methods: The right and left ONSD values and ONSD differences were compared, according to the gender of the patients. The patients were divided into 3 groups, according to their age. The age groups were assigned as follows: Group 1: 65–74 years of age; Group 2: 75–84 years of age; and Group 3: 85 years of age or older. The ONSDs and the ONSD difference between the left and right eyes of Group 1, Group 2 and Group 3 were compared. Results: The study included 195 volunteers. The mean ONSD of both eyes was 4.16±0.69 mm, and the difference between the ONSD of the left and right eyes was 0.16±0.18 mm. There was no difference between genders in terms of right ONSD, left ONSD, mean ONSD and ONSD difference between the left and right eyes. There was no correlation between age and ONSD and ONSD difference. When the age groups and ONSD were compared, no difference was found between the groups. Conclusions: In conclusion, the ONSDs of both eyes do not vary with age in healthy adults aged65 years or older. ONSD does not vary between genders. The calculation of ONSD difference can be used to determine ICP increase.
View Full-Text
►

▼

Figures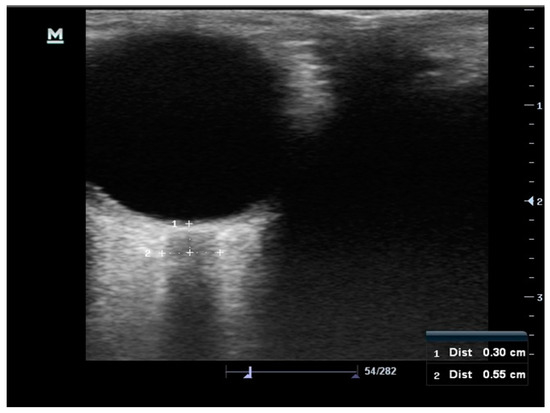 Figure 1
This is an open access article distributed under the
Creative Commons Attribution License
which permits unrestricted use, distribution, and reproduction in any medium, provided the original work is properly cited (CC BY 4.0).

Share & Cite This Article
MDPI and ACS Style
Avci, M.; Kozaci, N.; Komut, E.; Komut, S.; Caliskan, G.; Tulubas, G. The Measurement of Elderly Volunteers' Optic Nerve Sheath Diameters by Ocular Ultrasonography. Medicina 2019, 55, 413.
Note that from the first issue of 2016, MDPI journals use article numbers instead of page numbers. See further details here.
Comments
[Return to top]