In-Depth Bioinformatic Study of the CLDN16 Gene and Protein: Prediction of Subcellular Localization to Mitochondria
1
Department of Transfusion Medicine, University Hospital of Larissa, Biopolis, 41334 Larissa, Greece
2
Peritoneal Dialysis Unit, 1st Department of Medicine, Ahepa Hospital, Aristotle University of Thessaloniki, 54636 Thessaloniki, Greece
3
Department of Respiratory Medicine, Faculty of Medicine, University of Thessaly, Biopolis, 41334 Larissa, Greece
4
Department of Physiology, Faculty of Medicine, University of Thessaly, Biopolis, 41500 Larissa, Greece
*
Author to whom correspondence should be addressed.
Received: 16 April 2019 / Revised: 29 June 2019 / Accepted: 22 July 2019 / Published: 26 July 2019
Abstract
Background and Objectives:
The defects in the
CLDN16
gene are a cause of primary hypomagnesemia (FHHNC), which is characterized by massive renal magnesium wasting, resulting in nephrocalcinosis and renal failure. The mutations occur throughout the gene's coding region and can impact on intracellular trafficking of the protein or its paracellular pore forming function. To gain more understanding about the mechanisms by which
CLDN16
mutations can induce FHHNC, we performed an in-depth computational analysis of the CLDN16 gene and protein, focusing specifically on the prediction of the latter's subcellular localization.
Materials and Methods:
The complete nucleotide or amino acid sequence of CLDN16 in FASTA format was entered and processed in 14 databases.
Results:
One CpG island was identified. Twenty five promoters/enhancers were predicted. The
CLDN16
interactome was found to consist of 20 genes, mainly involved in kidney diseases. No signal peptide cleavage site was identified. A probability of export to mitochondria equal to 0.9740 and a cleavable mitochondrial localization signal in the N terminal of the CLDN16 protein were predicted. The secondary structure prediction was visualized. Νo phosphorylation sites were identified within the CLDN16 protein region by applying DISPHOS to the functional class of transport. The KnotProt database did not predict any knot or slipknot in the protein structure of CLDN16. Seven putative miRNA binding sites within the 3'-UTR region of CLDN16 were identified.
Conclusions:
This is the first study to identify mitochondria as a probable cytoplasmic compartment for CLDN16 localization, thus providing new insights into the protein's intracellular transport. The results relative to the
CLDN16
interactome underline its role in renal pathophysiology and highlight the functional dependence of CLDNs-10, 14, 16, 19. The predictions pertaining to the miRNAs, promoters/enhancers and CpG islands of the
CLDN16
gene indicate a strict regulation of its expression both transcriptionally and post-transcriptionally.
View Full-Text
►

▼

Figures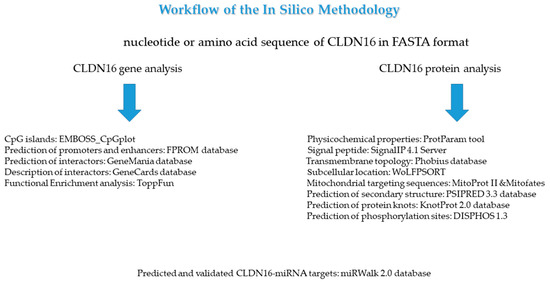 Figure 1
This is an open access article distributed under the
Creative Commons Attribution License
which permits unrestricted use, distribution, and reproduction in any medium, provided the original work is properly cited (CC BY 4.0).

Share & Cite This Article
MDPI and ACS Style
Rouka, E.; Liakopoulos, V.; Gourgoulianis, K.I.; Hatzoglou, C.; Zarogiannis, S.G. In-Depth Bioinformatic Study of the CLDN16 Gene and Protein: Prediction of Subcellular Localization to Mitochondria. Medicina 2019, 55, 409.
Note that from the first issue of 2016, MDPI journals use article numbers instead of page numbers. See further details here.
Comments
[Return to top]