The Role of Gut Microbiota in Gastrointestinal Symptoms of Children with ASD
1
Department of Developmental Psychology and Didactics, University of Alicante, 03080 Alicante, Spain
2
Department of Agricultural Chemistry, Faculty of Chemistry, University of Murcia, Campus of Espinardo, 30100 Murcia, Spain
3
Department of Chemical Engineering, Faculty of Chemistry, University of Murcia, Campus of Espinardo, 30100 Murcia, Spain
*
Author to whom correspondence should be addressed.
Received: 27 June 2019 / Revised: 23 July 2019 / Accepted: 24 July 2019 / Published: 26 July 2019
Abstract
Background and objectives
: Autism spectrum disorder (ASD) is a neurodevelopmental disorder characterized by impaired communication, social interaction disorder, and repetitive behavior. Dysbiotic gut microbiota (GM) could be a contributing factor to the appearance of ASD, as gastrointestinal (GI) symptoms are comorbidities frequently reported in ASD. As there is a lack of reviews about the role played by GM in the GI symptoms of ASD, this work aimed to carry out a systematic review of current studies comparing the GM of children with ASD and GI symptoms with those of healthy controls in the last six years.
Materials and Methods:
The systematic review was performed following the PRISMA guidelines. The databases chosen were Web of Science, Scopus, PubMed, and PsycINFO, and the keywords were (gut* OR intestine* OR bowel* OR gastrointestinal*) AND (microbiota* OR microflora* OR bacteria* OR microbiome* OR flora* OR bacterial* OR bacteria* OR microorganism* OR feces* OR stool*) AND (autistic* OR autism* OR ASD*).
Results
: A total of 16 articles were included. Ten articles performed correlations analysis between GI symptoms and ASD. Among those 10 articles, 7 found differences between the GI symptoms present in children with ASD and healthy controls. The most common GI symptom was constipation. Among the seven articles that found differences, three performed correlations analysis between GI symptoms and gut microbe abundance.
Candida
,
Prevotella
,
Streptococcus
, and
Veillonella
showed higher and lower abundance, respectively, in children with ASD and GI symptoms in more than one article.
Bacteroidetes
,
Firmicutes
,
Actinomyces
,
Dorea
,
Lactobacillus
,
Faecalibacterium prausnitzii
, and
Bacteroidetes
/
Firmicutes
ratios showed abundance discrepancies.
Conclusions
: It is still too early to draw a conclusion about the gut microbes involved in GI symptoms of ASD. Future research should consider the relationship between ASD behavior, GM, and GI symptoms in a multidisciplinary way and homogenize sample characteristics.
View Full-Text
►

▼

Figures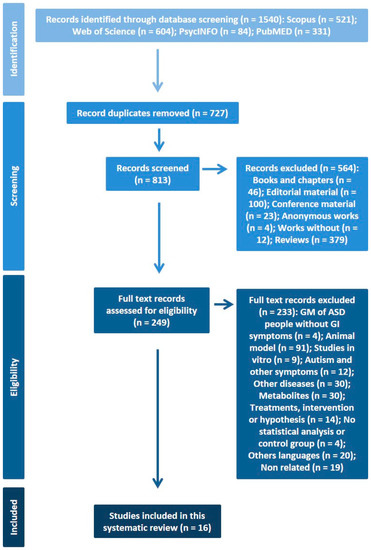 Figure 1
This is an open access article distributed under the
Creative Commons Attribution License
which permits unrestricted use, distribution, and reproduction in any medium, provided the original work is properly cited (CC BY 4.0).

Share & Cite This Article
MDPI and ACS Style
Martínez-González, A.E.; Andreo-Martínez, P. The Role of Gut Microbiota in Gastrointestinal Symptoms of Children with ASD. Medicina 2019, 55, 408.
Note that from the first issue of 2016, MDPI journals use article numbers instead of page numbers. See further details here.
Comments
[Return to top]