Intra-Nasally Administered Oligopeptide Lunasin Acts as a Possible Anti-Psychotic Agent in Mice Models
1
Faculty of Medicine, University of Latvia; 3 Jelgavas St, LV-1004 Riga, Latvia
2
Faculty of Chemistry, University of Latvia; 1 Jelgavas St, LV-1004 Riga, Latvia
*
Author to whom correspondence should be addressed.
Received: 27 June 2019 / Revised: 18 July 2019 / Accepted: 19 July 2019 / Published: 21 July 2019
Background and Objectives:
Previously we have shown that synthetic lunasin, a 43 amino acid residue-containing peptide, after its central (intracisternal) administration in mice demonstrated antagonism against dopaminergic drug behavioural effects, indicating a putative antipsychotic/anti-schizophrenic profile of lunasin. The aims of the present studies were: to test whether lunasin would show an influence on the dopaminergic system after intranasal administration, and to examine the effect(s) of lunasin on serotonin and glutamatergic systems, which could play an essential role in antipsychotic action.
Materials and Methods:
Lunasin was administered intra-nasally at doses 0.1 and 1 nmol/mouse in ICR mice (
n
= 7–8) and tested in an open field on hyperlocomotion caused by amphetamine; serotonin 5-HT 2A/2C receptor agonist 1-(2,5-dimethoxy-4-iodophenyl)- 2-aminopropane (DOI); and glutamate NMDA receptor antagonist phencyclidine. Following behavioural testing, the contents of neurotransmitters and their metabolites in brain hemispheres (
n
= 6–8) were assessed by ultra-high-performance liquid chromatography-time of flight mas-spectrometry (UHPLC-TOF-MS) method. Also, lunasin binding to serotonin receptors was assessed.
Results:
Lunasin intra-nasally fully normalized hyper-locomotion and brain monoamine levels in amphetamine- and DOI-treated mice brains. Phencyclidine behavioural effects were not influenced. In vitro receptor binding data demonstrated a low affinity of lunasin (at µM concentrations) compared with DOI (nM concentrations) for the 5-HT
2A
and 5-HT
2C
receptors.
Conclusions:
These results demonstrated, for the first time, that the intranasal administration of oligopeptide lunasin normalized mice behaviour and brain monoamine levels in experimental psychosis mice models. Its neuro-regulatory effects indicated a usefulness of this peptide molecule for the design of novel psychotropic agents.
View Full-Text
►

▼

Show Figures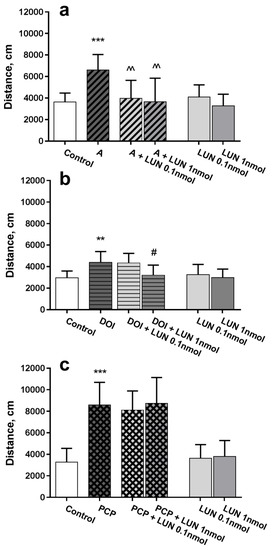 Figure 1
This is an open access article distributed under the
Creative Commons Attribution License
which permits unrestricted use, distribution, and reproduction in any medium, provided the original work is properly cited

Note that from the first issue of 2016, MDPI journals use article numbers instead of page numbers. See further details
here
.