Open Access This article is
freely available
re-usable
Review
Pathogenesis and Management of Acute Kidney Injury in Patients with Nephrotic Syndrome Due to Primary Glomerulopathies
1
Nephrology Department & Transplantation Unit, Laiko Hospital, Faculty of Medicine, National & Kapodistrian University of Athens, 11527 Athens, Greece
2
Department of Pathology, Laiko Hospital, Faculty of Medicine, National & Kapodistrian University of Athens, 11527 Athens, Greece
*
Author to whom correspondence should be addressed.
Received: 9 June 2019 / Accepted: 8 July 2019 / Published: 11 July 2019
Abstract
:
Acute kidney injury in the context of nephrotic syndrome is a serious and alarming clinical problem. Largely, acute kidney injury is a relatively frequent complication among patients with comorbidities while it has been independently associated with an increased risk of adverse outcomes, including death and chronic kidney disease. Nephrotic syndrome, without hematuria or with minimal hematuria, includes a list of certain glomerulopathies; minimal change disease, focal segmental glomerulosclerosis and membranous nephropathy. In the light of primary nephrotic syndrome, pathophysiology of acute kidney injury is differentiated by the nature of the primary disease and the severity of the nephrotic state. This review aims to explore the clinical circumstances and pathogenetic mechanisms of acute kidney injury in patients with nephrotic syndrome due to primary glomerulopathies, focusing on newer perceptions regarding the pathogenesis and management of this complicated condition, for the prompt recognition and timely initiation of appropriate treatment in order to restore renal function to its baseline level. Prompt recognition of the precise cause of acute kidney injury is crucial for renal recovery. Clinical characteristics, laboratory and serological findings along with histopathological findings, if required, will reveal the implicated pathway leading to individualized approach and management.
Keywords:
glomerular diseases; acute kidney injury; nephrotic syndrome
Author Contributions
Conceptualization, S.L.; methodology, S.L.; validation, S.L. and G.L.; investigation, S.L. and G.L.; resources S.L.; data curation, S.L. and G.L.; writing—review and editing, S.L., G.L., J.N.B.; writing S.L., G.L.; visualization, S.L., J.N.B.; supervision, J.N.B.
Funding
This research received no external funding.
Conflicts of Interest
The authors declare no conflict of interest.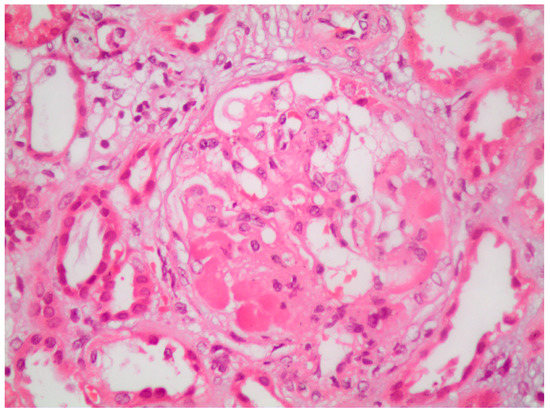 Figure 1. Segmental glomerular sclerosis with hyalinosis, as well as tubular dilation, tubular cell loss and detached epithelial cells into tubular lumens, in a patient with severe nephrotic syndrome due to focal segmental glomerulosclerosis (H&E X400).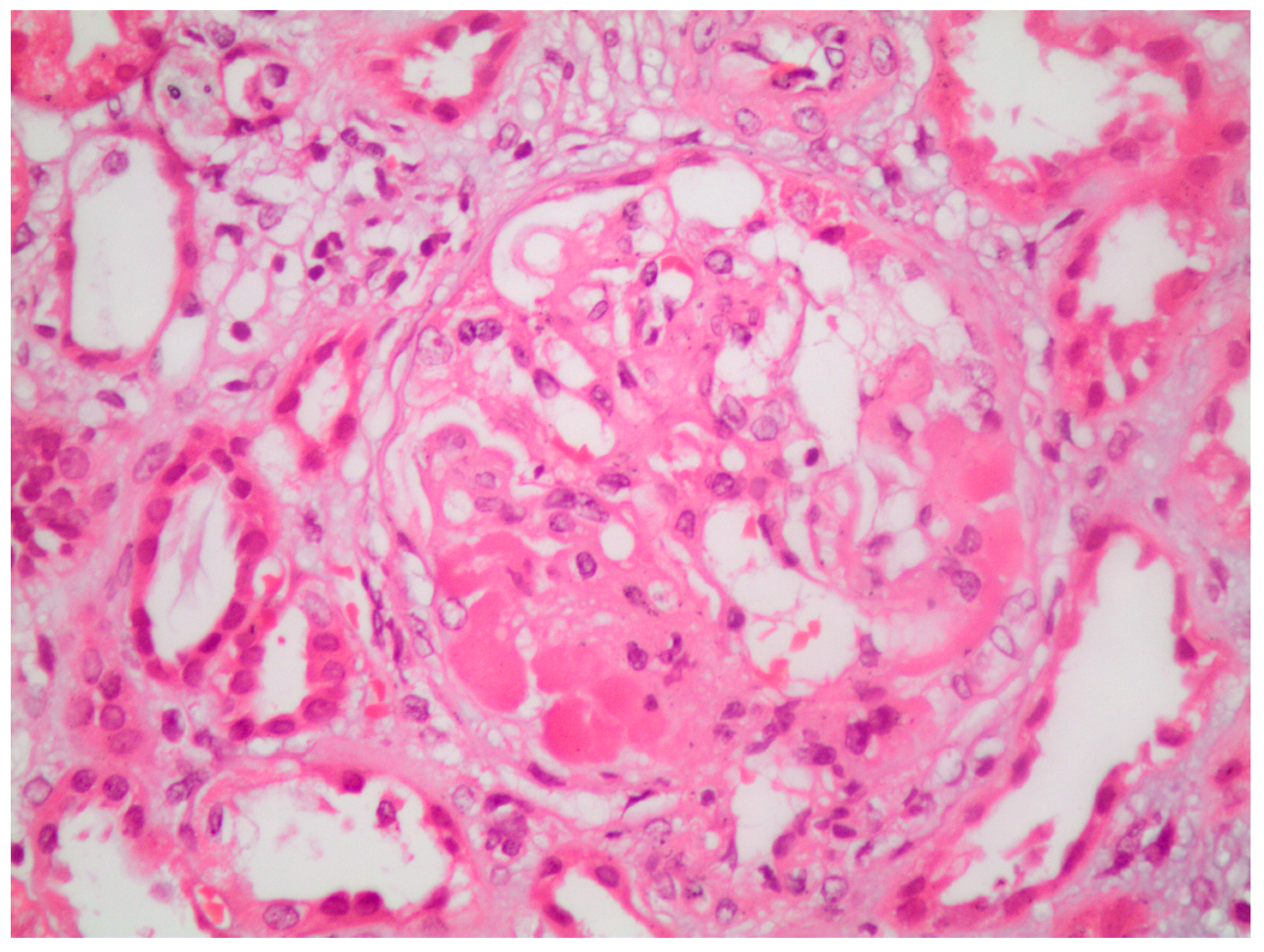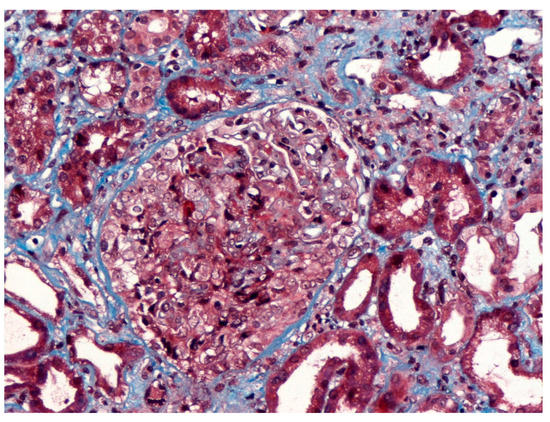 Figure 2. Cellular glomerular crescent in a patient with biopsy proven membranous nephropathy who developed rapidly progressive glomerulonephritis and acute kidney injury (AKI) associated with anti-neutrophil cytoplasmic antibodies (ANCA) antibodies (Masson X 400).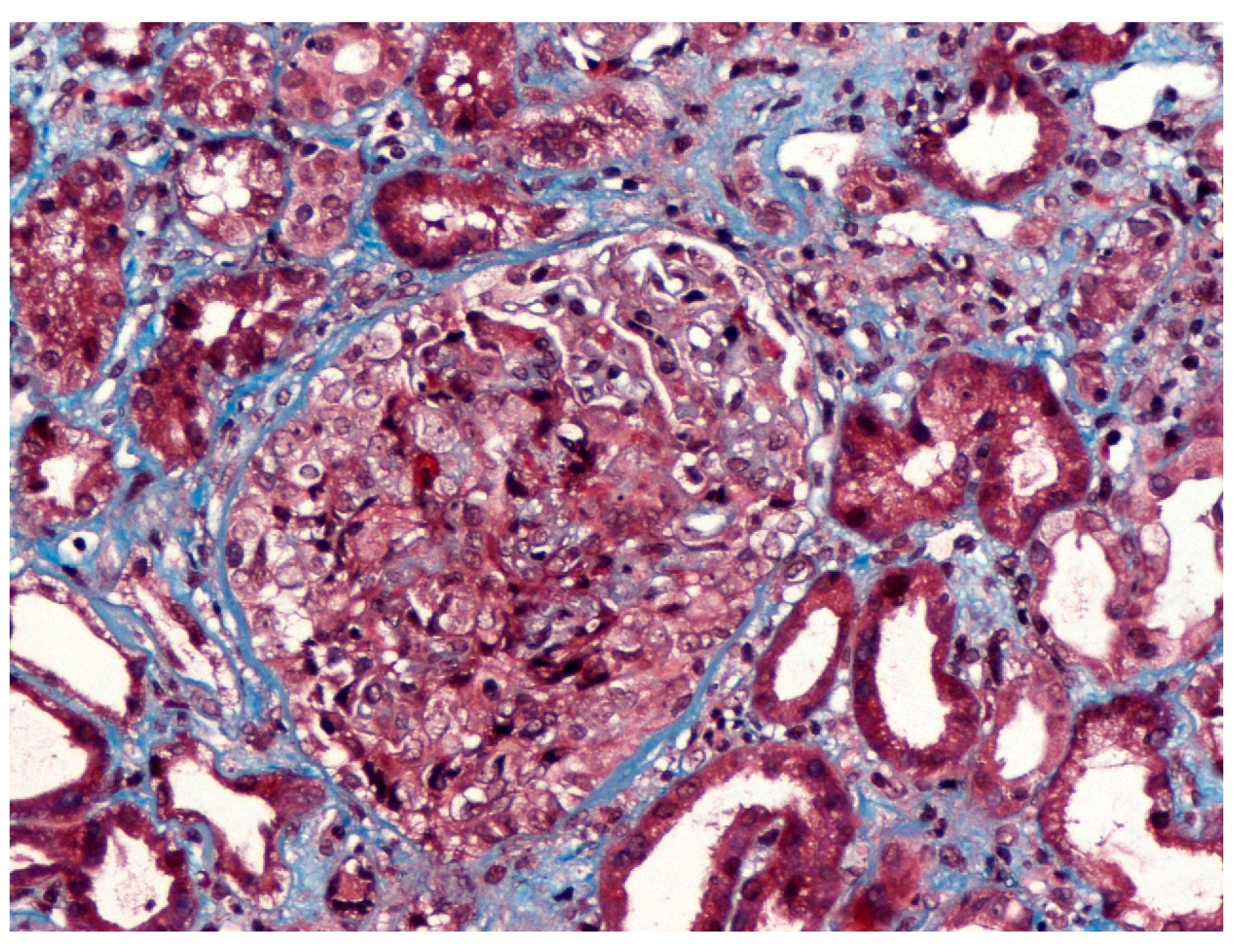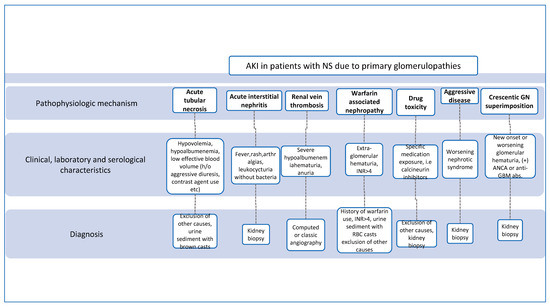 Figure 3. Algorithm for patients with AKI in the context of nephrotic syndrome (NS) due to primary glomerulopathies.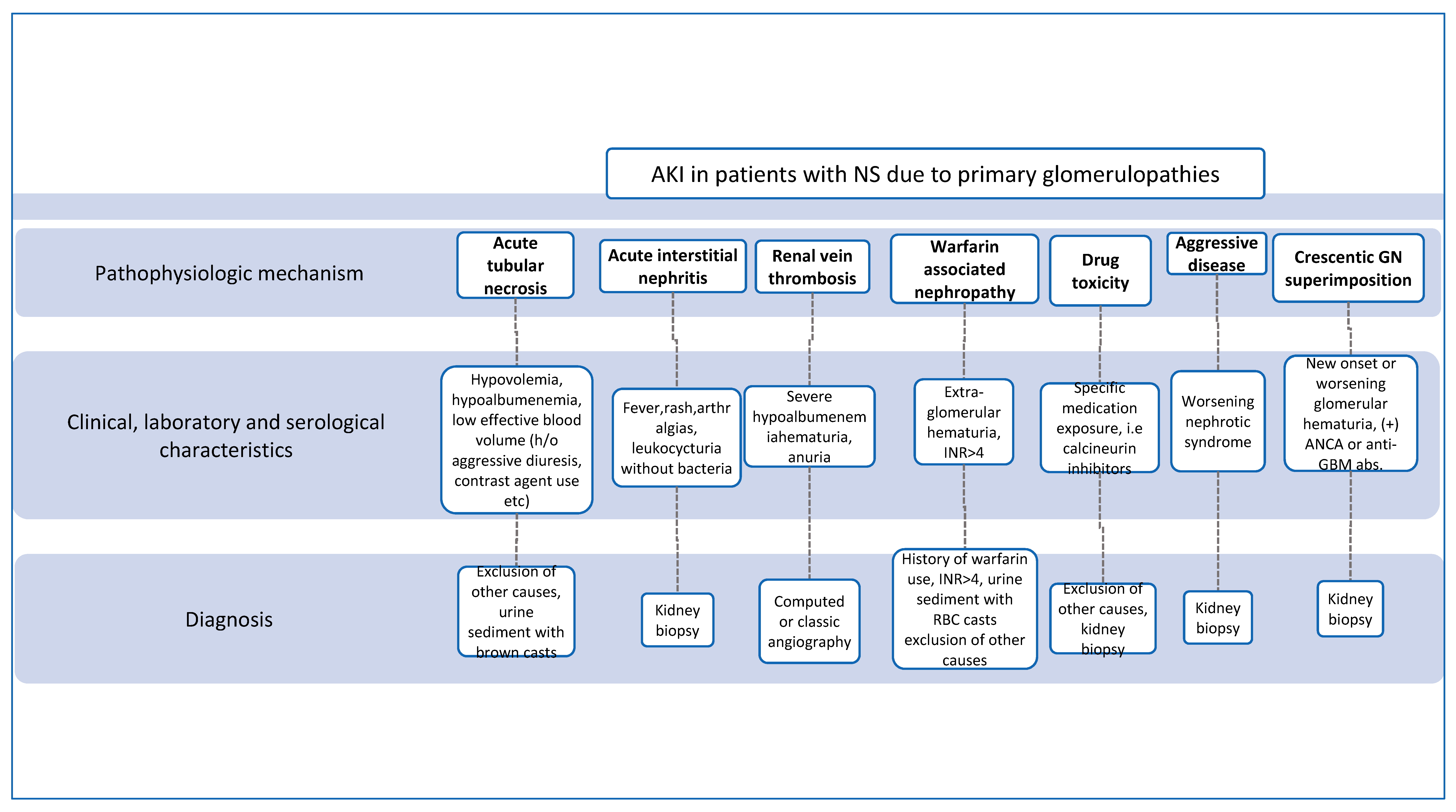 © 2019 by the authors. Licensee MDPI, Basel, Switzerland. This article is an open access article distributed under the terms and conditions of the Creative Commons Attribution (CC BY) license (http://creativecommons.org/licenses/by/4.0/).