Characteristics of Children with Diabetic Ketoacidosis Treated in Pediatric Intensive Care Unit: Two-Center Cross-Sectional Study in Croatia
1
Clinical Hospital Merkur, 10000 Zagreb, Croatia
2
Department of Pediatrics, University Hospital of Osijek, 31000 Osijek, Croatia
3
School of Medicine, University of Osijek, 31000 Osijek, Croatia
4
Department of Pediatrics, University Hospital of Split, 21000 Split, Croatia
5
School of Medicine, University of Split, 21000 Split, Croatia
*
Author to whom correspondence should be addressed.
†
These authors contributed equally to this work.
Received: 27 April 2019 / Revised: 4 July 2019 / Accepted: 9 July 2019 / Published: 10 July 2019
Abstract
Background and objective:
There is an increasing risk of type 1 diabetes mellitus (T1D) among children in Croatia. Diabetic ketoacidosis (DKA) is the leading cause of morbidity and mortality in children with T1D, with cerebral edema as the most severe complication. Since early recognition of cerebral edema leads to a better outcome, it is important that patients with moderate or severe DKA are closely monitored and treated in pediatric intensive care units (PICUs). The aim of this study is to investigate clinical and laboratory parameters, as well as complications in children treated in PICUs because of DKA.
Materials and methods:
Patients treated due to DKA in the PICU of the University Hospitals of Split and Osijek from 2013 to 2017 were included in this study. Retrospectively collected data included age, gender, clinical signs and symptoms, and various laboratory parameters. After dividing subjects into two groups: Newly diagnosed with T1D (NT1D) and previously diagnosed with T1D (PT1D), collected data were compared between the two groups.
Results:
A total of 82 patients were enrolled. Those with NT1D were more often treated in the PICU, with two of them developing cerebral edema. Dehydration was the most frequent clinical sign, found in 95% of patients at admission. Decreased consciousness level was found in 41.5% of patients, with majority of them being somnolent. No difference was found between NT1D and PT1D. Additionally, there was no significant difference regarding laboratory data at admission.
Conclusions:
More children with NT1D required treatment in the PICU due to DKA with two of them developing cerebral edema. Since cerebral edema is a life-threatening condition, treatment of patients with moderate or severe DKA in PICUs will provide necessary monitoring enabling early recognition, treatment, and better treatment outcome. To minimize the incidence of DKA among patients with NT1D, it is important to continuously carry out public health education programs aimed at early identification of signs and symptoms of T1D.
View Full-Text
►

▼

Figures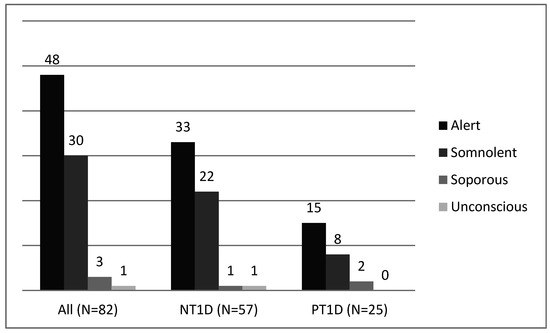 Figure 1
This is an open access article distributed under the
Creative Commons Attribution License
which permits unrestricted use, distribution, and reproduction in any medium, provided the original work is properly cited (CC BY 4.0).

Share & Cite This Article
MDPI and ACS Style
Burcul, I.; Arambasic, N.; Polic, B.; Kovacevic, T.; Bartulovic, I.; Catipovic Ardalic, T.; Markic, J. Characteristics of Children with Diabetic Ketoacidosis Treated in Pediatric Intensive Care Unit: Two-Center Cross-Sectional Study in Croatia. Medicina 2019, 55, 362.
Note that from the first issue of 2016, MDPI journals use article numbers instead of page numbers. See further details here.
Comments
[Return to top]