Role of Autophagy on Heavy Metal-Induced Renal Damage and the Protective Effects of Curcumin in Autophagy and Kidney Preservation
Department of Biology, Faculty of Chemistry, National Autonomous University of Mexico (UNAM), Mexico City 04510, Mexico
*
Author to whom correspondence should be addressed.
Received: 29 May 2019 / Revised: 28 June 2019 / Accepted: 8 July 2019 / Published: 10 July 2019
Curcumin is a hydrophobic polyphenol compound extracted from the rhizome of turmeric. The protective effect of curcumin on kidney damage in multiple experimental models has been widely described. Its protective effect is mainly associated with its antioxidant and anti-inflammatory properties, as well as with mitochondrial function maintenance. On the other hand, occupational or environmental exposure to heavy metals is a serious public health problem. For a long time, heavy metals-induced nephrotoxicity was mainly associated with reactive oxygen species overproduction and loss of endogenous antioxidant activity. However, recent studies have shown that in addition to oxidative stress, heavy metals also suppress the autophagy flux, enhancing cell damage. Thus, natural compounds with the ability to modulate and restore autophagy flux represent a promising new therapeutic strategy. Furthermore, it has been reported in other renal damage models that curcumin's nephroprotective effects are related to its ability to regulate autophagic flow. The data indicate that curcumin modulates autophagy by classic signaling pathways (suppression of protein kinase B (Akt)/mammalian target of rapamycin (mTOR) and/or by stimulation of adenosine monophosphate-activated protein kinase (AMPK) and extracellular signal-dependent kinase (ERK) pathways). Moreover, it allows lysosomal function preservation, which is crucial for the later stage of autophagy. However, future studies of autophagy modulation by curcumin in heavy metals-induced autophagy flux impairment are still needed.
View Full-Text
►

▼

Show Figures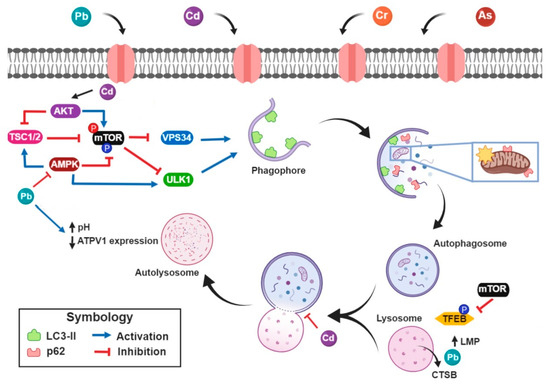 Figure 1
This is an open access article distributed under the
Creative Commons Attribution License
which permits unrestricted use, distribution, and reproduction in any medium, provided the original work is properly cited

MDPI and ACS Style
Avila-Rojas, S.H.; Lira-León, A.; Aparicio-Trejo, O.E.; Reyes-Fermín, L.M.; Pedraza-Chaverri, J. Role of Autophagy on Heavy Metal-Induced Renal Damage and the Protective Effects of Curcumin in Autophagy and Kidney Preservation. Medicina 2019, 55, 360.
Show more citation formats
Show less citations formats
Note that from the first issue of 2016, MDPI journals use article numbers instead of page numbers. See further details
here
.