Detrimental Impact of Chronic Obstructive Pulmonary Disease in Atrial Fibrillation: New Insights from Umbria Atrial Fibrillation Registry
1
Division of Cardiology and Cardiovascular Pathophysiology, Hospital S. Maria della Misericordia, 06156 Perugia, Italy
2
Department of Medicine, University of Perugia, 06156 Perugia, Italy
3
Fondazione Umbra Cuore e Ipertensione-ONLUS and Division of Cardiology, Hospital S. Maria Della Misericordia, 06156 Perugia, Italy
*
Author to whom correspondence should be addressed.
Received: 31 May 2019 / Revised: 25 June 2019 / Accepted: 3 July 2019 / Published: 9 July 2019
Abstract
Background and objectives:
Chronic obstructive pulmonary disease (COPD) is a leading cause of morbidity and mortality worldwide. Among extra-pulmonary manifestations of COPD, atrial fibrillation (AF) is commonly observed in clinical practice. The coexistence of COPD and AF significantly affects the risk of cardiovascular morbidity and mortality. Nonetheless, the mechanisms explaining the increased risk of vascular events and death associated to the presence of COPD in AF are complex and not completely understood. We analyzed data from an Italian network database to identify markers and mediators of increased vascular risk among subjects with AF and COPD.
Materials and Methods:
Cross-sectional analysis of the Umbria Atrial Fibrillation (Umbria-FA) Registry, a multicenter, observational, prospective on-going registry of patients with non-valvular AF. Of the 2205 patients actually recruited, 2159 had complete clinical data and were included in the analysis.
Results:
the proportion of patients with COPD was 15.6%. COPD patients had a larger proportion of permanent AF when compared to the control group (49.1% vs. 34.6%,
p
< 0.0001) and were more likely to be obese and current smokers. Other cardiovascular risk factors including chronic kidney disease (CKD), peripheral artery disease and subclinical atherosclerosis were more prevalent in COPD patients (all
p
< 0.0001). COPD was also significantly associated with higher prevalence of previous vascular events and a history of anemia (all
p
< 0.0001). The thromboembolic and bleeding risk, as reflected by the CHA
2
DS
2
VASc and HAS-BLED scores, were higher in patients with COPD. Patients with COPD were also more likely to have left ventricular (LV) hypertrophy at standard ECG than individuals forming the cohort without COPD (
p
= 0.018).
Conclusions:
AF patients with COPD have a higher risk of vascular complications than AF patients without this lung disease. Our analysis identified markers and mediators of increased risk that can be easily measured in clinical practice, including LV hypertrophy, CKD, anemia, and atherosclerosis of large arteries.
View Full-Text
►

▼

Figures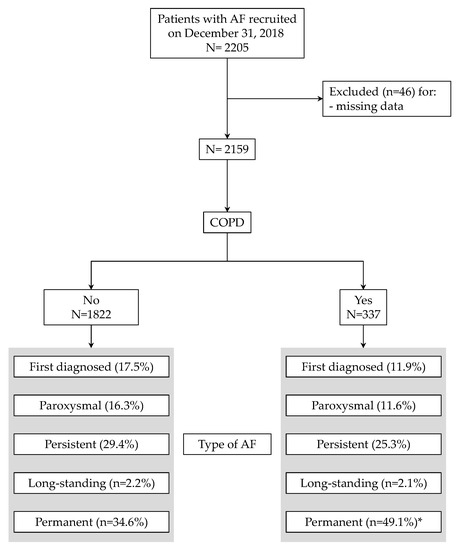 Figure 1
This is an open access article distributed under the
Creative Commons Attribution License
which permits unrestricted use, distribution, and reproduction in any medium, provided the original work is properly cited (CC BY 4.0).

Share & Cite This Article
MDPI and ACS Style
Angeli, F.; Reboldi, G.; Trapasso, M.; Aita, A.; Ambrosio, G.; Verdecchia, P. Detrimental Impact of Chronic Obstructive Pulmonary Disease in Atrial Fibrillation: New Insights from Umbria Atrial Fibrillation Registry. Medicina 2019, 55, 358.
Note that from the first issue of 2016, MDPI journals use article numbers instead of page numbers. See further details here.
Comments
[Return to top]