Long-Term Survival after Acute Myocardial Infarction in Lithuania during Transitional Period (1996–2015): Data from Population-Based Kaunas Ischemic Heart Disease Register
1
Department of Environmental and Occupational Medicine, Medical Academy, Lithuanian University of Health Sciences, LT-47181 Kaunas, Lithuania
2
Institute of Cardiology, Medical Academy, Lithuanian University of Health Sciences, LT-50103 Kaunas, Lithuania
3
Department of Preventive Medicine, Medical Academy, Lithuanian University of Health Sciences, LT-47181 Kaunas, Lithuania
*
Author to whom correspondence should be addressed.
Received: 13 June 2019 / Accepted: 2 July 2019 / Published: 9 July 2019
Abstract
Background and Objective
: There is a lack of reliable epidemiological data on the long-term survival after acute myocardial infarction (AMI) in the Lithuanian population. The aim of the study was to evaluate the long-term (36 months) survival after AMI among persons aged 25–64 years, who had experienced AMI in four time-periods 1996, 2003–2004, 2008, and 2012.
Material and Methods
: The source of the data was Kaunas population-based Ischemic heart disease (IHD) register. Long-term survival after AMI (36 months) was evaluated using the Kaplan–Meier method. The survival curves significantly differed when
p
< 0.05. Hazard ratio for all-cause mortality and their 95% CIs, adjusted for baseline characteristics, were estimated with the Cox proportional hazards regression model.
Results:
The analysis of data on 36 months long-term survival among Kaunas population by sex and age groups showed that the survival rates among men and women were 83.4% and 87.6%, respectively (
p
< 0.05) and among 25–54 years-old and 55–64 years-old persons, 89.2% and 81.7%, respectively (
p
< 0.05). The rates of long-term survival of post-AMI Kaunas population were better in past periods than in first period. According to the data of the Kaplan-Meier survival analysis, long-term survival of 25 to 64-year-old post-AMI Kaunas population was without significantly difference in 1996, 2003–2004, 2008 and 2012 (Log-rank = 6.736,
p
= 0.081). The adjusted risk of all-cause mortality during 36 months among men and 25 to 54-year-old patients was on the average by 35% and 60% lower in 2012 than in 1996, respectively.
Conclusion
: It was found that 36 months survival post MI among women and younger (25–54 years) persons was significant better compared to men and older (55–64 years) persons. Long-term survival among 55 to 64-year-old post-AMI Kaunas population had a tendency to decrease during last period, while among 25–54 years old persons long-term survival was without significant changes. The results highlight the fact that AMI survivors, especially in youngest age, remain a high-risk group and reinforce the importance of primary and secondary prevention for the improvement of long-term prognosis of AMI patients.
View Full-Text
►

▼

Figures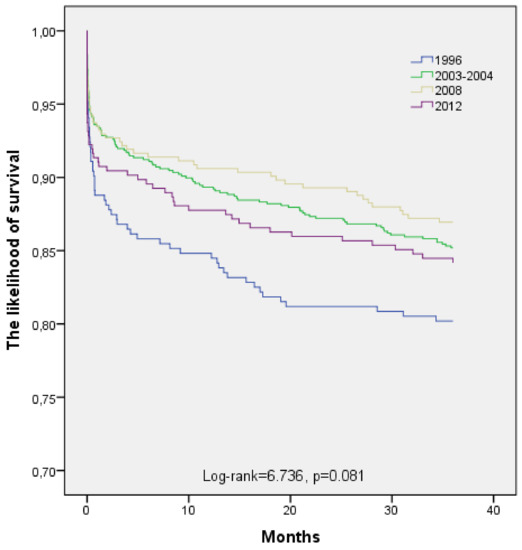 Figure 1
This is an open access article distributed under the
Creative Commons Attribution License
which permits unrestricted use, distribution, and reproduction in any medium, provided the original work is properly cited (CC BY 4.0).

Share & Cite This Article
MDPI and ACS Style
Radisauskas, R.; Kirvaitiene, J.; Bernotiene, G.; Virviciutė, D.; Ustinaviciene, R.; Tamosiunas, A. Long-Term Survival after Acute Myocardial Infarction in Lithuania during Transitional Period (1996–2015): Data from Population-Based Kaunas Ischemic Heart Disease Register. Medicina 2019, 55, 357.
Note that from the first issue of 2016, MDPI journals use article numbers instead of page numbers. See further details here.
Comments
[Return to top]