Comparison of Point-of-Care Ultrasonography and Radiography in the Diagnosis of Long-Bone Fractures
1
Department of Emergency Medicine, Antalya Education and Research Hospital, University of Health Sciences, Antalya 07100, Turkey
2
Department of Emergency Medicine, Ercis State Hospital, Van 65400, Turkey
3
Department of Emergency Medicine, Edremit State Hospital, Balikesir 10300, Turkey
4
Department of Orthopedics and Traumatology, Antalya Education and Research Hospital, University of Health Sciences, Antalya 07100, Turkey
*
Author to whom correspondence should be addressed.
Received: 15 May 2019 / Revised: 3 July 2019 / Accepted: 4 July 2019 / Published: 9 July 2019
Abstract
Background and objectives:
In this study, the accuracy of point-of-care ultrasonography (POCUS) was compared to radiography (XR) in the diagnosis of fractures, the determination of characteristics of the fractures, and treatment selection of fractures in patients admitted to the emergency department (ED) due to trauma and suspected long bone (LB) fractures.
Materials and Methods:
The patients were included in the study, who were admitted to ED due to trauma, and had physical examination findings suggesting the presence of fractures in LB (humerus, radius, ulna, femur, tibia, and fibula). The patients were evaluated by two emergency physicians (EP) in ED. The first EP examined LBs with POCUS and the second EP examined them with XR. LBs were evaluated on the anterior, posterior, medial, and lateral surfaces and from the proximal joint to the distal one (shoulder, elbow, wrist, hip, knee, and ankle joint) in both longitudinal and transverse axes with POCUS.
Results:
A total of 205 patients with suspected LB fractures were included in the study. LB fractures were determined in 99 patients with XR and in 105 patients with POCUS. The sensitivity, specificity, positive predictive value, negative predictive value of POCUS in determining the fractures were 99%, 93%, 93%, and 99%, respectively, compared to XR. Compared to XR, POCUS was able to determine 100% of fissure type fractures (kappa (κ) value: 0.765), 83% of linear fractures (κ: 0.848), 92% of fragmented fractures(κ: 0.756), 67% of spiral fractures (κ:0.798), 75% of avulsion type fractures (κ: 0.855), and 100% of full separation type fractures (κ: 0.855).
Conclusions:
This study has demonstrated that POCUS has a high sensitivity in diagnosing LB fractures. POCUS has a high sensitivity in identifying fracture characteristics. POCUS can be used as an alternative imaging method to XR in the diagnosis of LB fractures and in the determination of fracture characteristics.
View Full-Text
►

▼

Figures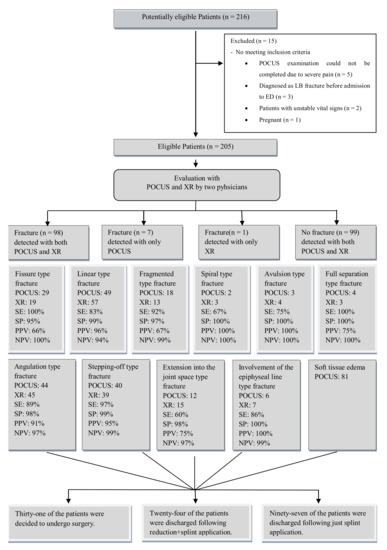 Figure 1
This is an open access article distributed under the
Creative Commons Attribution License
which permits unrestricted use, distribution, and reproduction in any medium, provided the original work is properly cited (CC BY 4.0).

Share & Cite This Article
MDPI and ACS Style
Avci, M.; Kozaci, N.; Tulubas, G.; Caliskan, G.; Yuksel, A.; Karaca, A.; Doganay, F.; Etli, I. Comparison of Point-of-Care Ultrasonography and Radiography in the Diagnosis of Long-Bone Fractures. Medicina 2019, 55, 355.
Note that from the first issue of 2016, MDPI journals use article numbers instead of page numbers. See further details here.
Comments
[Return to top]