The Effects of Transdermal Nicotine Patches on the Cardiorespiratory and Lactate Responses During Exercise from Light to Moderate Intensity: Implications for Exercise Prescription during Smoking Cessation
1
Graduate School of Health and Sports Science, Juntendo University, Hiraka-gakuendai 1-1, Inzai, Chiba 270-1695, Japan
2
National Institute of Health and Nutrition, National Institutes of Biomedical Innovation, Health and Nutrition, 1-23-1 Toyama, Shinjuku-ku, Tokyo 162-8636, Japan
3
Mito Medical Center, Tsukuba University Hospital, 1-1-1 Tennodai, Tsukuba, Ibaraki 310-0015, Japan
*
Author to whom correspondence should be addressed.
†
Current address: Sportology Center, Juntendo University Graduate School of Medicine. 2-1-1, Hongo, Bunkyo-ku, Tokyo 113-8421, Japan.
Received: 7 May 2019 / Revised: 4 July 2019 / Accepted: 4 July 2019 / Published: 7 July 2019
Abstract
Background and objectives:
Exercise can help ease withdrawal symptoms of smokers. However, there is little information about the physiological responses, such as cardiorespiratory and lactate (La) responses, during exercise from light to moderate intensity combined with transdermal nicotine patches (TNPs) in smokers. This study aimed to investigate the effect of TNPs on the cardiorespiratory and La responses during exercise at light to moderate intensity.
Materials and Methods:
Fourteen young men (8 non-smokers, 6 current smokers) aged 20 to 26 years participated in this study. They performed an incremental graded submaximal exercise test using an electromagnetic cycle ergometer set from 30 to 210 W with (TNP condition) or without a TNP (control condition) in a random order. The TNP was applied to the left arm 8–10 h prior to starting the exercise to achieve the peak level of blood nicotine concentration. Heart rate (HR), rate of perceived exertion (RPE), oxygen consumption (
V
O
2
), ventilation (
V
E), and blood La at rest and during exercise were measured and analyzed.
Results:
The HR at rest was significantly higher in the TNP condition than in the control condition (TNP; 74.7 ± 13.8 bpm, control; 65.3 ± 10.8 bpm,
p
< 0.001). There was no interaction (condition × exercise intensity) between any of the variables, and
V
O
2
,
V
E, RPE, and La during exercise were not significantly different between the conditions. However, HR during exercise was 6.7 bpm higher on average in the TNP condition.
Conclusions:
The HR during exercise was greater at light to moderate intensity with a TNP. Our study results will guide clinicians or health professionals when prescribing exercise programs combined with TNPs for healthy young smokers.
View Full-Text
►

▼

Figures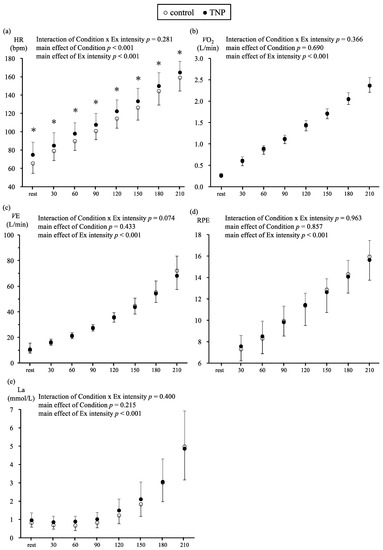 Figure 1
This is an open access article distributed under the
Creative Commons Attribution License
which permits unrestricted use, distribution, and reproduction in any medium, provided the original work is properly cited (CC BY 4.0).

Share & Cite This Article
MDPI and ACS Style
Nakagata, T.; Fukao, K.; Kobayashi, H.; Katamoto, S.; Naito, H. The Effects of Transdermal Nicotine Patches on the Cardiorespiratory and Lactate Responses During Exercise from Light to Moderate Intensity: Implications for Exercise Prescription during Smoking Cessation. Medicina 2019, 55, 348.
Note that from the first issue of 2016, MDPI journals use article numbers instead of page numbers. See further details here.
Comments
[Return to top]