Congenital Sensorineural Hearing Loss and Inborn Pigmentary Disorders: First Report of Multilocus Syndrome in Piebaldism
1
Department of Health Sciences, Amedeo Avogadro University of Eastern Piedmont, 28100 Novara, Italy
2
Department of Translational Medicine, Amedeo Avogadro University of Eastern Piedmont, 28100 Novara, Italy
3
Department of Medical Sciences, University of Turin, 10124 Torino, Italy
4
Medical Genetics Unit, Città della Salute e della Scienza University Hospital, 10124 Torino, Italy
5
Maternal Infant Department, Castelli Hospital, 28922 Verbania, Italy
*
Author to whom correspondence should be addressed.
Received: 1 April 2019 / Revised: 1 July 2019 / Accepted: 4 July 2019 / Published: 7 July 2019
Abstract
Congenital sensorineural hearing loss may occur in association with inborn pigmentary defects of the iris, hair, and skin. These conditions, named auditory-pigmentary disorders (APDs), represent extremely heterogeneous hereditary diseases, including Waardenburg syndromes, oculocutaneous albinism, Tietz syndrome, and piebaldism. APDs are part of the neurocristopathies, a group of congenital multisystem disorders caused by an altered development of the neural crest cells, multipotent progenitors of a wide variety of different lineages, including those differentiating into peripheral nervous system glial cells and melanocytes. We report on clinical and genetic findings of two monozygotic twins from a large Albanian family who showed a complex phenotype featured by sensorineural congenital deafness, severe neuropsychiatric impairment, and inborn pigmentary defects of hair and skin. The genetic analyzes identified, in both probands, an unreported co-occurrence of a new heterozygous germline pathogenic variant (c.2484 + 5G > T splicing mutation) in the
KIT
gene, consistent with the diagnosis of piebaldism, and a heterozygous deletion at chromosome 15q13.3, responsible for the neuropsychiatric impairment. This case represents the first worldwide report of dual locus inherited syndrome in piebald patients affected by a complex auditory-pigmentary multisystem phenotype. Here we also synthesize the clinical and genetic findings of all known neurocristopathies characterized by a hypopigmentary congenital disorder.
View Full-Text
►

▼

Figures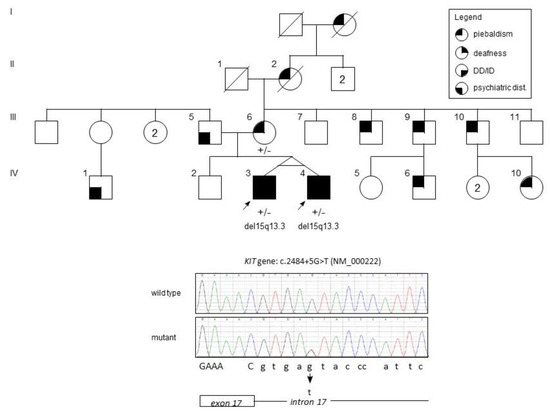 Figure 1
This is an open access article distributed under the
Creative Commons Attribution License
which permits unrestricted use, distribution, and reproduction in any medium, provided the original work is properly cited (CC BY 4.0).

Share & Cite This Article
MDPI and ACS Style
Gironi, L.C.; Colombo, E.; Brusco, A.; Grosso, E.; Naretto, V.G.; Guala, A.; Di Gregorio, E.; Zonta, A.; Zottarelli, F.; Pasini, B.; Savoia, P. Congenital Sensorineural Hearing Loss and Inborn Pigmentary Disorders: First Report of Multilocus Syndrome in Piebaldism. Medicina 2019, 55, 345.
Note that from the first issue of 2016, MDPI journals use article numbers instead of page numbers. See further details here.
Comments
[Return to top]