Association of Neutrophil-to-Lymphocyte Ratio and Lymphocyte-to-Monocyte Ratio with Treatment Modalities of Acute Ischaemic Stroke: A Pilot Study
1
Department of Neurosurgery and Neurology, Nicolaus Copernicus University in Toruń, Ludwik Rydygier Collegium Medicum, 85-168 Bydgoszcz, Poland
2
Department of Pathophysiology, Nicolaus Copernicus University in Toruń, Ludwik Rydygier Collegium Medicum, 85-094 Bydgoszcz, Poland
3
Department of Propedeutics of Medicine, Nicolaus Copernicus University in Toruń, Ludwik Rydygier Collegium Medicum, 85-094 Bydgoszcz, Poland
4
Department of Inorganic and Analytical Chemistry, Nicolaus Copernicus University in Toruń, Ludwik Rydygier Collegium Medicum, 85-089 Bydgoszcz, Poland
5
2nd Department of Cardiology, Nicolaus Copernicus University in Toruń, Ludwik Rydygier Collegium Medicum, 85-168 Bydgoszcz, Poland
*
Author to whom correspondence should be addressed.
Received: 29 April 2019 / Revised: 22 June 2019 / Accepted: 2 July 2019 / Published: 5 July 2019
Abstract
Background and Objectives:
Ischaemic stroke (IS) is the leading cause of death and disability worldwide. All stages of cerebral ischaemia, but especially acute phase, are associated with inflammatory response. Recent studies showed that neutrophil-to-lymphocyte ratio (NLR) and lymphocyte-to-monocyte ratio (LMR) may be used to assess inflammation in IS. To test whether there is a relationship between these parameters and type of stroke treatment, we analysed NLR and LMR in IS patients treated with three different modalities.
Materials and Methods:
The study included 58 adults with acute IS. A total of 28 patients received intravenous thrombolysis. In another 10 patients, the thrombolytic therapy was followed by thrombectomy and 20 patients did not undergo causal treatment. Blood samples were obtained within 24 h of the stroke diagnosis to calculate NLR and LMR. Next, NLR and LMR of the study subgroups were compared.
Results:
Our study revealed that NLR was significantly higher in patients treated with thrombectomy following thrombolysis, compared to no causal treatment. Statistical analysis demonstrated that patients with high National Institutes of Health Stroke Scale (NIHSS) scores presented higher NLR than in those with low NIHSS scores. Additionally, patients with high-sensitivity C-reactive protein (hs-CRP) ≥ 3 mg/L presented with significantly higher NLR and significantly lower LMR than the group of patients with lower hs-CRP (<3 mg/L).
Conclusions:
The main finding of this pilot study was that NLR in IS patients treated using thrombectomy following thrombolysis was markedly higher than that in other treatment groups, which was associated with increased severity of the disease in these patients. Therefore, patients with higher NLR may be expected to have more severe stroke. The link between stroke severity and NLR deserves further study.
View Full-Text
►

▼

Figures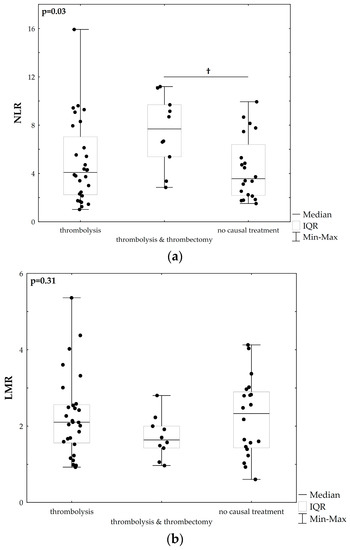 Figure 1
This is an open access article distributed under the
Creative Commons Attribution License
which permits unrestricted use, distribution, and reproduction in any medium, provided the original work is properly cited (CC BY 4.0).

Share & Cite This Article
MDPI and ACS Style
Świtońska, M.; Słomka, A.; Korbal, P.; Piekuś-Słomka, N.; Sinkiewicz, W.; Sokal, P.; Żekanowska, E. Association of Neutrophil-to-Lymphocyte Ratio and Lymphocyte-to-Monocyte Ratio with Treatment Modalities of Acute Ischaemic Stroke: A Pilot Study. Medicina 2019, 55, 342.
Note that from the first issue of 2016, MDPI journals use article numbers instead of page numbers. See further details here.
Comments
[Return to top]