The Antiproliferative and Apoptotic Effects of Capsaicin on an Oral Squamous Cancer Cell Line of Asian Origin, ORL-48
1
Department of Oral and Craniofacial Sciences, Faculty of Dentistry, University of Malaya, Kuala Lumpur 50603, Malaysia
2
Department of Oral Physiology, Faculty of Dentistry, Matsumoto Dental University, Shiojiri, Nagano 399-0781, Japan
3
Department of Oral Biology and Biomedical Sciences, Faculty of Dentistry, Mahsa University, Jenjarom 42610, Selangor, Malaysia
*
Author to whom correspondence should be addressed.
Received: 3 May 2019 / Revised: 24 June 2019 / Accepted: 26 June 2019 / Published: 28 June 2019
Abstract
Background and Objectives
: The antitumor activities of capsaicin on various types of cancer cell lines have been reported but the effect of capsaicin on oral cancer, which is prevalent among Asians, are very limited. Thus, this study aimed to investigate the effects of capsaicin on ORL-48, an oral cancer cell line of Asian origin.
Materials and Methods
: Morphological changes of the ORL-48 cells treated with capsaicin were analyzed using fluorescence microscopy. The apoptotic-inducing activity of capsaicin was further confirmed by Annexin V-Fluorescein isothiocyanate / Propidium iodide (V-FITC/PI) staining using flow cytometry. In order to establish the pathway of apoptosis triggered by the compound on ORL-48 cells, caspase activity was determined and the mitochondrial pathway was verified by mitochondrial membrane potential (MMP) assay. Cell cycle analysis was also performed to identify the cell cycle phase of ORL-48 cells being inhibited by the capsaicin compound.
Results
: Fluorescence microscopy exhibited the presence of apoptotic features in capsaicin-treated ORL-48 cells. Apoptosis of capsaicin-treated ORL-48 cells revealed disruption of the mitochondrial-membrane potential, activation of caspase-3, -7 and -9 through an intrinsic apoptotic pathway and subsequently, apoptotic DNA fragmentation. The cell cycle arrest occurred in the G1-phase, confirming antiproliferative effect of capsaicin in a time-dependent manner.
Conclusion
: This study demonstrated that capsaicin is cytotoxic against ORL-48 cells and induces apoptosis in ORL-48 cells possibly through mitochondria mediated intrinsic pathway resulting in cell cycle arrest.
View Full-Text
►

▼

Figures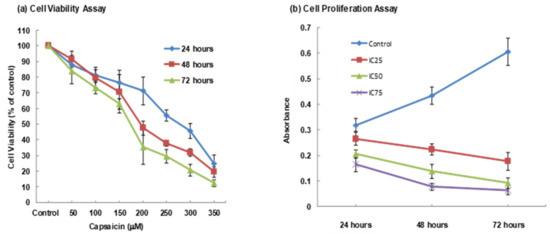 Figure 1
This is an open access article distributed under the
Creative Commons Attribution License
which permits unrestricted use, distribution, and reproduction in any medium, provided the original work is properly cited (CC BY 4.0).

Share & Cite This Article
MDPI and ACS Style
Kamaruddin, M.F.; Hossain, M.Z.; Mohamed Alabsi, A.; Mohd Bakri, M. The Antiproliferative and Apoptotic Effects of Capsaicin on an Oral Squamous Cancer Cell Line of Asian Origin, ORL-48. Medicina 2019, 55, 322.
Note that from the first issue of 2016, MDPI journals use article numbers instead of page numbers. See further details here.
Comments
[Return to top]