Radiation-Induced Dual Oxidase Upregulation in Rat Heart Tissues: Protective Effect of Melatonin
1
Departments of Medical Physics and Radiology, Faculty of Paramedical Sciences, Kashan University of Medical Sciences, 8715988141 Kashan, Iran
2
Department of Radiology, Faculty of Paramedical, Tehran University of Medical Sciences, 1416753955 Tehran, Iran
3
Clinical and Anatomical Pathologist at Tehran University of Medical Science, Imam Khomeini Hospital Complex, 1419733141 Tehran, Iran
4
Department of Molecular Medicine, School of Advanced Technologies in Medicine, Tehran University of Medical Sciences, 1416753955 Tehran, Iran
5
Department of Medical Radiation Engineering, Science and Research Branch, Islamic Azad University, 1477893855 Tehran, Iran
6
Department of Physiology, College of Medicine, University of Misan, 62010 Misan, Iraq
7
Department of Medical Physics, Tehran University of Medical Sciences (International Campus), 1416753955 Tehran, Iran
8
Department of Physiology, Faculty of Medicine, Tehran University of Medical Sciences, 1416753955 Tehran, Iran
9
Radiology and Nuclear Medicine Department, School of Paramedical Sciences, Kermanshah University of Medical Sciences, 6715847141 Kermanshah, Iran
*
Author to whom correspondence should be addressed.
Received: 24 May 2019 / Revised: 22 June 2019 / Accepted: 26 June 2019 / Published: 27 June 2019
Abstract
Background
: Radiation-induced heart injury can lead to increased risk of heart failure, attack, and ischemia. Some studies proposed IL-4 and IL-13 as two important cytokines that are involved in late effects of ionizing radiation. On the other hand, these cytokines may, through upregulation of
Duox1
and
Duox2
, induce chronic oxidative stress, inflammation, and fibrosis. In this study, we evaluated the upregulation of
Duox1
and
Duox2
pathways in hearts following chest irradiation in rats and then detected possible attenuation of them by melatonin.
Materials and Methods
: Twenty male Wistar rats were divided into four groups: (1) control; (2) melatonin treated (100 mg/kg); (3) radiation (15 Gy gamma rays); (4) melatonin treated before irradiation. All rats were sacrificed after 10 weeks and their heart tissues collected for real-time PCR (RT-PCR), ELISA detection of IL-4 and IL-13, as well as histopathological evaluation of macrophages and lymphocytes infiltration.
Results
: Results showed an upregulation of IL-4,
IL4ra1
,
Duox1
, and
Duox2
. The biggest changes were for
IL4ra1
and
Duox1
. Treatment with melatonin before irradiation could attenuate the upregulation of all genes. Melatonin also caused a reduction in IL-4 as well as reverse infiltration of inflammatory cells.
Conclusion
:
Duox1
and
Duox2
may be involved in the late effects of radiation-induced heart injury. Also, via attenuation of these genes, melatonin can offer protection against the toxic effects of radiation on the heart.
View Full-Text
►

▼

Figures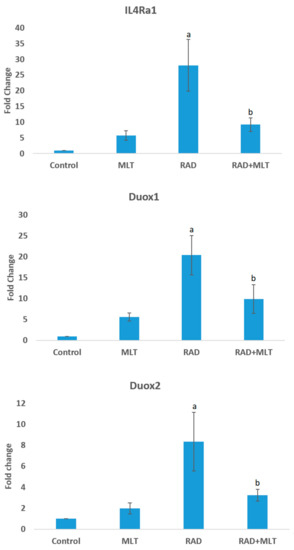 Figure 1
This is an open access article distributed under the
Creative Commons Attribution License
which permits unrestricted use, distribution, and reproduction in any medium, provided the original work is properly cited (CC BY 4.0).

Share & Cite This Article
MDPI and ACS Style
Farhood, B.; Aliasgharzadeh, A.; Amini, P.; Saffar, H.; Motevaseli, E.; Rezapoor, S.; Nouruzi, F.; Shabeeb, D.; Eleojo Musa, A.; Ashabi, G.; Mohseni, M.; Moradi, H.; Najafi, M. Radiation-Induced Dual Oxidase Upregulation in Rat Heart Tissues: Protective Effect of Melatonin. Medicina 2019, 55, 317.
Note that from the first issue of 2016, MDPI journals use article numbers instead of page numbers. See further details here.
Comments
[Return to top]