Protective Effect of Melatonin Against Radiotherapy-Induced Small Intestinal Oxidative Stress: Biochemical Evaluation
1
Department of Medical Physics, Tehran University of Medical Sciences (TUMS), International Campus, Tehran 1416753955, Iran
2
Research Center for Molecular and Cellular Imaging, TUMS, Tehran 1416753955, Iran
3
Al-Sadder Teaching Hospital, Department of Neurophysiology, Misan 62010, Iraq
4
University of Misan, Faculty of Medicine, Department of Physiology, Misan 62010, Iraq
5
University of Misan, Faculty of Medicine, Department of Medicine, Misan 62010, Iraq
*
Author to whom correspondence should be addressed.
Received: 10 May 2019 / Revised: 21 June 2019 / Accepted: 21 June 2019 / Published: 25 June 2019
Abstract
Background and Objectives:
Radiation enteritis is a common side effect after radiotherapy for abdominal and pelvic malignancies. The aim of the present study was to investigate the protective effect of melatonin, known for its free radical scavenging ability, against radiotherapy-induced small intestinal oxidative damage.
Materials and Methods:
Thirty male Wistar rats were randomly assigned to six groups (5 rats in each) as follows: Group I (control group) rats received neither radiation nor melatonin; group II rats received only 8 Gy single dose of gamma radiation to their abdomen and pelvis regions; group III (administered with only 50 mg/kg melatonin); group IV (administered with only 100 mg/kg melatonin); group V (50 mg/kg melatonin + 8 Gy radiation), group VI (100 mg/kg melatonin + 8 Gy radiation). All rats were sacrificed after 5 days for biochemical assessments of their intestinal tissues.
Results:
Treatment with melatonin post irradiation significantly reduced malondialdehyde (MDA) levels as well as increased both superoxide dismutase (SOD) and catalase (CAT) activities of the irradiated intestinal tissues. In addition, melatonin administration with different doses pre irradiation led to protection of the tissues. Moreover, the 100 mg/kg dose was more effective compared to 50 mg/kg.
Conclusions:
The results of our study suggest that melatonin has a potent protective effect against radiotherapy-induced intestinal damage, by decreasing oxidative stress and increasing antioxidant enzymes. We recommend future clinical trials for more insights.
View Full-Text
►

▼

Figures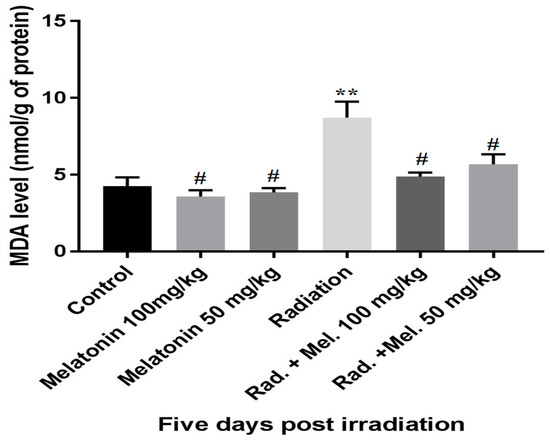 Figure 1
This is an open access article distributed under the
Creative Commons Attribution License
which permits unrestricted use, distribution, and reproduction in any medium, provided the original work is properly cited (CC BY 4.0).

Share & Cite This Article
MDPI and ACS Style
Musa, A.E.; Shabeeb, D.; Alhilfi, H.S.Q. Protective Effect of Melatonin Against Radiotherapy-Induced Small Intestinal Oxidative Stress: Biochemical Evaluation. Medicina 2019, 55, 308.
Note that from the first issue of 2016, MDPI journals use article numbers instead of page numbers. See further details here.
Comments
[Return to top]