Hepatoprotective Effect of Melatonin in Toxic Liver Injury in Rats
1
Department of Pharmacology and Clinical Pharmacology, I. Horbachevsky Ternopil State Medical University, Maidan Voli sq. 1, 46001 Ternopil, Ukraine
2
Department of orthopedagogy and physical therapy, Ternopil V. Hnatiuk National Pedagogical University, Maxym Kryvonis str. 2, 46027 Ternopil, Ukraine
3
Department of Medical Biochemistry, I. Horbachevsky Ternopil State Medical University, Maidan Voli sq 1., 46001 Ternopil, Ukraine
4
Central Scientific Research Laboratory, I. Horbachevsky Ternopil State Medical University, Maidan Voli sq. 1, 46001 Ternopil, Ukraine
*
Author to whom correspondence should be addressed.
Received: 19 April 2019 / Revised: 17 June 2019 / Accepted: 18 June 2019 / Published: 24 June 2019
Abstract
Background and objectives:
toxic liver injury results in nitrooxidative stress. Melatonin is a potent free radical scavenger, an inducible nitric oxide synthase (iNOS) inhibitor and an activator of antioxidant enzymes. The aim of this study was to investigate the hepatoprotective effect of exogenous melatonin on animals with acute toxic hepatitis.
Material and methods:
36 healthy Sprague-Dawley male rats were split into three equal groups and given carbon tetrachloride (CCl
4
), 2 g/kg (CCl
4
group) or the same dose of CCl
4
and melatonin, 10 mg/kg (CCl
4
/melatonin group) or saline (control group). The effect of melatonin on prooxidant and antioxidant system indexes, NO and NOS levels in serum and liver, data of mitochondrial chain functions and cytolysis in liver were evaluated in all three groups.
Results:
melatonin significantly decreased activities of AST, ALT, ceruloplasmine and thiobarbituric acid reactive substance (TBARS) in serum. Catalase activity was lowered in serum but not in the liver. Hepatic TBARS, lipid hydroperoxides and glutathione concentrations were decreased, while superoxide dismutase, mitochondrial cytochrome oxidase and succinate dehydrogenase activities increased. Melatonin inhibited synthesis of stable NO metabolites in serum: NO
2
-by 37.9%; NO
3
-by 29.2%. There was no significant difference in content NO
2
-in the liver, but concentration of NO
3
-increased by 32.6%. Melatonin significantly reduced iNOS concentrations both in serum (59.7%) and liver (57.8%) but did not affect endothelial isoform enzyme activities neither in serum, nor in liver. The histopathological liver lesions observed in the CCl
4
/melatonin group were less severe than those seen in the CCl
4
group.
Conclusions:
we demonstrated an ameliorating effect of melatonin on prooxidants and antioxidants, NO-NOS systems balance, mitochondrial function and histopathological lesions in the liver in rats with CCl
4
-induced hepatitis.
View Full-Text
►

▼

Figures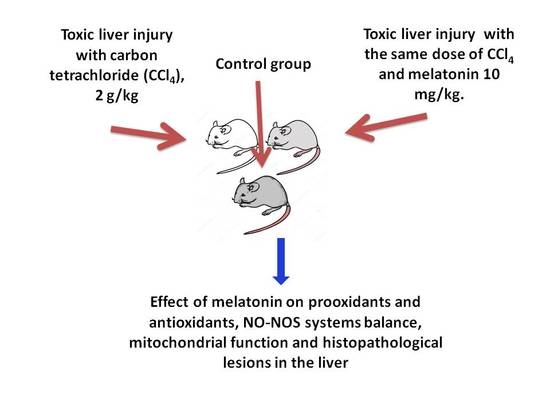 Graphical abstract
This is an open access article distributed under the
Creative Commons Attribution License
which permits unrestricted use, distribution, and reproduction in any medium, provided the original work is properly cited (CC BY 4.0).

Share & Cite This Article
MDPI and ACS Style
Oleshchuk, O.; Ivankiv, Y.; Falfushynska, H.; Mudra, A.; Lisnychuk, N. Hepatoprotective Effect of Melatonin in Toxic Liver Injury in Rats. Medicina 2019, 55, 304.
Note that from the first issue of 2016, MDPI journals use article numbers instead of page numbers. See further details here.
Comments
[Return to top]