Prognostic Impact of Canonical TGF-β Signaling in Urothelial Bladder Cancer
1
Department of Pathology, Faculty of Medicine, University of Niš, 18000 Niš, Serbia
2
Center for Pathology, Clinical Center Niš, 18000 Niš, Serbia
3
Department of Anatomy, Faculty of Medicine, University of Niš, 18000 Niš, Serbia
4
Department of Oncology, Faculty of Medicine, University of Niš, 18000 Niš, Serbia
5
Clinic of Oncology, Clinical Center Niš, 18000 Niš, Serbia
6
Department of Physiology, Faculty of Medicine, University of Niš, 18000 Niš, Serbia
7
Department of Gynecology and Obstetrics, Faculty of Medicine, University of Niš, 18000 Niš, Serbia
8
Clinic of Gynecology and Obstetrics, Clinical Center Niš, 18000 Niš, Serbia
*
Author to whom correspondence should be addressed.
Received: 27 May 2019 / Revised: 12 June 2019 / Accepted: 20 June 2019 / Published: 24 June 2019
Abstract
Background and objectives
: Dysregulation of TGF-β signaling plays multiple roles in cancer development and progression. In the canonical TGF-β pathway, TGF-β regulates the expression of hundreds of target genes via interaction with Smads, signal transducers and transcriptional modulators. We evaluated the association of TGF-β1, Smad2, and Smad4, the key components of canonical TGFβ pathway, with clinicopathologic characteristics of urothelial bladder cancer, and assessed their prognostic value in prediction of patients' outcome.
Materials and Methods
: Immunohistochemical analysis of TGF-β1, Smad2, and Smad4 expression was performed on 404 urothelial bladder cancer samples, incorporated in tissue microarrays. Expression status was correlated with clinicopathological and follow-up data. The median follow-up was 61 months.
Results
: High expression of TGF-β1, Smad2, and Smad4 was detected in 68.1%, 31.7% and 45.2% of the tumors, respectively. TGF-β1 overexpression was significantly associated with high tumor grade, and advanced pathologic stage (
p
< 0.001, respectively). Conversely, high Smad2 and Smad4 expression was linked to low tumor grade (
p
= 0,003,
p
= 0.048, respectively), and low tumor stage (
p
< 0.001,
p
= 0.003, respectively). Smad2 showed an inverse correlation with variant morphology and divergent differentiation of urothelial tumors (
p
= 0.014). High TGF-β1 correlated directly, while Smad2 and Smad4 correlated inversely to cancer-specific death (
p
= 0.043,
p
= 0.003, and
p
= 0.022, respectively). There was a strong relationship between Smad2 and Smad4 expression (
p
< 0.001). Survival analyses showed that high Smad2 and Smad4 expression was associated with longer overall survival (
p
= 0.003,
p
= 0.034, respectively), while in multivariate regression analysis TGF-β1 manifested as an independent predictor of poor outcome.
Conclusions
: Unraveling the complex roles and significance of TGF-β signaling in urothelial bladder cancer might have important implications for therapy of this disease. Assessment of TGF-β pathway status in patients with urothelial bladder cancer may provide useful prognostic information, and identify patients that could have the most benefit from therapy targeting TGF-β signaling cascade.
View Full-Text
►

▼

Figures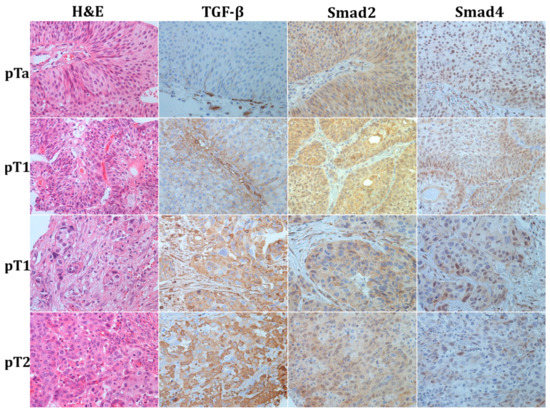 Figure 1
This is an open access article distributed under the
Creative Commons Attribution License
which permits unrestricted use, distribution, and reproduction in any medium, provided the original work is properly cited (CC BY 4.0).

Share & Cite This Article
MDPI and ACS Style
Stojnev, S.; Krstić, M.; Čukuranović Kokoris, J.; Conić, I.; Petković, I.; Ilić, S.; Milosević-Stevanović, J.; Janković Veličković, L. Prognostic Impact of Canonical TGF-β Signaling in Urothelial Bladder Cancer. Medicina 2019, 55, 302.
Note that from the first issue of 2016, MDPI journals use article numbers instead of page numbers. See further details here.
Comments
[Return to top]