Open Access This article is
freely available
re-usable
Review
Exploring the Continuum of Hypertrophic Cardiomyopathy—From DNA to Clinical Expression
1
Department of Cardiology, Clinical Emergency Hospital of Bucharest, Floreasca Street 8, 014461 Bucharest, Romania
2
Department 4-Cardiothoracic Pathology, University of Medicine and Pharmacy Carol Davila, Eroii Sanitari Bvd. 8, 050474 Bucharest, Romania
3
Cardiomyopathy Center, Monza Hospital, Tony Bulandra Street 27, 021968 Bucharest, Romania
*
Author to whom correspondence should be addressed.
Received: 23 March 2019 / Accepted: 20 June 2019 / Published: 23 June 2019
Abstract
:
The concepts underlying hypertrophic cardiomyopathy (HCM) pathogenesis have evolved greatly over the last 60 years since the pioneering work of the British pathologist Donald Teare, presenting the autopsy findings of "asymmetric hypertrophy of the heart in young adults". Advances in human genome analysis and cardiac imaging techniques have enriched our understanding of the complex architecture of the malady and shaped the way we perceive the illness continuum. Presently, HCM is acknowledged as "a disease of the sarcomere", where the relationship between genotype and phenotype is not straightforward but subject to various genetic and nongenetic influences. The focus of this review is to discuss key aspects related to molecular mechanisms and imaging aspects that have prompted genotype–phenotype correlations, which will hopefully empower patient-tailored health interventions.
Keywords:
hypertrophic cardiomyopathy; causative mutations; modifiers; cardiac imaging
1. Introduction
Hypertrophic cardiomyopathy (HCM) is an autosomal dominant disease caused by mutations in sarcomeric or sarcomeric-related genes [
1
]. It is the most common inherited cardiomyopathy, with a prevalence in the general population of 1:500, or even higher, as suggested by recent evidence [
1
,
2
]. There is also the possibility of spontaneous/de novo mutations, recognized and reported in literature since the early 1990s [
3
,
4
]. Notably, HCM is highly heterogeneous as concerns clinical expression and outcome, even within the same family. Clinical manifestations vary greatly, from asymptomatic to severe forms, or even sudden cardiac death (SCD), which may be the first expression of the disease. Incomplete penetrance and variable expressivity are the result of various genetic and nongenetic influences that are not yet fully understood (
Figure 1
).
The condition is defined by the presence of left ventricular hypertrophy (LVH) that is not solely explained by abnormal loading conditions [
5
]. Several other disorders (with different genetic etiology) are also characterized by LVH and its inherent aftermaths. Apart from sharing the key feature (i.e., LVH), these illnesses (denoted as HCM phenocopies) differ from HCM not only in terms of the genes involved but also in terms of natural history, patients' management, and prognosis. In the following, we will refer only to sarcomeric HCM, leaving aside the above-mentioned phenocopies.
2. Etiology
2.2. Challenges of Mutation Analysis
The use of high-throughput sequencing techniques together with extensive gene panels in daily practice have greatly contributed to discovery of new causal mutations, but they have also increased the chances of spotting variants of uncertain significance (VUS), which are difficult to interpret. Discriminating between a pathogenic variant and a rare variant with no clinical significance is challenging, especially in the case of "private" mutations, which are unique for a family. Classification of the new identified variants has to be done with extreme caution since the result of genetic testing directs the management of first-degree relatives.
Also, in particular cases, the accurate location of the mutation is not an easy task. Indeed, our group recently reported the challenges faced in mapping a deletion in the
MYBPC3
gene identified in an HCM patient. The mutation (p.Lys814del) was initially detected in a next-generation sequencing (NGS) screening, and it was subsequently confirmed by Sanger sequencing (GenBank accession number MH595891) [
37
]. Because of the particular nucleotide structure of the affected sequence comprising a short tandem repeat of four Lys residues, in spite of using different bioinformatics tools, it was not possible to precisely determine which triplet was in fact deleted. One should be aware of these findings when reporting the genomic coordinates of such a type of deletion.
3. Histopathological Hallmarks
4. Clinical Expression
The morpho-pathological changes in HCM determine various hemodynamic consequences, affecting the efficacy of normal heart function. HCM patients can display one or more hemodynamic abnormalities, depending on the stage of the disease.
5. Modifiers of Clinical Expression
Given the high variability in terms of clinical expression and illness progression in HCM patients harboring identical causal mutations, sustained efforts have been made to pinpoint factors that act as disease modifiers.
At the present time, it is widely acknowledged that the HCM phenotype is the result of multifaceted interactions between genetic backgrounds, demographical characteristics, environmental influences, and associated comorbidities. Besides, there is a special place to be kept for epigenetics, covering all the modifications that regulate gene expression without altering the genomic sequence, including DNA methylation, histone modification, noncoding RNAs (ncRNAs), or post-translational modifications. It is worth to mention that ncRNAs are regulators of gene expression, but they are also emerging biomarkers of disease progression and potential therapeutic targets. For logical reasons, the first two roles will be discussed together in this paper.
5.3. Epigenetics
5.3.1. DNA Methylation/Demethylation
An important mechanism in the regulation of gene expression is DNA methylation. Increased methylation of CpG islands of
MYBPC3
drives genetic instability and, thus, deamination of this region leading to mutation, from a cytosine to a thymine [
85
]. Directly linked to the mentioned mutation, a treatment proposed demethylation with agents such as 5-azacytidine, showing favorable effects such as antifibrosis and anti-hypertrophy [
86
], of course with all the adverse effects of this drug.
5.3.2. Histone Modification
By interacting with DNA, histones are the foremost players in maintaining chromatin in a silenced or active state. Although various biological factors involved in histone modification have been studied in relation with cardiac hypertrophy [
87
,
88
,
89
,
90
], only scarce data are available regarding their role in HCM. For instance, it has been shown that brahma-related gene-1 (
Brg1
), a chromatin-remodeling protein that interacts with histone deacetylases and poly(ADP-ribose) polymerase-1, is positively correlated with the severity of HCM and changes in myosin heavy chain expression [
91
].
Furthermore, demethylation by the switch on of Jumonji domain 2 (JMJD2A)—a lysine trimethyl-specific histone demethylase—induces hypertrophy, and inactivation lessens the phenotype of hypertrophic cardiomyopathy on transverse transaortic constriction-induced models. This enzyme demethylates the trimethylated lysine 9 (H3K9m3) and lysine 36 (H3K36m3) of histone H3, inducing hypertrophy and heart failure [
92
].
5.3.3. Noncoding RNAs
A growing body of evidence endorses ncRNAs as key regulators of heart pathophysiology. Because of the variable penetrance and high clinical heterogeneity, the levels of lncRNA and miRNAs are constantly changing depending on the stage of the disease: asymptomatic, mild asymptomatic hypertrophy, or defined HCM.
Another type of ncRNAs are lncRNAs—RNA transcripts longer than 200 nucleotides that have no protein coding function but are able to influence gene expression at transcriptional and post-transcriptional levels. In recent years, various lncRNAs have been proven to be implicated in HCM development through the control of chromatin remodeling and competitively combining with the corresponding miRNAs, with most studies being conducted in preclinical settings.
5.4. Post-Translational Regulation
Post-translational modifications represent an important mechanism by which a variety of cellular processes and systems are regulated. For example, phosphorylation of the regulatory light chain (RLC) of cardiac myosin by myosin light chain kinase facilitates actomyosin interaction and increases force at the level of the muscle. HCM caused by mutations in the region A13T of RLC (the site close to Ser15 where phosphorylation takes place) induces abnormal calcium-binding of RLC and reduces the alpha-helix content (a modification well compensated by phosphorylation), highlighting that phosphorylation contributes to compensate some pathological consequences of HCM mutations [
111
]. The extent of RLC phosphorylation can be a diagnostic method, as in cases with LVH and normal LVEF, RLC phosphorylation is normal, compared with dilated left ventricles and reduced LVEF where RLC phosphorylation is significantly reduced [
112
]. Therefore, increasing RLC phosphorylation seems to protect the heart by increasing the contractility aiming to adapt it to stress [
113
].
In addition to phosphorylation, other post-translational modifications of sarcomeric proteins, such as S-glutathionylation, acetylation, or citrullination, can contribute to the pathophysiology of HCM.
6. Modalities to Detect Clinical Expression
6.1. Echocardiography
Echocardiography has traditionally played a main role in the diagnosis and prognostic assessment of this complex disease as well as in formulation of various management strategies. Following clinical exam and ECG studies, echocardiography is the third step in the diagnostic workup of a patient with suspected HCM by confirming the presence of LVH.
The most common locations for increased wall thickness in HCM are the basal anterior septum, the anterior free wall, and the posterior septum at the midlevel. Although LVH involves most of the myocardium in the majority of patients, a minority (10%) of HCM subjects exhibit increased LV thickness confined to only one or two LV segments. Although, typically asymmetric in distribution, any pattern of LV thickening can be seen in HCM from apical LVH to concentric LVH (1%).
In addition to the classical variant of HCM with or without LVOT obstruction, a morphological variety of other HCM exists, some of which may be managed differently: midcavity obstruction, midcavity obstruction with apical aneurism, apical HCM, or right ventricular obstruction.
A very small number of HCM patients demonstrate obstruction to flow in the right ventricular (RV) outflow tract. This is usually a result of midsystolic contact of prominent right ventricular muscle bundles located in the RV outflow tract region.
The assessment of ventricular diastolic and systolic function plays an essential role in the prognostic stratification and management of patients.
6.2. Cardiovascular Magnetic Resonance Imaging
6.3. Biomarkers
One aspect of uppermost importance in HCM is the prevention of SCD. Identification of high-risk biomarkers for ventricular arrhythmias or evolution from stable disease to LV dysfunction and heart failure allows prompt identification of HCM individuals with elevated likelihood of SCD.
Identification of necrosis, fibrosis, or stress biomarkers would assure a better risk stratification. Many biomarkers from different categories such as high-sensitivity cardiac troponin T or I (hs-cTnT, hs-TnI), N-terminal pro-b-type natriuretic peptide (NT-pro-BNP), growth differentiation factor 15 (GDF-15), Galectin-3 (Gal-3), CICP, or soluble suppression of tumorigenicity (soluble ST2) have been investigated.
Necrosis markers such as troponin are very sensitive and specific for myocyte injuries, being indicators of disease progression and worse prognosis [
158
]. Troponins constantly showed an independent, predictive role of extensive LGE in low- or intermediate-risk HCM cases [
159
]. Kubo et al. found that troponin T and plasmatic brain natriuretic peptide (BNP), biomarkers of myocyte stress, are complementary biomarkers useful for identifying patients with unfavorable evolution towards heart failure. Other common, accurate stress biomarkers are natriuretic peptides [
160
]. The plasmatic values of BNP increase in overload conditions or extensive cardiac fibrosis [
161
]. BNP independently predicts mortality and morbidity in HCM [
162
], while NT-pro-BNP correlates with the diastolic and systolic dysfunction or LV wall stress [
163
].
Inflammatory markers such as IL-6 and tumor necrosis factor α (TNF-α) may be implicated in HCM pathogenesis by stimulation of fibrosis pathways. In mice, IL-6 and the IL-6 receptor induces cardiac hypertrophy [
164
], and probably a similar mechanism is encountered in humans.
Myocardial fibrosis is associated with a higher risk of adverse events, and identification of fibrosis markers would ameliorate the accuracy of risk stratification. Matrix metalloproteinases (MMPs) play an important role in the fibrosis process of remodeling, which is a mechanism already shown after myocardial infarction [
165
]. The imbalance between MMP and TIMPs (tissue inhibitors of metalloproteinases) could explain the extensive fibrosis seen in advanced HCM. Patients with HCM have high levels of MMP-2, MMP-9, procollagen type III N-terminal pro-peptide (PIIINP), and ICTP indicating an increased turnout of collagen, as well as a reduction of TIMP-1 and increased CICP, showing fibrosis accumulation. On mouse models of hypertensive cardiomyopathy, it was shown that ACE inhibitors impeded fibrosis by targeting MMPs [
166
], confirmed at least for the diastolic function in nonobstructive HCM [
167
].
The study of biomarkers gives some insights into the pathophysiology of the disease, but neither their exact function in the clinical assessment of patients nor their potential therapeutic roles are completely understood.
7. Perspectives
The discovery of disease modifiers opened new horizons for the treatment of HCM. Malady development could be potentially slowed or even stopped by inhibiting the pro-hypertrophic and profibrotic miRNAs with antimiRs or by stimulating the miRNAs having opposed effects with miRNA mimics. AntimiRs are synthetic oligonucleotides complementary to the mRNA-binding sequence. Different chemical modifications, such as the addition of cholesterol, have been made in order to increase stability and improve the pharmacodynamics or cellular uptake of antimiRs [
168
]. Some in vivo studies have been conducted where cardiomyocyte hypertrophy has been inhibited by antagomirs for miR-21 [
169
] and miR-132 [
170
] on heart failure models induced by pressure overload. Inhibition of miR-34a in mice was shown to reduce atrial enlargement and maintain cardiac function in those with moderate pathology but not in advanced stages [
171
].
Also, manipulating dysregulated lncRNAs to adjust their expression could improve the course of the disease.
Until ncRNAs may serve as reliable therapeutic targets, there is still a long way to go. Indeed, lncRNAs regulate genetic networks and have no single pathway, so their use is hindered by potential severe, off-target effects. Before entering the clinical arena, robust proof of concept studies in relevant animal models are essential.
8. Highlights
The main existing evidence, along with knowledge deficits and proposed strategies to bridge the gaps, are summarized in
Table 2
.
9. Conclusions
Undoubtedly, our knowledge about HCM has significantly improved since its early description in 1958, but there is still a long road ahead until the complete elucidation of underlying physiopathological mechanisms and achievement of individually tailored health interventions.
Author Contributions
All authors equally contributed in conception, drafting, and revision of the manuscript. All authors approved the final version of the manuscript.
Funding
This research received no external funding.
Conflicts of Interest
The authors declare no conflict of interest.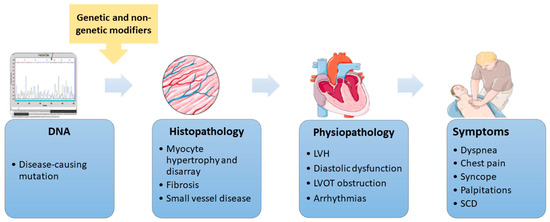 Figure 1. The hypertrophic cardiomyopathy continuum. The pathway from the disease-causing mutation to clinical expression is subject to various genetic and nongenetic influences. This figure was created with images from Servier Medical Art by Servier. DNA—deoxyribonucleic acid, LVH—left ventricular hypertrophy, LVOT—left ventricular outflow tract, and SCD—sudden cardiac death.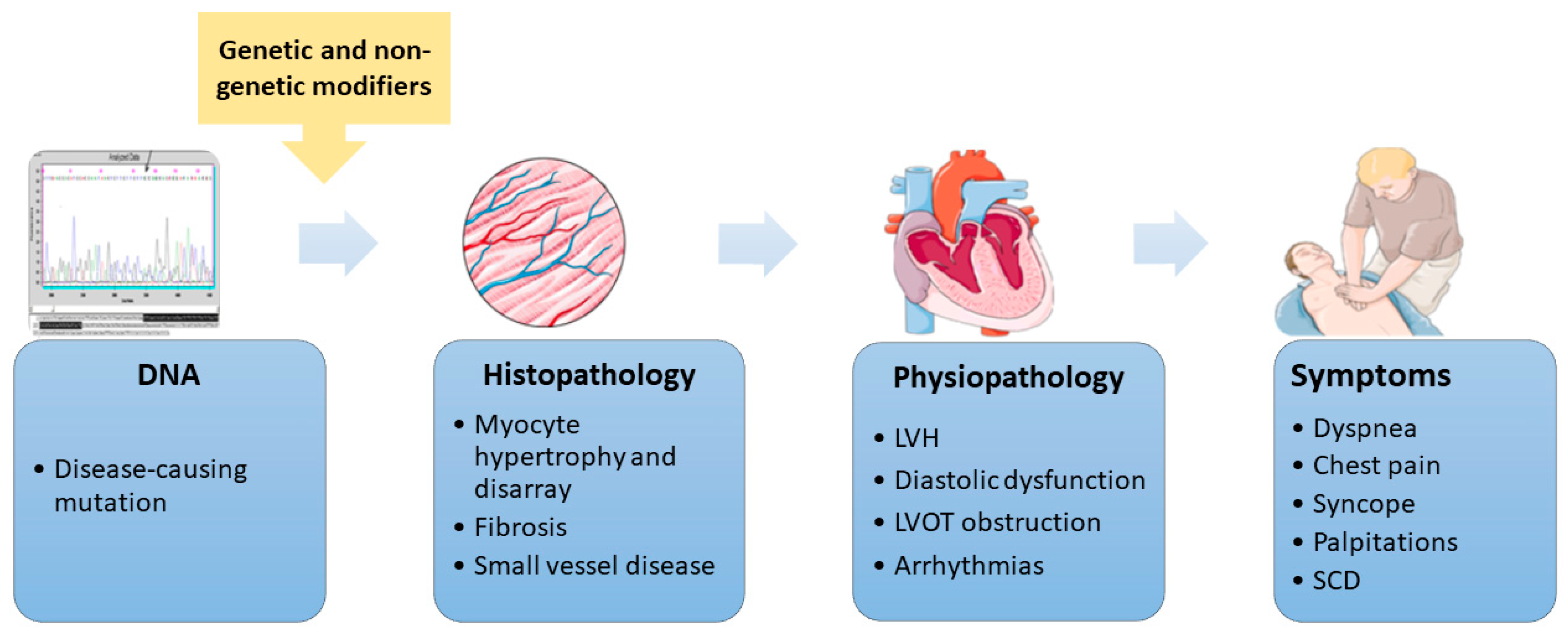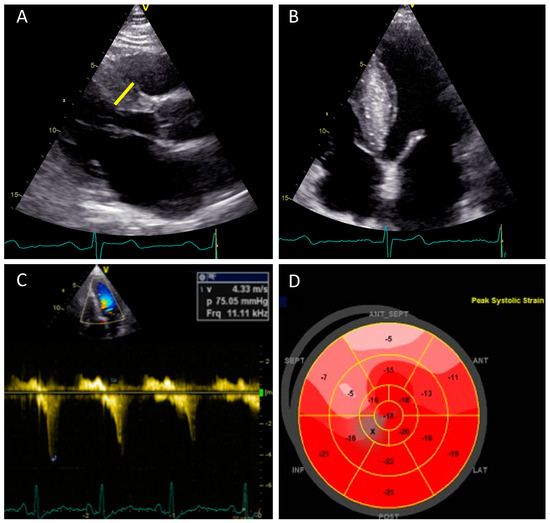 Figure 2. The role of transthoracic, two-dimensional echocardiography in the assessment of hypertrophic cardiomyopathy (HCM). (A) A parasternal long axis view showing basal septal hypertrophy (maximum LV wall thickness 21 mm—yellow line). (B) Apical four-chamber view shows hypertrophy of the interventricular septum. (C) Continuous wave Doppler from modified apical five-chamber view showing a rest dynamic gradient of 75 mmHg in the LVOT (D) A bull's eye plot of two-dimensional speckle tracking showing reduced peak longitudinal strain values in the septum—the areas most affected by hypertrophy with preservation of the basal-to-apical gradient. HCM—hypertrophic cardiomyopathy, LV—left ventricle, and LVOT—left ventricular outflow obstruction.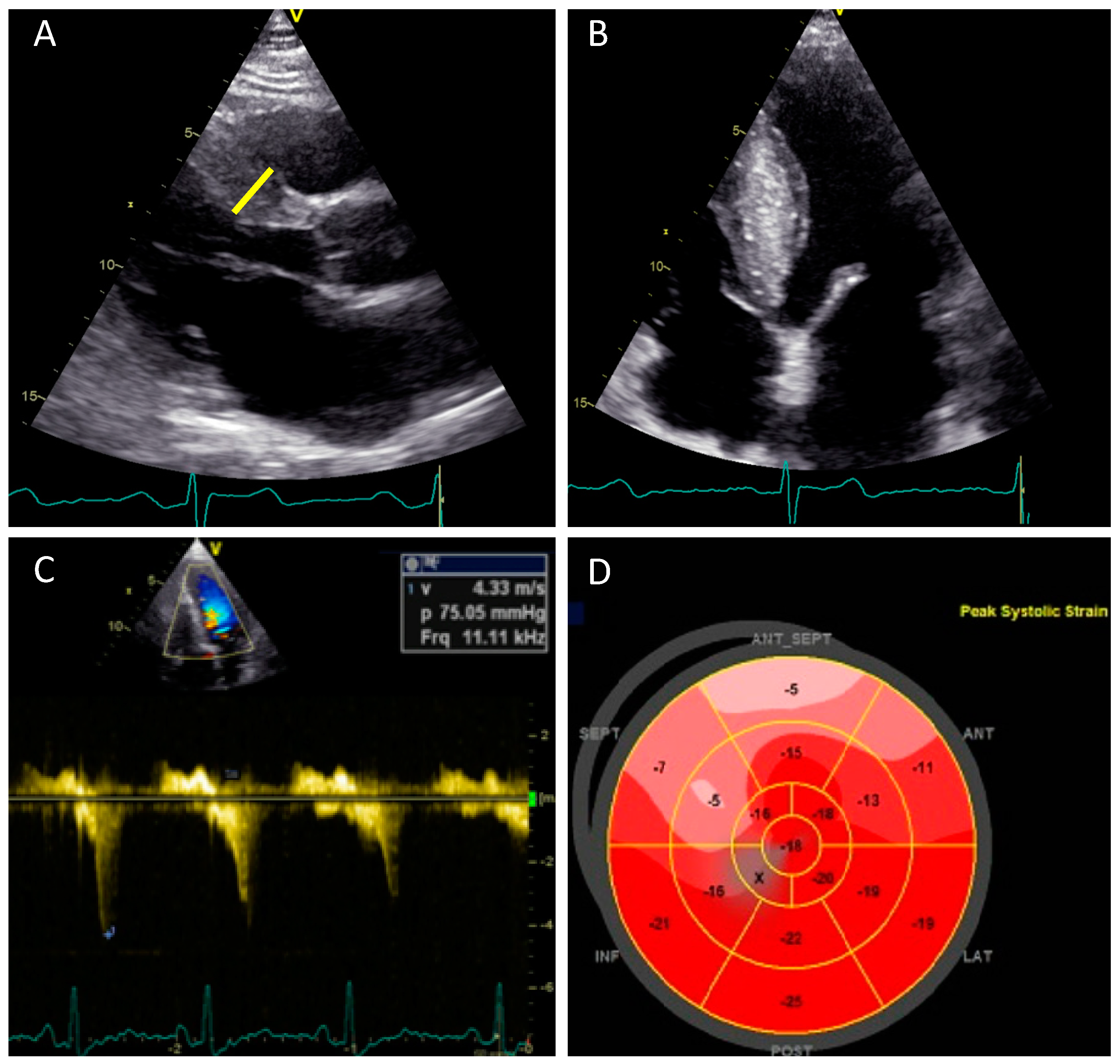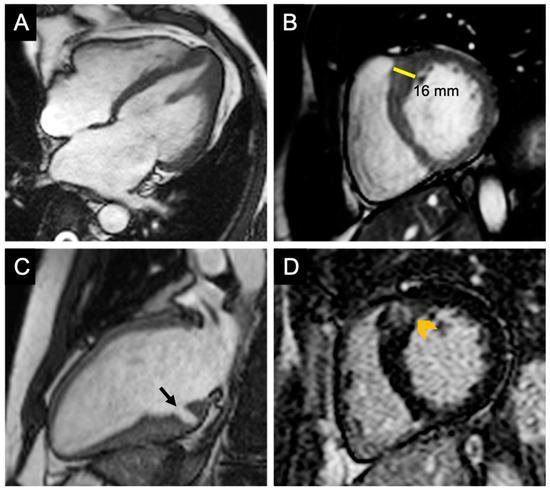 Figure 3. The role of CMR in the assessment of HCM. (A) Cine-CMR four-chamber view—diastolic phase demonstrating hypertrophy of the apical segments of the left ventricle and apical insertion of the papillary muscle in a patient with apical HCM. (B) Cine-CMR short-axis view—diastolic phase demonstrating hypertrophy of the confluence of the basal anterior septum with the contiguous anterior free wall; this is the most common location of LV hypertrophy in patients with HCM. (C) Cine-CMR apical two-chamber view—diastolic phase showing a myocardial crypt (black arrow) located in the basal inferior wall in a patient without definite criteria for HCM (the maximum wall thickness was 13 mm). (D) LGE short-axis view of the patient in panel B, demonstrating patchy hyperenhancement of the hypertrophied segment indicating replacement fibrosis. CMR—cardiovascular magnetic resonance, HCM—hypertrophic cardiomyopathy, LV—left ventricle, and LGE—late gadolinium enhancement.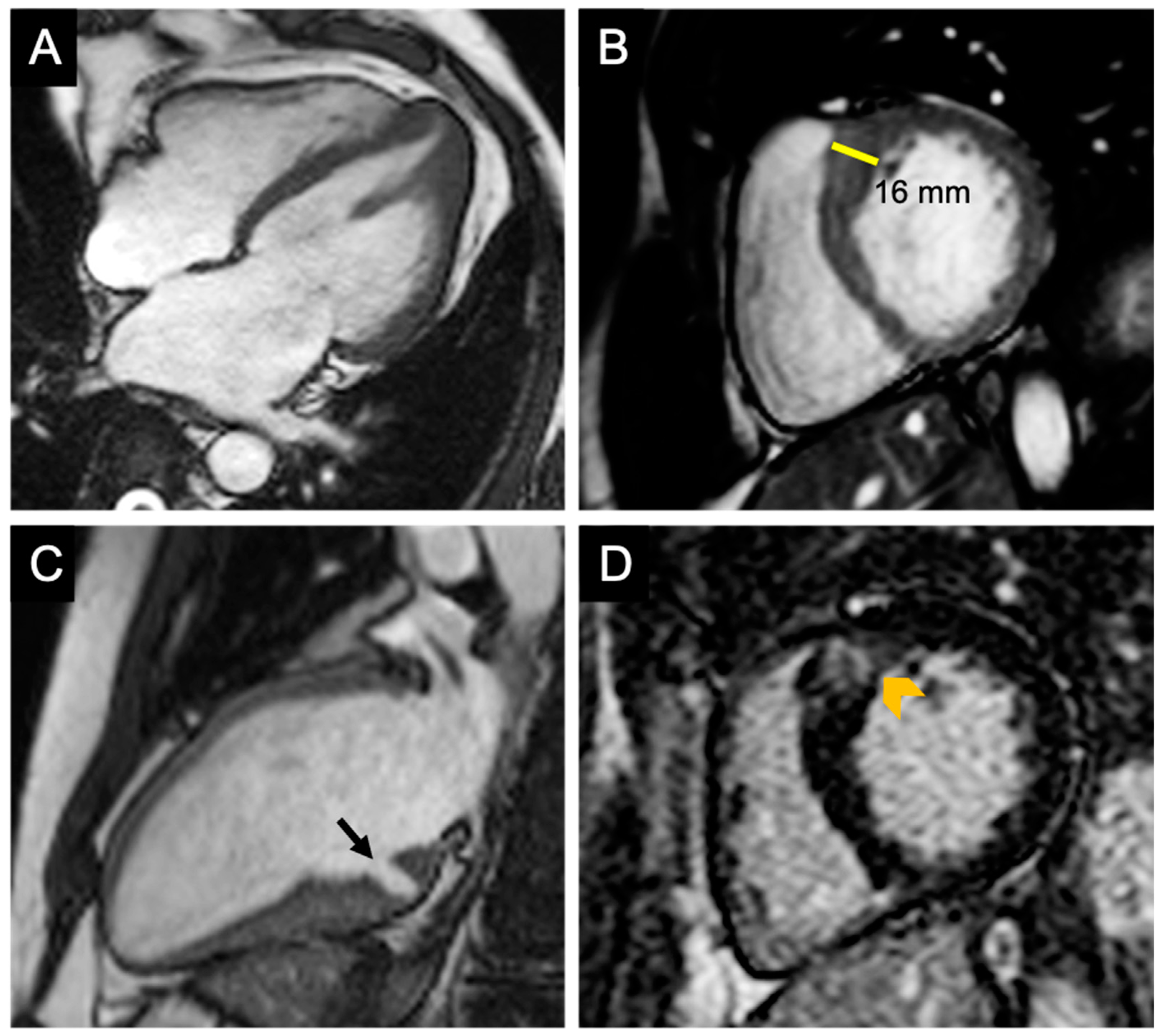 | | | |
| --- | --- | --- |
| Core Genes | Protein | References |
| MYH7 | β-Myosin heavy chain | [8] |
| MYBPC3 | Myosin-binding protein C | [8] |
| TNNT2 | Cardiac troponin T | [9] |
| TNNI3 | Cardiac troponin I | [6] |
| TPM1 | α-Tropomyosin | [9] |
| ACTC1 | Cardiac muscle α-Actin | [6] |
| MYL2 | Myosin light chain 2 | [10] |
| MYL3 | Myosin light chain 3 | [11] |
| Emerging Genes | Protein | References |
| ACTN2 | α-Actin 2 | [12] |
| ANKRD1 | Ankyrin repeat domain 1 | [13] |
| CSRP3 | Cysteine and glycine-rich protein 3 or Muscle Lin11/Isl1/Mec3( LIM) protein | [14] |
| DES | Desmin | [15] |
| FHL1 | Four and a half LIM domain protein 1 | [7] |
| LBD3 | LIM domain-binding protein 2 | [16] |
| MYLK2 | Myosin light chain kinase 2 | [17] |
| MYO6 | Myosin 6 | [18] |
| MYOZ2 | Myozenin 2 | [19] |
| NEXN | Nexilin | [20] |
| MYPN | Myopalladin | [21,22] |
| PDLIM3 | Alpha-Actinin-2-Associated LIM Protein | [22] |
| TCAP | Telethonin | [23] |
| TNNC1 | Cardiac troponin C | [24] |
| TRIM63 | Tripartite Motif-Containing Protein 63 | [15] |
| TTN | Titin | [25] |
| VCL | Vinculin | [26] |
Current Knowledge
Gaps in Evidence
Future Directions
HCM is caused by mutations in sarcomeric or sarcomeric-related genes;
Incomplete understanding of disease genetics, particularly in "genotype negative/phenotype positive" patients;
Use of broad gene panels, or whole-exome/whole-genome sequencing;
Penetrance and expressivity are subjected to various genetic and nongenetic influences;
Incomplete understanding of the natural history of HCM;
Conduct multiethnic, large-scale prospective cohort studies to assess disease progression;
Overt disease can be easily diagnosed with available imaging techniques;
Deficiency/lack of modalities that allow early diagnosis;
Refine existing imaging techniques; develop multimodal approaches that permit early diagnosis;
Noncoding RNAs have emerged as useful tools for diagnosis, prognosis, and therapeutics of HCM;
Limited data about their mechanism of action and regulated pathways, particularly in humans;
Use relevant in vivo models before translating into clinics;
Use alternative in vitro models (patient-derived iPSC) to gain insights about regulated pathways in humans;
Risk prediction models are used in clinical practice (HCM Risk-SCD score).
Risk stratification models in specific groups (such as women and children).
Fine-tune existing risk models according to findings from multiethnic, large-scale cohort studies focusing on specific subpopulations.
HCM—hypertrophic cardiomyopathy, RNA—ribonucleic acid, SCD—sudden cardiac disease, and iPSC—induced pluripotent stem cells.

© 2019 by the authors. Licensee MDPI, Basel, Switzerland. This article is an open access article distributed under the terms and conditions of the Creative Commons Attribution (CC BY) license (http://creativecommons.org/licenses/by/4.0/).