Different Patterns of HIV-1 Replication in MACROPHAGES is Led by Co-Receptor Usage
1
Department of Experimental Medicine and Surgery, University of Rome Tor Vergata, 00133 Roma, Italy
2
Group of Virology and Pathogenesis, Galicia Sur Health Research Institute (IIS Galicia Sur)-Complexo Hospitalario Universitario de Vigo, SERGAS-UVigo, 36312 Vigo, Spain
3
Department of Microbiology and Virology, Complex Operative Unit (UOC), Hospital of Cosenza, 87100 Cosenza, Italy
4
Department of Microbiology and Clinic Microbiology, University of Milan, 20162 Milan, Italy
5
Department of Pharmacy, Health and Nutritional Sciences, University of Calabria, 87036 Rende, Italy
*
Authors to whom correspondence should be addressed.
Received: 21 March 2019 / Revised: 7 June 2019 / Accepted: 11 June 2019 / Published: 21 June 2019
Abstract
Background and objectives:
To enter the target cell, HIV-1 binds not only CD4 but also a co-receptor β-chemokine receptor 5 (CCR5) or α chemokine receptor 4 (CXCR4). Limited information is available on the impact of co-receptor usage on HIV-1 replication in monocyte-derived macrophages (MDM) and on the homeostasis of this important cellular reservoir.
Materials and Methods:
Replication (measured by p24 production) of the CCR5-tropic 81A strain increased up to 10 days post-infection and then reached a plateau. Conversely, the replication of the CXCR4-tropic NL4.3 strain (after an initial increase up to day 7) underwent a drastic decrease becoming almost undetectable after 10 days post-infection. The ability of CCR5-tropic and CXCR4-tropic strains to induce cell death in MDM was then evaluated. While for CCR5-tropic 81A the rate of apoptosis in MDM was comparable to uninfected MDM, the infection of CXCR4-tropic NL4.3 in MDM was associated with a rate of 14.3% of apoptotic cells at day 6 reaching a peak of 43.5% at day 10 post-infection.
Results:
This suggests that the decrease in CXCR4-tropic strain replication in MDM can be due to their ability to induce cell death in MDM. The increase in apoptosis was paralleled with a 2-fold increase in the phosphorylated form of p38 compared to WT. Furthermore, microarray analysis showed modulation of proapoptotic and cancer-related genes induced by CXCR4-tropic strains starting from 24 h after infection, whereas CCR5 viruses modulated the expression of genes not correlated with apoptotic-pathways.
Conclusions:
In conclusion, CXCR4-tropic strains can induce a remarkable depletion of MDM. Conversely, MDM can represent an important cellular reservoir for CCR5-tropic strains supporting the role of CCR5-usage in HIV-1 pathogenesis and as a pharmacological target to contribute to an HIV-1 cure.
View Full-Text
►

▼

Figures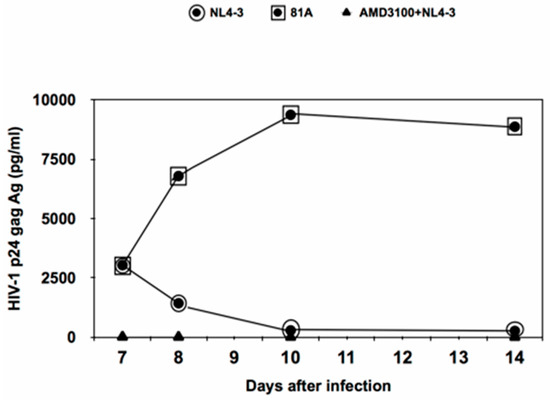 Figure 1
This is an open access article distributed under the
Creative Commons Attribution License
which permits unrestricted use, distribution, and reproduction in any medium, provided the original work is properly cited (CC BY 4.0).

Share & Cite This Article
MDPI and ACS Style
Borrajo, A.; Ranazzi, A.; Pollicita, M.; Bellocchi, M.C.; Salpini, R.; Mauro, M.V.; Ceccherini-Silberstein, F.; Perno, C.F.; Svicher, V.; Aquaro, S. Different Patterns of HIV-1 Replication in MACROPHAGES is Led by Co-Receptor Usage. Medicina 2019, 55, 297.
Note that from the first issue of 2016, MDPI journals use article numbers instead of page numbers. See further details here.
Comments
[Return to top]