The Role of Hematological Parameters in Predicting Fuhrman Grade and Tumor Stage in Renal Cell Carcinoma Patients Undergoing Nephrectomy
1
Department of Urology, Tepecik Training and Research Hospital, 35180 Izmir, Turkey
2
Department of Urology, Batman Training and Research Hospital, 72070 Batman, Turkey
*
Author to whom correspondence should be addressed.
Received: 7 February 2019 / Revised: 9 March 2019 / Accepted: 17 June 2019 / Published: 18 June 2019
Abstract
Background and objective
: We investigated the ability of preoperative serum values of red blood cell distribution width (RDW), neutrophil lymphocyte ratio (NLR) and plateletcrit (PCT) to predict Fuhrman grades (FG) and tumor stages of renal cell carcinoma in patients who underwent radical nephrectomy.
Materials and methods
: Records of 283 patients that underwent radical or partial nephrectomy of renal masses at our clinic between January 2010 and April 2018, whose pathology results indicated renal cell carcinoma (RCC), and who had their FG and T1–4 N0M0 identified were retrospectively evaluated. The patients were divided into two groups based on their FG as low (I–II) and high (III–IV) and their T stages were similarly grouped as limited to kidney (pT1–pT2) and not limited to kidney (pT3–pT4).
Results
: Mean RDW, NLR, PCT cut-off values of the patients for FG and T stage were 15.65%, 3.54, 0.28% and 14.35%, 2.69, 0.28%, respectively. The RDW and NLR were determined to be statistically significant predictors of a pathologically high FG, whereas the PCT value was not a statistically significant predictor of high FG (
p
= 0.003,
p
= 0.006,
p
= 0.075, respectively). The relationship of RDW, NLR and PCT values with a limited to the kidney pathological T stage revealed statistically significant correlations for all three values.
Conclusions
: We determined that only RDW and NLR were markers predicting FG, while PCT had no prognostic value. On the other hand, all three of these values were associated with a limited to the kidney pathological T stage in patients who underwent nephrectomy due to renal masses and whose pathologies suggested RCC.
View Full-Text
►

▼

Figures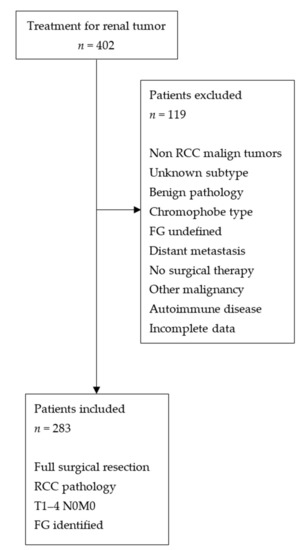 Figure 1
This is an open access article distributed under the
Creative Commons Attribution License
which permits unrestricted use, distribution, and reproduction in any medium, provided the original work is properly cited (CC BY 4.0).

Share & Cite This Article
MDPI and ACS Style
Kisa, E.; Yucel, C.; Keskin, M.Z.; Karabicak, M.; Yalcin, M.Y.; Cakmak, O.; Ilbey, Y.O. The Role of Hematological Parameters in Predicting Fuhrman Grade and Tumor Stage in Renal Cell Carcinoma Patients Undergoing Nephrectomy. Medicina 2019, 55, 287.
Note that from the first issue of 2016, MDPI journals use article numbers instead of page numbers. See further details here.
Comments
[Return to top]