In Silico Transcriptomic Analysis of Wound-Healing-Associated Genes in Malignant Pleural Mesothelioma
1
Department of Transfusion Medicine, Faculty of Medicine, University of Thessaly, BIOPOLIS, 41500 Larissa, Greece
2
Department of Physiology, Faculty of Medicine, University of Thessaly, BIOPOLIS, 41500 Larissa, Greece
3
Center for Integrative Genomics, University of Lausanne, 1015 Lausanne, Switzerland
4
Swiss Institute of Bioinformatics, 1015 Lausanne, Switzerland
5
Department of Neurology, Athens Naval Hospital, 11521 Athina, Greece
6
Institute of Cytology and Genetics of the Siberian Branch of the Russian Academy of Sciences, Novosibirsk 630090, Russia
7
Novosibirsk State University, Novosibirsk 630090, Russia
8
Department of Respiratory Medicine, Faculty of Medicine, University of Thessaly, BIOPOLIS, 41500 Larissa, Greece
*
Author to whom correspondence should be addressed.
Received: 6 February 2019 / Revised: 8 June 2019 / Accepted: 11 June 2019 / Published: 12 June 2019
Background and objectives:
Malignant pleural mesothelioma (MPM) is a devastating malignancy with poor prognosis. Reliable biomarkers for MPM diagnosis, monitoring, and prognosis are needed. The aim of this study was to identify genes associated with wound healing processes whose expression could serve as a prognostic factor in MPM patients.
Materials and Methods:
We used data mining techniques and transcriptomic analysis so as to assess the differential transcriptional expression of wound-healing-associated genes in MPM. Moreover, we investigated the potential prognostic value as well as the functional enrichments of gene ontologies relative to microRNAs (miRNAs) of the significantly differentially expressed wound-healing-related genes in MPM.
Results:
Out of the 82 wound-healing-associated genes analyzed, 30 were found significantly deregulated in MPM. Kaplan–Meier analysis revealed that low
ITGAV
gene expression could serve as a prognostic factor favoring survival of MPM patients. Finally, gene ontology annotation enrichment analysis pointed to the members of the hsa-miR-143, hsa-miR-223, and the hsa-miR-29 miRNA family members as important regulators of the deregulated wound healing genes.
Conclusions:
30 wound-healing-related genes were significantly deregulated in MPM, which are potential targets of hsa-miR-143, hsa-miR-223, and the hsa-miR-29 miRNA family members. Out of those genes, ITGAV gene expression was a prognostic factor of overall survival in MPM. Our results highlight the role of impaired tissue repair in MPM development and should be further validated experimentally.
View Full-Text
►

▼

Show Figures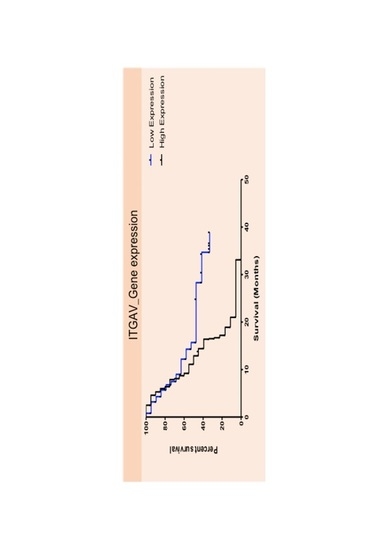 Graphical abstract
This is an open access article distributed under the
Creative Commons Attribution License
which permits unrestricted use, distribution, and reproduction in any medium, provided the original work is properly cited

MDPI and ACS Style
Rouka, E.; Beltsios, E.; Goundaroulis, D.; Vavougios, G.D.; Solenov, E.I.; Hatzoglou, C.; Gourgoulianis, K.I.; Zarogiannis, S.G. In Silico Transcriptomic Analysis of Wound-Healing-Associated Genes in Malignant Pleural Mesothelioma. Medicina 2019, 55, 267.
Show more citation formats
Show less citations formats
Note that from the first issue of 2016, MDPI journals use article numbers instead of page numbers. See further details
here
.