Lower Limb Maneuver Investigation of Chasse Steps Among Male Elite Table Tennis Players
1
Department of Human Movement Science, Faculty of Sports Science, Ningbo University, Ningbo 315211, China
2
Department of Automation, Biomechanics and Mechatronics, Lodz University of Technology, 90-924 Lodz, Poland
3
School of Health and Life Sciences, University of the West of Scotland, Hamilton ML3 OJB, UK
*
Author to whom correspondence should be addressed.
Received: 16 February 2019 / Revised: 6 March 2019 / Accepted: 4 April 2019 / Published: 8 April 2019
Abstract
Background and Objectives:
The popularity of table tennis has increased globally. As a result, the biomechanical movement patterns in the lower limb during table tennis have attracted extensive attention from coaches, scientists and athletes. The purpose of this study was to compare the differences between the long and short chasse steps in table tennis and evaluate risk factors related to injuries in the lower limb.
Materials and Methods:
Twelve male elite athletes performed forehand topspin strokes with long and short chasse steps in this study, respectively. The kinematics data of the lower-limb joints were measured by a Vicon motion analysis system. The electromyograms (EMG) of six lower-limb muscles were recorded using a myoelectricity system.
Results:
The key findings were that the angle change rate of the ankle in the long chasse step was faster with a larger range of motion (ROM) in the coronal and transverse planes. The hip was also faster in the sagittal and transverse planes but slower in the coronal plane compared with the short chasse step. In addition, the vastus medialis (VM) was the first activated muscle in the chasse step.
Conclusions:
The hip and ankle joints in the long chasse step and the knee joint in the short chasse step have higher susceptibility to injury. Moreover, tibialis anterior (TA), vastus medialis (VM) and gastrocnemius (GM) should be sufficiently stretched and warmed prior to playing table tennis. The results of this study may provide helpful guidance for teaching strategies and providing an understanding of potential sport injury mechanisms.
View Full-Text
►

▼

Figures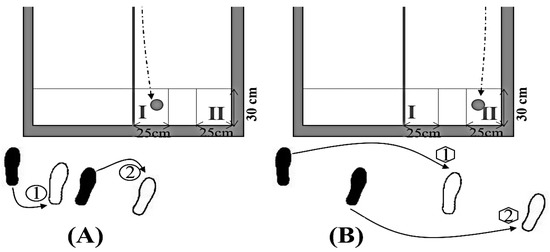 Figure 1
This is an open access article distributed under the
Creative Commons Attribution License
which permits unrestricted use, distribution, and reproduction in any medium, provided the original work is properly cited (CC BY 4.0).

Share & Cite This Article
MDPI and ACS Style
Yu, C.; Shao, S.; Awrejcewicz, J.; Baker, J.S.; Gu, Y. Lower Limb Maneuver Investigation of Chasse Steps Among Male Elite Table Tennis Players. Medicina 2019, 55, 97.
Note that from the first issue of 2016, MDPI journals use article numbers instead of page numbers. See further details here.
Comments
[Return to top]