A Comparison of Electronic and Traditional Stethoscopes in the Heart Auscultation of Obese Patients
1
Department of Internal Medicine, Lithuanian University of Health Sciences, LT-47144 Kaunas, Lithuania
2
3M Center, St. Paul, MN 55144, USA
*
Author to whom correspondence should be addressed.
Received: 18 February 2019 / Revised: 16 March 2019 / Accepted: 1 April 2019 / Published: 5 April 2019
Abstract
Background and objectives:
As the prevalence of obesity is increasing in a population, diagnostics becomes more problematic. Our aim was to compare the 3M Littmann 3200 Electronic Stethoscope and 3M Littman Cardiology III Mechanical Stethoscope in the auscultation of obese patients.
Methods
. A total of 30 patients with body mass index >30 kg/m
2
were auscultated by a cardiologist and a resident physician: 15 patients by one cardiologist and one resident and 15 patients by another cardiologist and resident using both stethoscopes. In total, 960 auscultation data points were verified by an echocardiogram. Sensitivity and specificity data were calculated.
Results.
Sensitivity for regurgitation with valves combined was higher when the electronic stethoscope was used by the cardiologist (60.0% vs. 40.9%,
p
= 0.0002) and the resident physician (62.1% vs. 51.5%,
p
= 0.016); this was also the same when stenoses were added (59.4% vs. 40.6%,
p
= 0.0002, and 60.9% vs. 50.7%,
p
= 0.016, respectively). For any lesion, there were no significant differences in specificity between the electronic and acoustic stethoscopes for the cardiologist (92.4% vs. 94.2%) and the resident physician (93.6% vs. 94.7%). The detailed analysis by valve showed one significant difference in regurgitation at the mitral valve for the cardiologist (80.0% vs. 56.0%,
p
= 0.031). No significant difference in specificity between the stethoscopes was found when all lesions, valves and both physicians were combined (93.0% vs. 94.4%,
p
= 0.30), but the electronic stethoscope had higher sensitivity than the acoustic (60.1% vs. 45.7%,
p
< 0.0001). The analysis when severity of the abnormality was considered confirmed these results.
Conclusions.
There is an indication of increased sensitivity using the electronic stethoscope. Specificity was high using the electronic and acoustic stethoscope.
View Full-Text
►

▼

Figures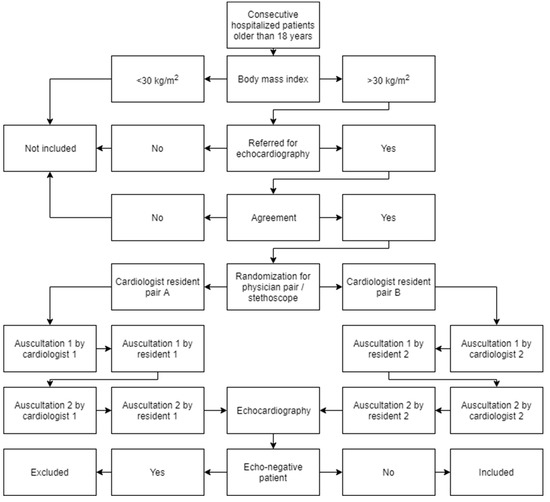 Figure 1
This is an open access article distributed under the
Creative Commons Attribution License
which permits unrestricted use, distribution, and reproduction in any medium, provided the original work is properly cited (CC BY 4.0).

Share & Cite This Article
MDPI and ACS Style
Kalinauskienė, E.; Razvadauskas, H.; Morse, D.J.; Maxey, G.E.; Naudžiūnas, A. A Comparison of Electronic and Traditional Stethoscopes in the Heart Auscultation of Obese Patients. Medicina 2019, 55, 94.
Note that from the first issue of 2016, MDPI journals use article numbers instead of page numbers. See further details here.
Comments
[Return to top]