The Influence of Curcumin on the Downregulation of MYC, Insulin and IGF-1 Receptors: A Possible Mechanism Underlying the Anti-Growth and Anti-Migration in Chemoresistant Colorectal Cancer Cells
1
Nutrition and Metabolic Diseases Research Center, Ahvaz Jundishapur University of Medical Sciences, Ahvaz 6135715794, Iran
2
Department of Cellular and Molecular Nutrition, Faculty of Nutrition Science and Food Technology, National Nutrition and Food Technology Research Institute, Shahid Beheshti University of Medical Sciences, Tehran 1981619573, Iran
*
Author to whom correspondence should be addressed.
Received: 3 January 2019 / Revised: 31 January 2019 / Accepted: 27 March 2019 / Published: 3 April 2019
Abstract
Background and objectives
: Mounting evidence shows that curcumin, a bioactive substance originating from turmeric root, has anticancer properties. Additionally, curcumin prevents the migration and metastasis of tumor cells. However, the molecular mechanism involved in the anti-metastatic action of curcumin is not clear. Most studies have suggested that migration inhibition is related to curcumin's anti-inflammatory properties. Curcumin possesses a regulatory effect on insulin and insulin-like growth factor-1 (IGF-1) receptors and signaling. Insulin signaling is one of the important pathways involved in tumor initiation and progression; therefore, we proposed that the anti-metastatic effect of curcumin may mediate the downregulation of insulin and insulin-like growth factor-1 receptors.
Materials and Methods
: Viable resistant cells resulting from treating SW480 cells with 5-fluorouracil (5-FU) were subjected to curcumin treatment to analyze the proliferation and migration capacity in comparison to the untreated counterparts. To test the proliferation and migration potential, MTT, colony formation, and wound healing assays were performed. Real-time polymerase chain reaction (RT-PCR) was performed to measure the mRNA expression of
insulin-like growth factor-1R
(
IGF-1R
),
insulin receptor
(
IR
), and
avian myelocytomatosis virus oncogene cellular homolog
(
MYC
).
Results:
Our findings showed that curcumin significantly decreased
insulin
and
IGF-1 receptors
in addition to
MYC
expression. Additionally, the downregulation of the insulin and insulin-like growth factor-1 receptors was correlated to a greater decrease in the proliferation and migration of chemoresistant colorectal cancer cells.
Conclusions:
These results suggest the possible therapeutic effectiveness of curcumin in adjuvant therapy in metastatic colorectal cancer.
View Full-Text
►

▼

Figures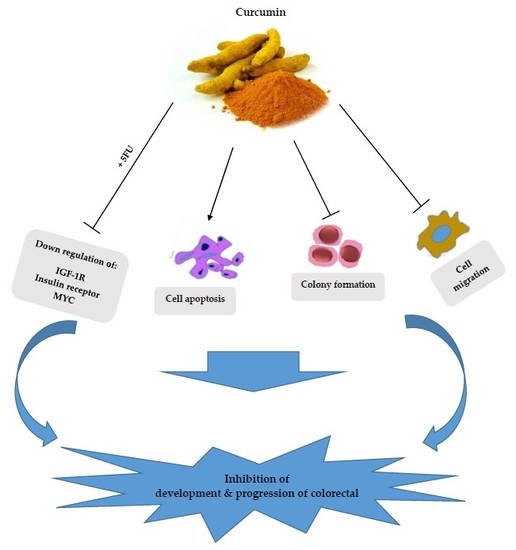 Graphical abstract
This is an open access article distributed under the
Creative Commons Attribution License
which permits unrestricted use, distribution, and reproduction in any medium, provided the original work is properly cited (CC BY 4.0).

Share & Cite This Article
MDPI and ACS Style
Hosseini, S.A.; Zand, H.; Cheraghpour, M. The Influence of Curcumin on the Downregulation of MYC, Insulin and IGF-1 Receptors: A Possible Mechanism Underlying the Anti-Growth and Anti-Migration in Chemoresistant Colorectal Cancer Cells. Medicina 2019, 55, 90.
Note that from the first issue of 2016, MDPI journals use article numbers instead of page numbers. See further details here.
Comments
[Return to top]