Intravenous Paracetamol in Adjunct to Intravenous Ketoprofen for Postoperative Pain in Children Undergoing General Surgery: A Double-Blinded Randomized Study
Department of Anesthesiology, Lithuanian University of Health Sciences, 44307 Kaunas, Lithuania
*
Author to whom correspondence should be addressed.
Received: 16 December 2018 / Revised: 28 February 2019 / Accepted: 26 March 2019 / Published: 1 April 2019
Abstract
Background and objectives:
The combination of non-steroidal anti-inflammatory drugs and paracetamol is widely used for pediatric postoperative pain management, although the evidence of superiority of a combination over either drug alone is insufficient. We aimed to find out if intravenous (i.v.) paracetamol in a dose of 60 mg kg
−1
24 h
−1
, given in addition to i.v. ketoprofen (4.5 mg kg
−1
24 h
−1
), improves analgesia, physical recovery, and satisfaction with postoperative well-being in children and adolescents following moderate and major general surgery.
Materials and Methods:
Fifty-four patients were randomized to receive either i.v. paracetamol or normal saline as a placebo in adjunct to i.v. ketoprofen. For rescue analgesia in patients after moderate surgery, i.v. tramadol (2 mg kg
−1
up two doses in 24 h), and for children after major surgery, i.v. morphine-patient-controlled analgesia (PCA) were available. The main outcome measure was the amount of opioid consumed during the first 24 h after surgery. Pain level at 1 and over 24 h, time until the resumption of normal oral fluid intake, spontaneous urination after surgery, and satisfaction with postoperative well-being were also assessed.
Results:
Fifty-one patients (26 in the placebo group and 25 in the paracetamol group) were studied. There was no difference in required rescue tramadol doses (
n
= 11 in each group) or 24-h morphine consumption (mean difference (95% CI): 0.06 (–0.17; 0.29) or pain scores between placebo and paracetamol groups. In patients given morphine-PCA, time to normal fluid intake was faster in the paracetamol than the placebo subgroup: median difference (95% CI): 7.5 (1.3; 13.7) h,
p
= 0.02. Parental satisfaction score was higher in the paracetamol than the placebo group (mean difference: –1.3 (–2.5; –0.06),
p
= 0.04).
Conclusions:
There were no obvious benefits to opioid requirement or analgesia of adding regular intravenous paracetamol to intravenous ketoprofen in used doses. However, intravenous paracetamol may contribute to faster recovery of normal functions and higher satisfaction with postoperative well-being.
View Full-Text
►

▼

Figures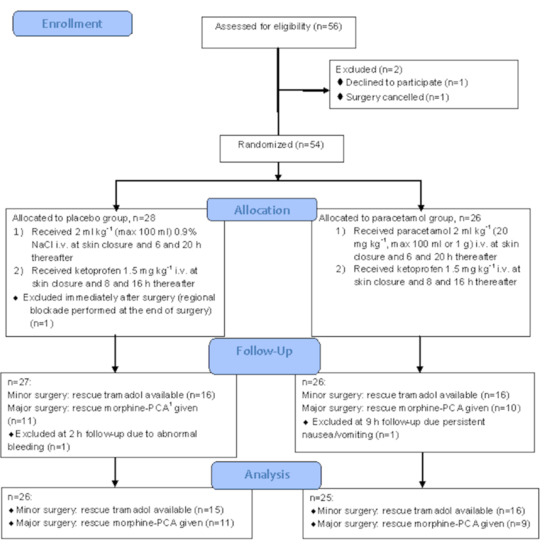 Figure 1
This is an open access article distributed under the
Creative Commons Attribution License
which permits unrestricted use, distribution, and reproduction in any medium, provided the original work is properly cited (CC BY 4.0).

Share & Cite This Article
MDPI and ACS Style
Rugytė, D.; Gudaitytė, J. Intravenous Paracetamol in Adjunct to Intravenous Ketoprofen for Postoperative Pain in Children Undergoing General Surgery: A Double-Blinded Randomized Study. Medicina 2019, 55, 86.
Note that from the first issue of 2016, MDPI journals use article numbers instead of page numbers. See further details here.
Comments
[Return to top]