Prognostic Factors for Immune Thrombocytopenic Purpura Remission after Laparoscopic Splenectomy: A Cohort Study
1
2nd Department of General Surgery, Jagiellonian University Medical College, Kopernika 21, 31-501 Kraków, Poland
2
Centre for Research, Training and Innovation in Surgery (CERTAIN Surgery), 31-501 Kraków, Poland
*
Author to whom correspondence should be addressed.
Received: 5 March 2019 / Revised: 1 April 2019 / Accepted: 11 April 2019 / Published: 18 April 2019
Abstract
Background and Objectives:
Laparoscopic splenectomy (LS) has become the gold standard for patients with immune thrombocytopenic purpura (ITP). The total remission rate after splenectomy is 70%–90%, of which 66% is long-term. Despite this high response rate, some patients do not benefit from surgery. It is therefore important to try to identify risk factors for an unsatisfactory clinical response. The aim of this study was to assess long-term outcomes of LS for ITP and identify factors associated with increased disease remission rates.
Materials and Methods:
We retrospectively studied consecutive patients with ITP undergoing LS in a tertiary referral surgical center prospectively recorded in a database. Inclusion criteria were: Elective, laparoscopic splenectomy for diagnosed ITP, and complete follow-up. The cohort was divided into two groups—Group 1 (G1) patients with ITP remission after splenectomy and Group 2 (G2) patients without remission. There were 113 G1 patients and 52 G2 patients. Median follow-up was 9.5 (IQR: 5–15) years.
Results:
In univariate analysis, patient's age, body mass index (BMI), preoperative platelet count, the need for platelet transfusions, and presence of hemorrhagic diathesis were shown to be statistically significant factors. Next, we built a multivariate logistic regression model using factors significant in univariate analysis. Age <41 years (odds ratio (OR) 4.49; 95% CI: 1.66–12.09), BMI < 24.3 kg/m
2
(OR: 4.67; 95% CI: 1.44–15.16), and preoperative platelet count ≥97 × 10
3
/mm
3
(OR: 3.50; 95% CI: 1.30–9.47) were shown to be independent prognostic factors for ITP remission after LS.
Conclusions:
The independent prognostic factors for ITP remission after LS revealed in our study are: age <41 years, BMI < 2 4.3 kg/m
2
, and preoperative platelet count ≥97 × 10
3
/mm
3
. Duration of the ITP and the time of treatment are not related to remission after LS.
View Full-Text
►

▼

Figures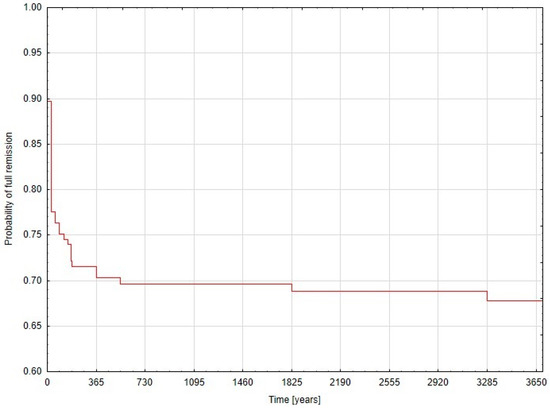 Figure 1
This is an open access article distributed under the
Creative Commons Attribution License
which permits unrestricted use, distribution, and reproduction in any medium, provided the original work is properly cited (CC BY 4.0).

Share & Cite This Article
MDPI and ACS Style
Kwiatkowska, A.; Radkowiak, D.; Wysocki, M.; Torbicz, G.; Gajewska, N.; Lasek, A.; Kulawik, J.; Budzyński, A.; Pędziwiatr, M. Prognostic Factors for Immune Thrombocytopenic Purpura Remission after Laparoscopic Splenectomy: A Cohort Study. Medicina 2019, 55, 112.
Note that from the first issue of 2016, MDPI journals use article numbers instead of page numbers. See further details here.
Comments
[Return to top]