Open Access This article is
freely available
re-usable
Review
Synergistic Effects of Plant Derivatives and Conventional Chemotherapeutic Agents: An Update on the Cancer Perspective
1
Endocrinology Unit, Department of Medicine, University of Padova, via Ospedale 105, 35128 Padova, Italy
2
AIROB—Associazione Italiana per la Ricerca Oncologica di Base, 3520128 Padova, Italy
3
Student Research Committee, School of Medicine, Bam University of Medical Sciences, Bam 44340847, Iran
4
Department of Agricultural and Environmental Sciences, Milan State University, via G. Celoria 2, 20133 Milan, Italy
5
Department of Clinical Biochemistry and Immunology, Faculty of Pharmacy, University of Concepción, Concepcion 4070386, Chile
6
Food Safety Research Center (Salt), Semnan University of Medical Sciences, Semnan 3519899951, Iran
7
Department of Nutrition and Dietetics, Faculty of Pharmacy, University of Concepción, Concepcion 4070386, Chile
8
Faculty of Medicine, University of Porto, Alameda Prof. Hernâni Monteiro, 4200-319 Porto, Portugal
9
Institute for Research and Innovation in Health (i3S), University of Porto, 4200-135 Porto, Portugal
*
Authors to whom correspondence should be addressed.
Received: 16 March 2019 / Accepted: 10 April 2019 / Published: 17 April 2019
Abstract
:
Synergy is a process in which some substances cooperate to reach a combined effect that is greater than the sum of their separate effects. It can be considered a natural "straight" strategy which has evolved by nature to obtain more efficacy at low cost. In this regard, synergistic effects may be observed in the interaction between herbal products and conventional drugs or biochemical compounds. It is important to identify and exploit these interactions since any improvement brought by such kind of process can be advantageously used to treat human disorders. Even in a complex disease such as cancer, positive synergistic plant–drug interactions should be investigated to achieve the best outcomes, including providing a greater benefit to patients or avoiding adverse side effects. This review analyzes and summarizes the current knowledge on the synergistic effects of plant–drug interactions with a focus on anticancer strategies.
Keywords:
synergy; synergistic effects; anticancer; plant-drug interaction; conventional chemotherapeutic agents; plant derivatives
Author Contributions
All authors contributed equally to this work. B.S., N.M. and J.S.-R., critically reviewed the manuscript. All the authors read and approved the final manuscript.
Funding
This work was partially supported by CONICYT PIA/APOYO CCTE AFB170007.
Acknowledgments
N. Martins would like to thank the Portuguese Foundation for Science and Technology (FCT–Portugal) for the Strategic project ref. UID/BIM/04293/2013 and "NORTE2020—Programa Operacional Regional do Norte" (NORTE-01-0145-FEDER-000012).
Conflicts of Interest
The authors declare no conflict of interest.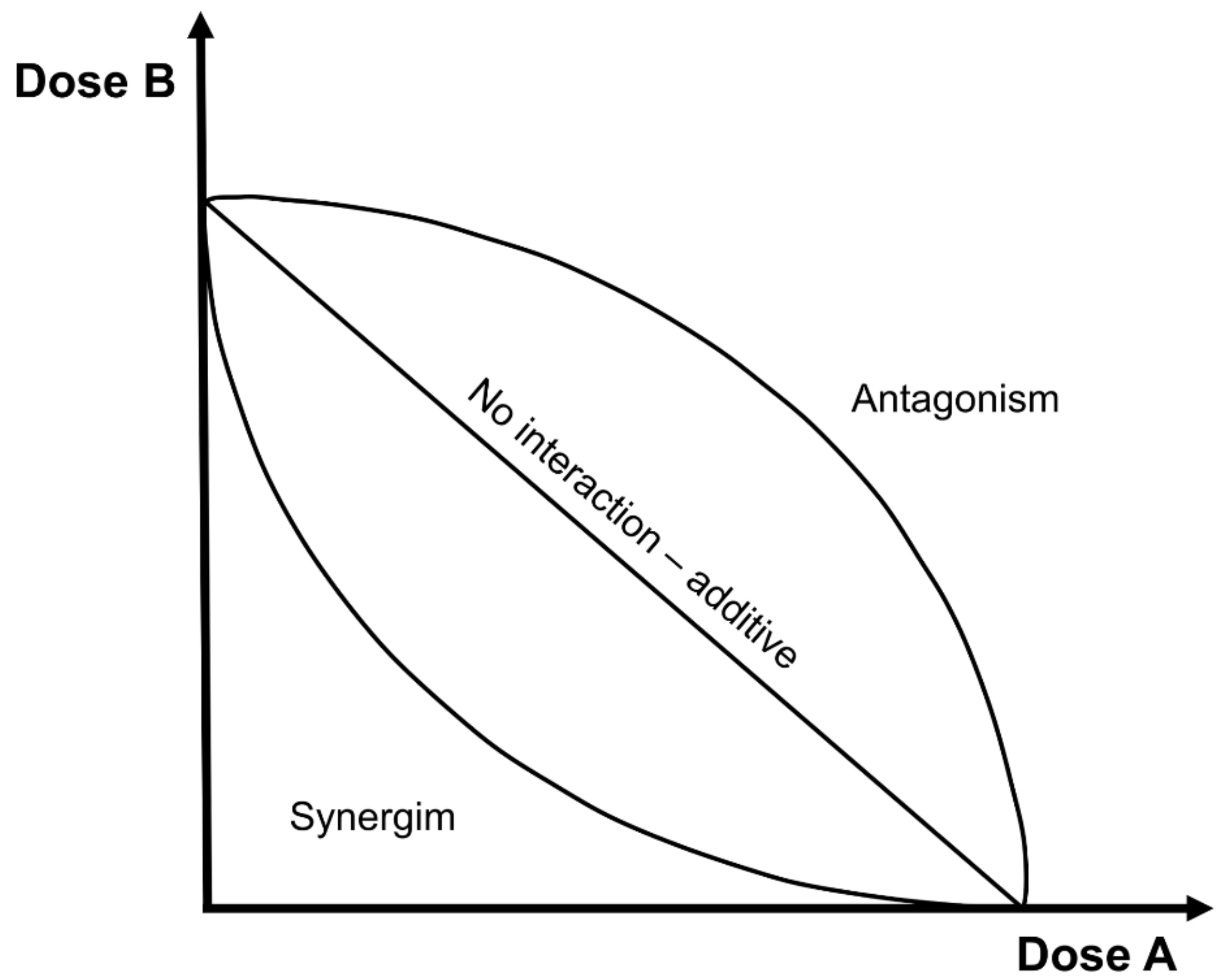 Mechanism
Plants Involved
References
Synergistic multi-target effects
Herbal pair Chuanxiong rhizome and

Paeonia albifora

[19]

Ocimum sanctum

flavonoid vicenin-2
[20]
Cannabis extract

delta

9-

trans

-tetrahydrocannabinol
[21]
St. John's wort (

Hypericum perforatum

)
[22]
Pharmacokinetic or physicochemical effect modulations
Yin-Chen-Hao-Tang (YCHT), a Chinese herbal formula (

Herba artemisiae Yinchenhao + fructus gardeniae gasminoidis + radix et rhizoma rhei

)
[23]

Ammi visnaga

aqueous extract
[24]

Hypericum perforatum

flavonoids
[17]
Grapefruit juice (

Citrus × paradise

)
[25]

Panax ginseng

[26]
Interference with resistance mechanisms
Seven commercially available terpenoids
[27]
Three commercially available flavonoids (apigenin, quercetin, naringenin)
[28]

Pelargonium graveolens

essential oil
[29]
Nine herbal extracts and 23 isoflavonoids
[30]
Elimination or neutralization potential

Ocimum basilicum

constituent nevadensin
[31]
PHY906, a mixture of

Scutellaria baicalensis

,

Glycyrrhiza uralensis

,

Paeonia lactiflora

,

Ziziphus jujube

[32]

Silybum marianum

(Silymarin) and

Glycyrrhiza glabra

(Glycyrrhizin) extracts
[33]

© 2019 by the authors. Licensee MDPI, Basel, Switzerland. This article is an open access article distributed under the terms and conditions of the Creative Commons Attribution (CC BY) license (http://creativecommons.org/licenses/by/4.0/).