Effects of Neck Taping in the Treatment of Hemispatial Neglect in Chronic Stroke Patients: A Pilot, Single Blind, Randomized Controlled Trial
1
Neuromotor and Cognitive Rehabilitation Research Center, Department of Neurosciences, Biomedicine and Movement Sciences, University of Verona, 37134 Verona, Italy
2
Neurorehabilitation Unit, Department of Neurosciences, Hospital Trust of Verona, 37126 Verona, Italy
*
Author to whom correspondence should be addressed.
†
These authors contributed equally to this work.
Received: 27 December 2018 / Revised: 4 March 2019 / Accepted: 12 April 2019 / Published: 17 April 2019
Abstract
Background and objectives:
Hemispatial neglect is a common consequence of stroke, with an estimated incidence of 23%. Interventions for treating hemispatial neglect may be categorized as either top-down or bottom-up processing. The aim of top-down approaches is to train the person to voluntarily compensate for their neglect. Such approaches require awareness of the disorder and a high level of active participation by the patient. Differently, bottom-up approaches are based on manipulation of a patient's sensory environment and so require less awareness of behavioral bias. In line with the latter, it is conceivable that elastic therapeutic taping applied to the left neck surface may provide bottom-up inputs that reduce hemispatial neglect symptoms. The aim of this study was to assess the effect of therapeutic neck taping on visuo-spatial abilities, neck motion, and kinesthetic sensibility in chronic stroke patients with hemispatial neglect.
Materials and Methods:
After randomization, 12 chronic stroke patients with hemispatial neglect received 30 consecutive days of real (treatment group) or sham (control group) neck taping. The outcomes were as follows: Stars Cancellation Test; neck active range of motion; Letter Cancellation Test; Comb and Razor Test; Cervical Joint Position Error Test evaluated before and after one month of taping.
Results:
Between-group comparison showed significant differences only for the Cervical Joint Position Error Test after treatment (
p
= 0.009).
Conclusions:
Our preliminary findings support the hypothesis that neck taping might improve cervicocephalic kinesthetic sensibility in chronic stroke patients with hemispatial neglect. Further studies are needed to strengthen our results and better investigate the effects of elastic therapeutic taping on visuo-spatial abilities in stroke patients with hemispatial neglect.
View Full-Text
►

▼

Figures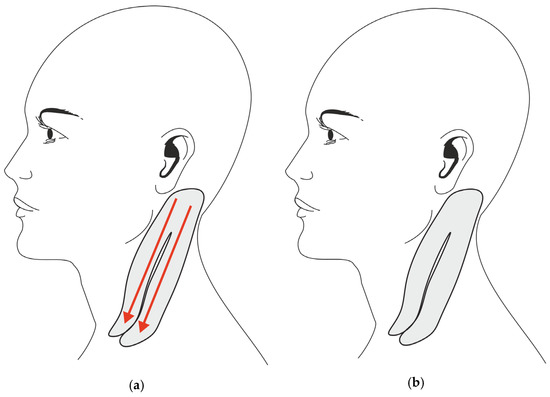 Figure 1
This is an open access article distributed under the
Creative Commons Attribution License
which permits unrestricted use, distribution, and reproduction in any medium, provided the original work is properly cited (CC BY 4.0).

Share & Cite This Article
MDPI and ACS Style
Varalta, V.; Munari, D.; Pertile, L.; Fonte, C.; Vallies, G.; Chemello, E.; Gandolfi, M.; Modenese, A.; Smania, N.; Picelli, A. Effects of Neck Taping in the Treatment of Hemispatial Neglect in Chronic Stroke Patients: A Pilot, Single Blind, Randomized Controlled Trial. Medicina 2019, 55, 108.
Note that from the first issue of 2016, MDPI journals use article numbers instead of page numbers. See further details here.
Comments
[Return to top]