Open Access This article is
freely available
re-usable
Review
How to Manage Impacted Third Molars: Germectomy or Delayed Removal? A Systematic Literature Review
Fondazione Policlinico Universitario A. Gemelli IRCCS, Institute of Dentistry and Maxillofacial Surgery, Università Cattolica del Sacro Cuore, 00168 Rome, Italy
†
The authors contributed equally.

Received: 28 February 2019 / Accepted: 22 March 2019 / Published: 26 March 2019
Abstract
:
Objectives:
The aim of this systematic review is to evaluate and compare the risks and benefits of germectomy and delayed removal of third molars and develop a patient management algorithm for second molar eruption in syndrome/incompliant patients.
Materials and Methods:
A literature search was performed in the following databases; the Cochrane Central Register of Controlled Trials (CENTRAL), PubMed, Scopus, and Web of Science. Last search was done on July 2nd, 2018 including articles published from the last 18 years. The search aimed to identify all relevant studies written in English language. Gray literature was excluded. Risk of bias was evaluated with specific predetermined criteria. This systematic literature review was reported according to the PRISMA-P statement and was registered in the PROSPERO database with the following protocol ID: 104261.
Results
: Literature search war performed on July 2018 and updated on February 2019. A total of 1610 articles were screened. After abstract screening and discarding duplicates, 86 full-text articles were obtained and subjected to additional evaluation. Four articles were included in the review. Three studies were considered as having a medium risk of bias and one was assessed as at high risk. Due to the heterogeneity of presenting results and a very low number of included studies a quantitative analysis was not possible. Only qualitative analysis was made. Considering the limited number of studies included and the level of risk of bias there is no sufficient evidence to state the benefits of preventive removal of impacted third molars, especially in patients with poor oral hygiene due to intellectual disability. Early germectomy represents an elective approach of pathologic alteration of tooth germ; orthodontic issues meet appropriate indication for a delayed removal.
Conclusions
: Given the best evidence-based information regarding patients' medical condition, we highlight the need to provide an ethical-based comprehensive approach in the diagnostic workflow and the assessment of treatment outcome.
Keywords:
third molar germs; orthodontics; oral surgery; dental impaction; complications; systematic review
Supplementary Materials
The following are available online at
https://www.mdpi.com/1010-660X/55/3/79/s1
, Figure S1: PRISMA-P (Preferred Reporting Items for Systematic review and Meta-Analysis Protocols) 2015 checklist: recommended items to address in a systematic review protocol.
Author Contributions
Conceptualization, R.P.; Methodology, R.P. and E.S.; Validation, A.C.; F.G.; and P.G.; Writing—Original Draft Preparation, R.P. and E.S.; Writing—Review and Editing, P.G.; Visualization, R.P. and E.S.; Supervision, P.G.
Funding
This research received no external funding.
Conflicts of Interest
The authors declare no conflict of interest.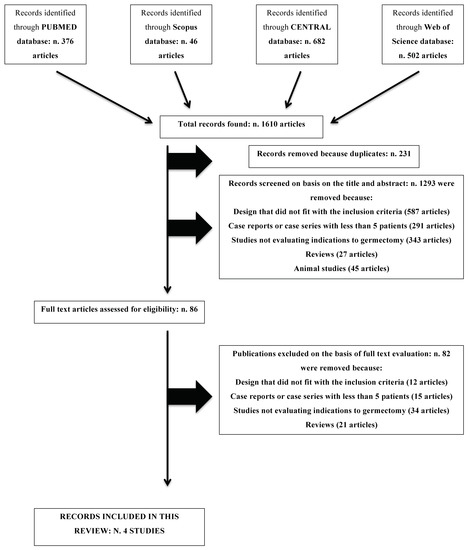 Figure 1. Preferred Reporting Items for Systematic Review and Meta-Analyses (PRISMA) flow diagram for the identification and selection of studies.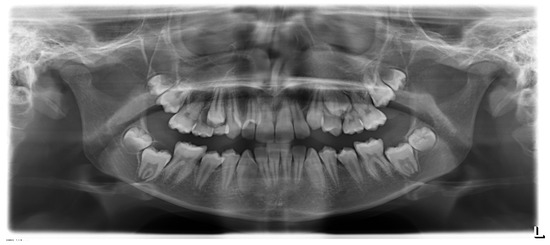 Figure 2. Lower third molars associated with a delay of eruption of second molars in a 12-year-old patient.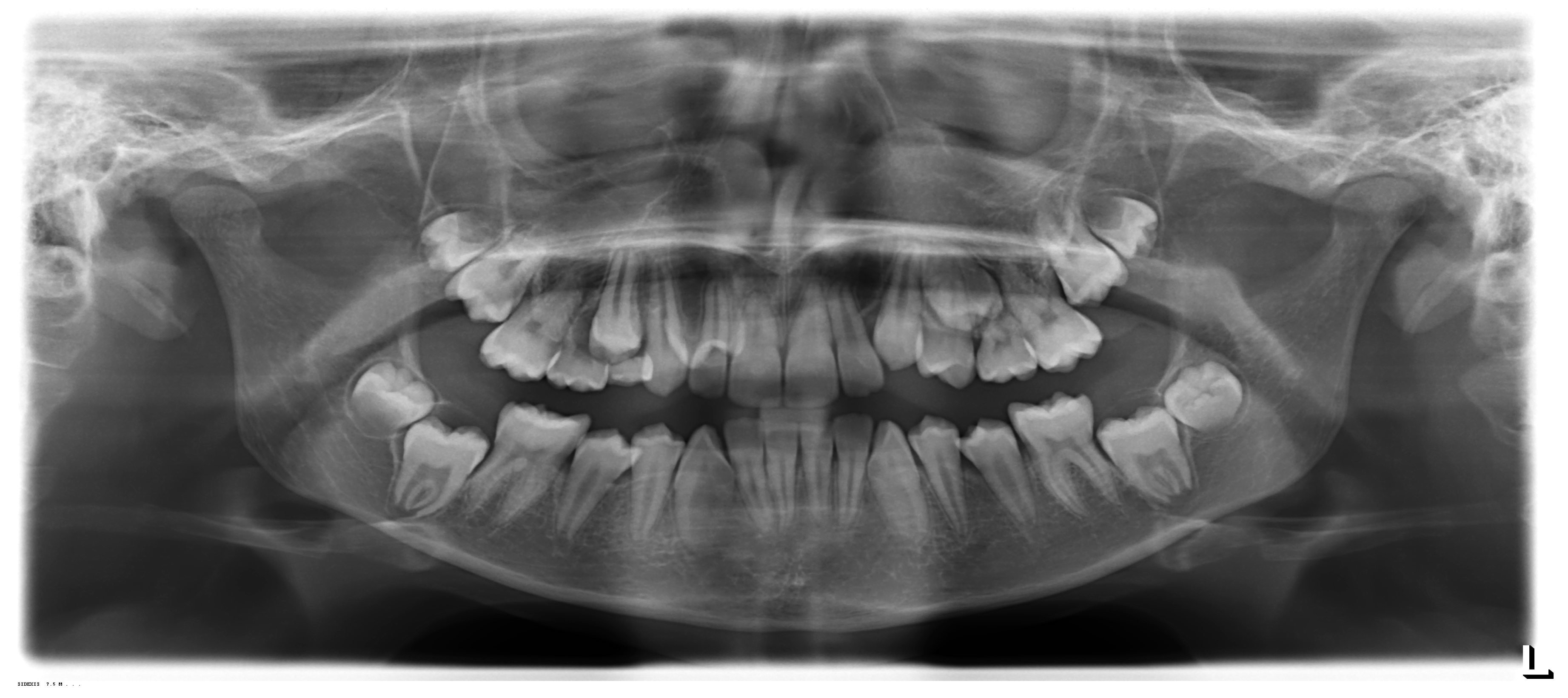 Author (Year)
Study Type
Sample Size
Population Details
Male/Female% (Age ± SD)
Complications
Follow-Up (Months ± SD)
Chaparro-Avendaño et al. (2005)
Retrospective
173
Patients subjected to third molar surgical extraction
in a Master University Course
33.1/66.9
Pain and swelling, infection, trismus, ecchymosis, and IAN and LN paresthesia
NR
Group A (12–14 yr)
Group B (15–16 yr)
Group C (17–18 yr)
Jasinevicius et al. (2008)
Recommendations
146
Questionnaires mailed to department chairpersons regarding recommendations about prophylactic third molar extraction
NR
NR
Not Applicable
Adolescent (<21 yr)
Young Adult (21–35 yr)
Adult (>35 yr)
Cunha-Cruz et al. (2014)
Prospective
797
Cohort of patients enrolled by dentists as part of the network named PRECEDENT (Northwest Practice-based REsearch Collaborative in Evidence-based DENTistry)
50.9/49.1
NR
19.7 ± 5.3
>16 yr
Cassetta et al. (2017)
Prospective
14
Patients subjected to third molar surgical extraction
in a University Dental Clinic
50/50 (12.9 ± 0.5)
None
0.23 ± NR
IAN = Inferior Alveolar Nerve; LN = Lingual Nerve; NR = Not Reported.
| Item | Chaparro-Avendaño et al. | Jasinevicius et al. | Cunha-Cruz et al. | Cassetta et al. |
| --- | --- | --- | --- | --- |
| Clear stated aim | 2 | 2 | 2 | 2 |
| Inclusion of consecutive patients | 1 | 0 | 1 | 1 |
| Unbiased assessment of the study endpoint | 2 | 2 | 2 | 2 |
| Appropriate follow-up | 0 | 0 | 2 | 1 |
| Loss to follow-up less than 5% | 2 | 1 | 1 | 2 |
| Appropriate calculation of the study size | 0 | 0 | 0 | 0 |
| Adequate statistical analyses | 2 | 2 | 2 | 2 |
| TOTAL | 9 | 7 | 10 | 10 |
| Overall risk of bias | Medium | High | Medium | Medium |
0 = Not reported, 1 = not adequately assessed, 2 = adequately assessed.
Early Removal
Late Removal
Indications
Morphologic abnormalities
Orthodontic considerations (dentoalveolar discrepancy, distalization of upper molars)
Ekman–Westborg–Julin syndrome
Self-mutilating behavior or recurrent epilepsy
Patients with increased risk of tooth loss

© 2019 by the authors. Licensee MDPI, Basel, Switzerland. This article is an open access article distributed under the terms and conditions of the Creative Commons Attribution (CC BY) license (http://creativecommons.org/licenses/by/4.0/).