Energy Expenditure of a Single Sit-to-Stand Movement with Slow Versus Normal Speed Using the Different Frequency Accumulation Method
1
Faculty of Health and Sports Science, Juntendo University, Hiraka-gakuendai 1-1, Inzai, Chiba 270-1695, Japan
2
National Institute of Health and Nutrition, National Institutes of Biomedical Innovation, Health and Nutrition, 1-23-1 Toyama, Shinjuku-ku, Tokyo 162-8636, Japan
3
Sportology Center, Juntendo University Graduate School of Medicine. 2-1-1, Hongo, Bunkyo-ku, Tokyo 113-8421, Japan
4
The Fukuoka University Institute for Physical Activity, 8-19-1 Nanakuma, Jonan-ku, Fukuoka 814-0180, Japan
*
Author to whom correspondence should be addressed.
Received: 28 February 2019 / Revised: 11 March 2019 / Accepted: 22 March 2019 / Published: 25 March 2019
Abstract
Background and objectives:
The purpose of this study was to compare the energy expenditures (EE) of a single sit-to-stand (STS) movements with slow and normal speeds using a multi-stage exercise test.
Materials and Methods:
Twelve young males, aged 21–27 years (age, 23.0 ± 1.7 years; height, 171.2 ± 6.1 cm; weight, 64.3 ± 5.6 kg), performed repeated 3-s stand-up and 3-s sit-down (slow) or 1-s stand-up and 1-s sit-down (normal) movement on two different days with random order. All the participants completed multi-stage tests at different STS frequencies per minute. The slope and intercept of the linear regression relationship between the EE (kcal/min) and the STS frequency were obtained, and the slope of the regression was quantified as the EE of an STS.
Results:
The metabolic equivalents (METs) of the STS-slow was 4.5 METs for the frequency of 10 times/min (in total 1 min), and the net EE was 5.00 ± 1.2 kcal/min. The net EE of the STS-slow was 0.37 ± 0.12 kcal, which was significantly greater than that during the STS-normal (0.26 ± 0.06 kcal). The difference between the EEs of the STS-slow and STS-normal was significantly greater in taller and heavier subjects.
Conclusions:
We concluded that the intensity of STS-slow movement is moderate, and the EE during an STS-slow (0.37 ± 0.12 kcal) is higher than that during an STS-normal (0.26 ± 0.06 kcal). Our study results will help exercise and/or health professionals prescribe physical activity programs using STS movement for healthy young population groups.
View Full-Text
►

▼

Figures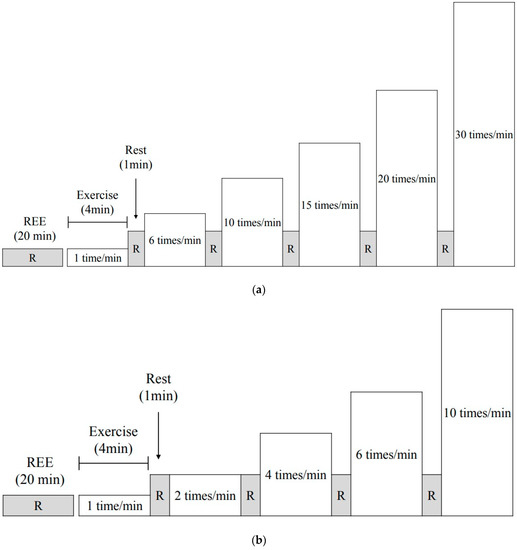 Figure 1
This is an open access article distributed under the
Creative Commons Attribution License
which permits unrestricted use, distribution, and reproduction in any medium, provided the original work is properly cited (CC BY 4.0).

Share & Cite This Article
MDPI and ACS Style
Nakagata, T.; Yamada, Y.; Hatamoto, Y.; Naito, H. Energy Expenditure of a Single Sit-to-Stand Movement with Slow Versus Normal Speed Using the Different Frequency Accumulation Method. Medicina 2019, 55, 77.
Note that from the first issue of 2016, MDPI journals use article numbers instead of page numbers. See further details here.
Comments
[Return to top]