Prognostic Value of Left Ventricular Function and Mechanics in Pulmonary Hypertension: A Pilot Cardiovascular Magnetic Resonance Feature Tracking Study
1
Department of Radiology, Medical Academy, Lithuanian University of Health Sciences, LT 44307 Kaunas, Lithuania
2
Department of Cardiology, Medical Academy, Lithuanian University of Health Sciences, LT 44307 Kaunas, Lithuania
3
Department of Pulmonology, Medical Academy, Lithuanian University of Health Sciences, LT 44307 Kaunas, Lithuania
4
Department of Dental and Oral Diseases, Medical Academy, Lithuanian University of Health Sciences, LT 44307 Kaunas, Lithuania
*
Author to whom correspondence should be addressed.
Received: 28 November 2018 / Revised: 8 March 2019 / Accepted: 14 March 2019 / Published: 20 March 2019
Abstract
Background and objective
: Cardiovascular magnetic resonance (CMR) - based feature tracking (FT) can detect left ventricular (LV) strain abnormalities in pulmonary hypertension (PH) patients, but little is known about the prognostic value of LV function and mechanics in PH patients. The aim of this study was to evaluate LV systolic function by conventional CMR and LV global strains by CMR-based FT analysis in precapillary PH patients, thereby defining the prognostic value of LV function and mechanics.
Methods
: We prospectively enrolled 43 patients with precapillary PH (mean pulmonary artery pressure (mPAP) 55.91 ± 15.87 mmHg, pulmonary arterial wedge pressure (PAWP) ≤15 mmHg) referred to CMR for PH evaluation. Using FT software, the LV global longitudinal strain (GLS) and global circumferential strain (GCS), also right ventricular (RV) GLS were analyzed.
Results
: Patients were classified into two groups according to survival (survival/non-survival). LV GLS was significantly reduced in the non-survival group (−12.4% [−19.0–(−7.8)] vs. −18.4% [−22.5–(−15.5)],
p
= 0.009). By ROC curve analysis, LV GLS > −14.2% (CI: 3.229 to 37.301,
p
< 0.001) was found to be robust predictor of mortality in PH patients. Univariable analysis using the Cox model showed that severely reduced LV GLS > −14.2%, with good sensitivity (77.8%) and high specificity (93.5%) indicated an increase of the risk of death by 11-fold. LV GLS significantly correlated in PH patients with RV ESVI (
r
= 0.322,
p
= 0.035), RV EF (
r
= 0.444,
p
< 0.003).
Conclusions
: LV systolic function and LV global longitudinal strain measurements using CMR-FT correlates with RV dysfunction and is associated with poor clinical outcomes in precapillary PH patients.
View Full-Text
►

▼

Figures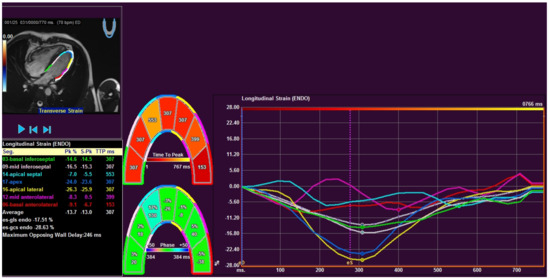 Figure 1
This is an open access article distributed under the
Creative Commons Attribution License
which permits unrestricted use, distribution, and reproduction in any medium, provided the original work is properly cited (CC BY 4.0).

Share & Cite This Article
MDPI and ACS Style
Padervinskienė, L.; Krivickienė, A.; Hoppenot, D.; Miliauskas, S.; Basevičius, A.; Nedzelskienė, I.; Jankauskas, A.; Šimkus, P.; Ereminienė, E. Prognostic Value of Left Ventricular Function and Mechanics in Pulmonary Hypertension: A Pilot Cardiovascular Magnetic Resonance Feature Tracking Study. Medicina 2019, 55, 73.
Note that from the first issue of 2016, MDPI journals use article numbers instead of page numbers. See further details here.
Comments
[Return to top]