Evaluation of the Second Follicular Wave Phenomenon in Natural Cycle Assisted Reproduction: A Key Option for Poor Responders through Luteal Phase Oocyte Retrieval
1
Centre for Human Reproduction, Genesis Athens Clinic, 15232 Chalandri, Greece
2
Department of Physiology, Medical School, National and Kapodistrian University of Athens, 11527 Athens, Greece
3
Assisted Conception Unit, 2nd Department of Obstetrics and Gynaecology, Aretaieion Hospital, Medical School, National and Kapodistrian University of Athens, 11526 Athens, Greece
4
Department of Physiology, Medical School, Democritus University of Thrace, 68100 Alexandroupolis, Greece
*
Author to whom correspondence should be addressed.
Received: 20 September 2018 / Revised: 8 January 2019 / Accepted: 6 March 2019 / Published: 14 March 2019
Abstract
Background
: Emergence of Luteal Phase Oocyte Retrieval (LuPOR) may revolutionize the practice regarding the time-sensitive nature of poor responders ascertaining a higher number of oocytes, in a shorter amount of time. This may be especially important in view of employing the approach of natural cycles for Poor Responders. We suggest the acronym LuPOR describing the clinical practice of luteal phase oocyte retrieval. The aim of the study is to offer insight regarding the identity of LuPOR, and highlight how this practice may improve management of the special subgroup of poor responders.
Materials and Methods
: The present retrospective observational clinical study includes the collection and statistical analysis of data from 136 poor responders who underwent follicular oocyte retrieval (FoPOR) and subsequent LuPOR in natural cycles, during their In Vitro Fertilization (IVF) treatment, from the time period of 2015 to 2018. All 136 participants were diagnosed with poor ovarian reserve (POR) according to Bologna criteria. The 272 cycles were categorized as follows: 136 natural cycles with only FoPORs (Control Group) and 136 natural cycles including both FoPORs and LuPORs.
Results
: Our primary results indicate no statistically significant differences with regards to the mean number of oocytes, the maturation status, and fertilization rate between FoPOR and LuPOR in natural cycles. Secondarily, we demonstrate a statistically significant higher yield of oocytes (2.50 ± 0.78 vs. 1.25 ± 0.53), better oocyte maturity status (1.93 ± 0.69 vs. 0.95 ± 0.59) and higher fertilization rate (1.31 ± 0.87 vs. 0.61 ± 0.60) in natural cycles including both FoPOR and LuPOR, when compared to cycles including only FoPOR.
Conclusion
: Our study may contribute towards the establishment of an efficient poor responders' management through the natural cycle approach, paving a novel clinical practice and ascertaining the opportunity to employ oocytes and embryos originating from a luteal phase follicular wave.
View Full-Text
►

▼

Figures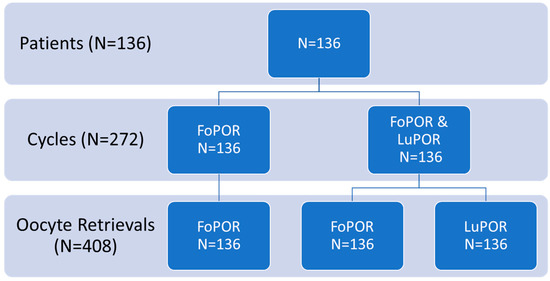 Figure 1
This is an open access article distributed under the
Creative Commons Attribution License
which permits unrestricted use, distribution, and reproduction in any medium, provided the original work is properly cited (CC BY 4.0).

Share & Cite This Article
MDPI and ACS Style
Sfakianoudis, K.; Simopoulou, M.; Maziotis, E.; Giannelou, P.; Tsioulou, P.; Rapani, A.; Pantou, A.; Petroutsou, K.; Angeli, I.; Deligeoroglou, E.; Koutsilieris, M.; Pantos, K. Evaluation of the Second Follicular Wave Phenomenon in Natural Cycle Assisted Reproduction: A Key Option for Poor Responders through Luteal Phase Oocyte Retrieval. Medicina 2019, 55, 68.
Note that from the first issue of 2016, MDPI journals use article numbers instead of page numbers. See further details here.
Comments
[Return to top]