Open Access This article is
freely available
re-usable
Case Report
An Atypical Case of Idiopathic Pulmonary Fibrosis in a Patient from Africa
1
Department of Respiratory Medicine and Allergy, Section of Respiratory Disease and Allergy, B4:09, Karolinska University Hospital, 171 76 Stockholm, Sweden
2
Respiratory Medicine Unit, Department of Medicine, Solna, Karolinska Institutet, 171 76 Stockholm, Sweden
3
Department of Pathology, Karolinska University Hospital, 171 76 Stockholm, Sweden
4
Department of Oncology-Pathology, Karolinska Institutet, 171 76 Stockholm, Sweden
*
Author to whom correspondence should be addressed.
Received: 11 February 2019 / Accepted: 11 March 2019 / Published: 14 March 2019
Abstract
:
A 39 years old African man presented with fatigue, loss of weight and night sweats; radiology showed a possible usual interstitial pneumonia pattern. The patient missed follow-up visits, and presented again after 3 years with productive cough and general illness. Pulmonary function tests showed a decline of FVC compared to a previous investigation. The CT scans showed progression of the interstitial lung disease, and a multidisciplinary conference recommended to proceed with a surgical lung biopsy. Histopathology showed an atypical pattern, with bronchiolar metaplasia. A new multidisciplinary conference made a diagnosis of IPF, and the patient was treated with antifibrotic drugs with a good effect, reaching stability of lung function. This case report highlights the need to improve knowledge and to better characterize rare pulmonary diseases, and especially IPF, among African patients.
Keywords:
idiopathic pulmonary fibrosis; antifibrotic treatment; peribronchiolar metaplasia
1. Introduction
Idiopathic pulmonary fibrosis (IPF) is a progressive disease with many suggested etiologies and with an uncertain incidence [
1
,
2
]. The diagnosis of IPF is mostly made by radiology if a pattern of usual interstitial pneumomia (UIP) is seen. It has been suggested that IPF incidence is higher in Europe and North America, while it is lower in Asia and South America [
3
]. The clinical presentation and course of the disease may differ among different countries, thus many genes has been found to be related to IPF [
4
]. However, very little is known about incidence and presentation of IPF in Africa. This case report illustrates a relatively young African patient, with an atypical presentation, who finally was diagnosed with IPF.
3. Discussion
This clinical case highlights important issues in the diagnosis and treatment of interstitial and rare lung diseases such as IPF, especially in relatively unexplored groups of patients. The diagnosis of IPF may be particularly difficult in patients from countries where little is known about the disease: the presentation of IPF may vary depending on ethnic and genetic backgrounds [
4
], and the epidemiology of IPF in Africa is still unknown [
3
]. For example, an epidemiological study from a multi-ethnic county in Paris showed a higher prevalence of IPF among North Africans compared to Europeans and Afro-Caribbeans (26.9 vs. 5.8 and 4.2 per 100,000, respectively) [
5
]. On the other hand, a study in the U.S. comparing characteristics between different ethnic groups showed that Whites were more likely to have the diagnosis IPF on their death certificate compared to Blacks while Blacks were more likely to die at a younger age and with pulmonary hypertension [
6
]. Although these findings are not conclusive, they suggest different presentations of the disease in different ethnic groups. Furthermore, the available recommendations [
1
,
2
] which are even used in African countries [
7
], are based on studies performed in Europe and North America.
Our patient presented at a younger age, affected already by other comorbidities, and with a radiological pattern of possible UIP. The histopathology showed an atypical UIP pattern with peribronchiolar metaplasia (described by Fukuoka et al. [
8
]), and an aggressive approach and a careful multidisciplinary evaluation were required to reach a diagnosis of IPF. The patient was therefore treated with antifibrotics, achieving stability of lung function. After 10 years, the radiological CT pattern was clearly compatible with IPF.
The patient's lung function results were computed using the Swedish reference values; again, very little is known about lung function reference values in African populations, and this question has only recently been explored in Sub–Saharan African countries like Nigeria [
9
]: we may have underestimated the severity of the disease in our patient, due to the lack of appropriate reference values.
4. Conclusions
This case report highlights the lack of solid evidence and the need for large studies to characterize the presentation and course of interstitial and rare lung diseases among African patients.
An aggressive approach with multidisciplinary evaluation by expert physicians may be necessary to depict similarities and differences of disease such as IPF, in comparison to what is described in the international literature.
Author Contributions
Conceptualization, G.F. and I.P.; writing—original draft preparation, I.P., G.F. and C.O.; writing—review and editing, I.P., G.F. and C.O.
Funding
This research received no external funding.
Conflicts of Interest
I.P. received fees for lectures from Boheringer Ingelheim and Roche. C.O. received fees for lectures from Boheringer Ingelheim and Roche. G.F. received fees for lectures from Boheringer Ingelheim and Roche.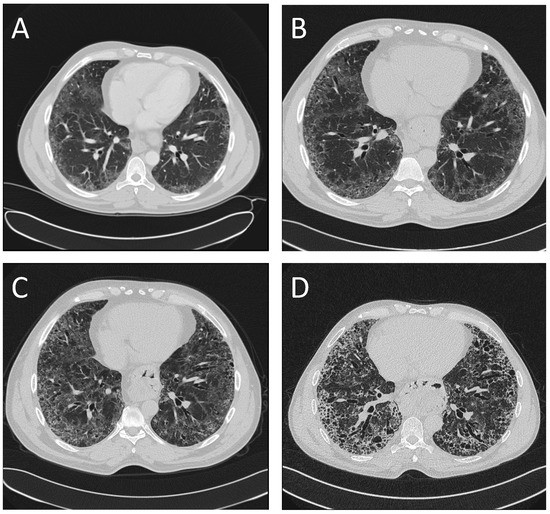 Figure 1. Evolution of the radiological pattern over time, showing basal bilateral reticular changes and ground glass peripheral infiltrates at the presentation of the disease (A), development of traction bronchioloectasis and clear honeycombing ((B), scans after 3 and (C), scans after 6 years), and finally a clear usual interstitial pneumonia (UIP) pattern after 10 years (D).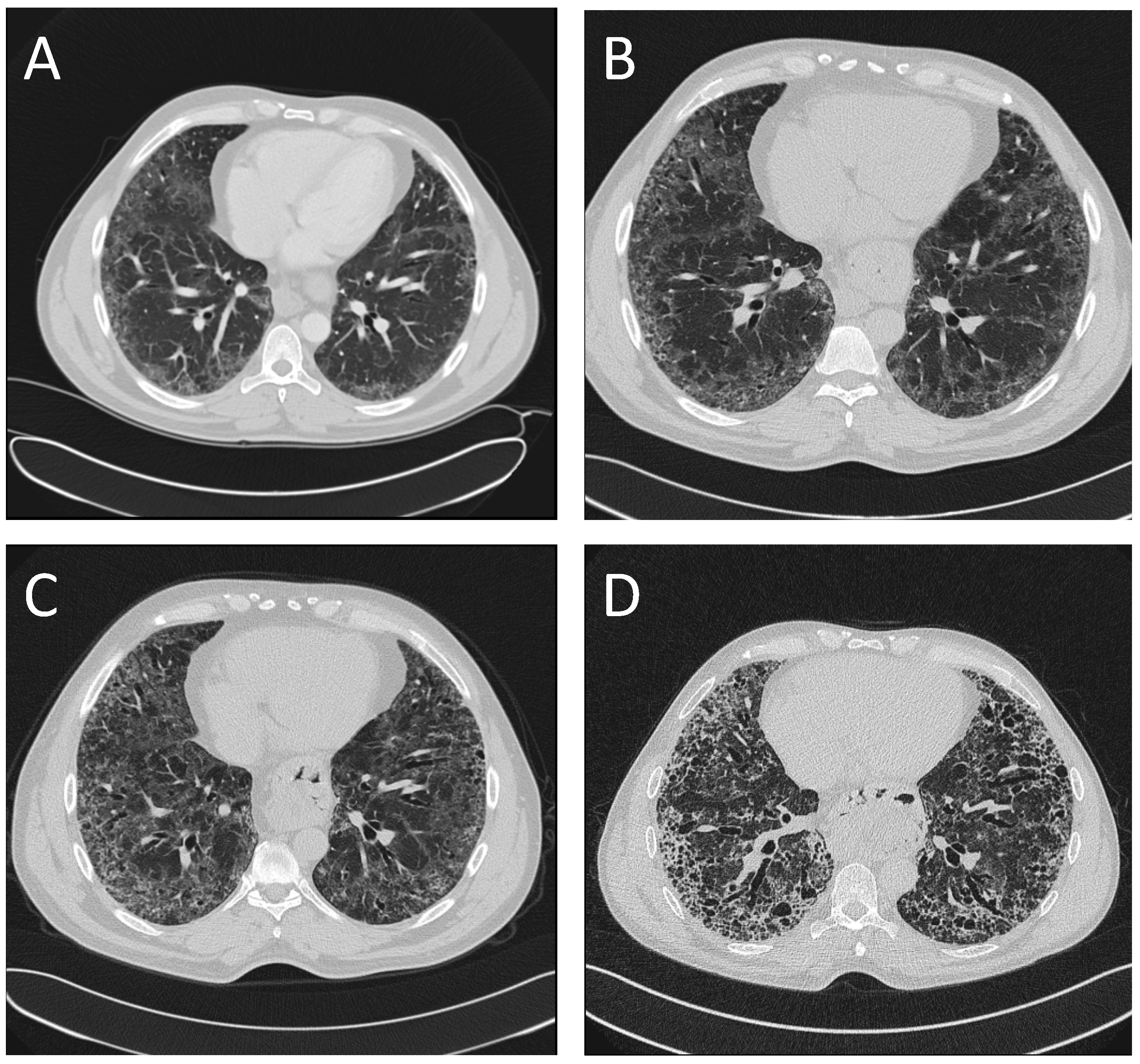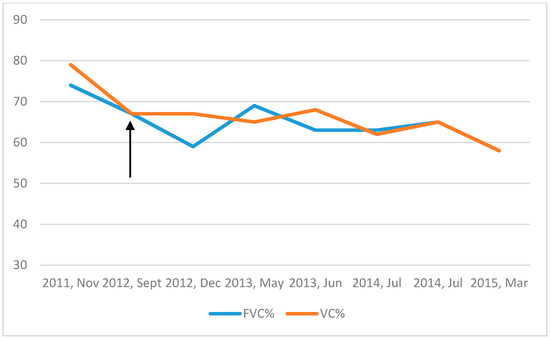 Figure 2. Forced vital capacity, per cent of predicted (FVC%) and vital capacity, per cent of predicted (VC%), showed stable values after the start of antifibrotic treatment (arrow).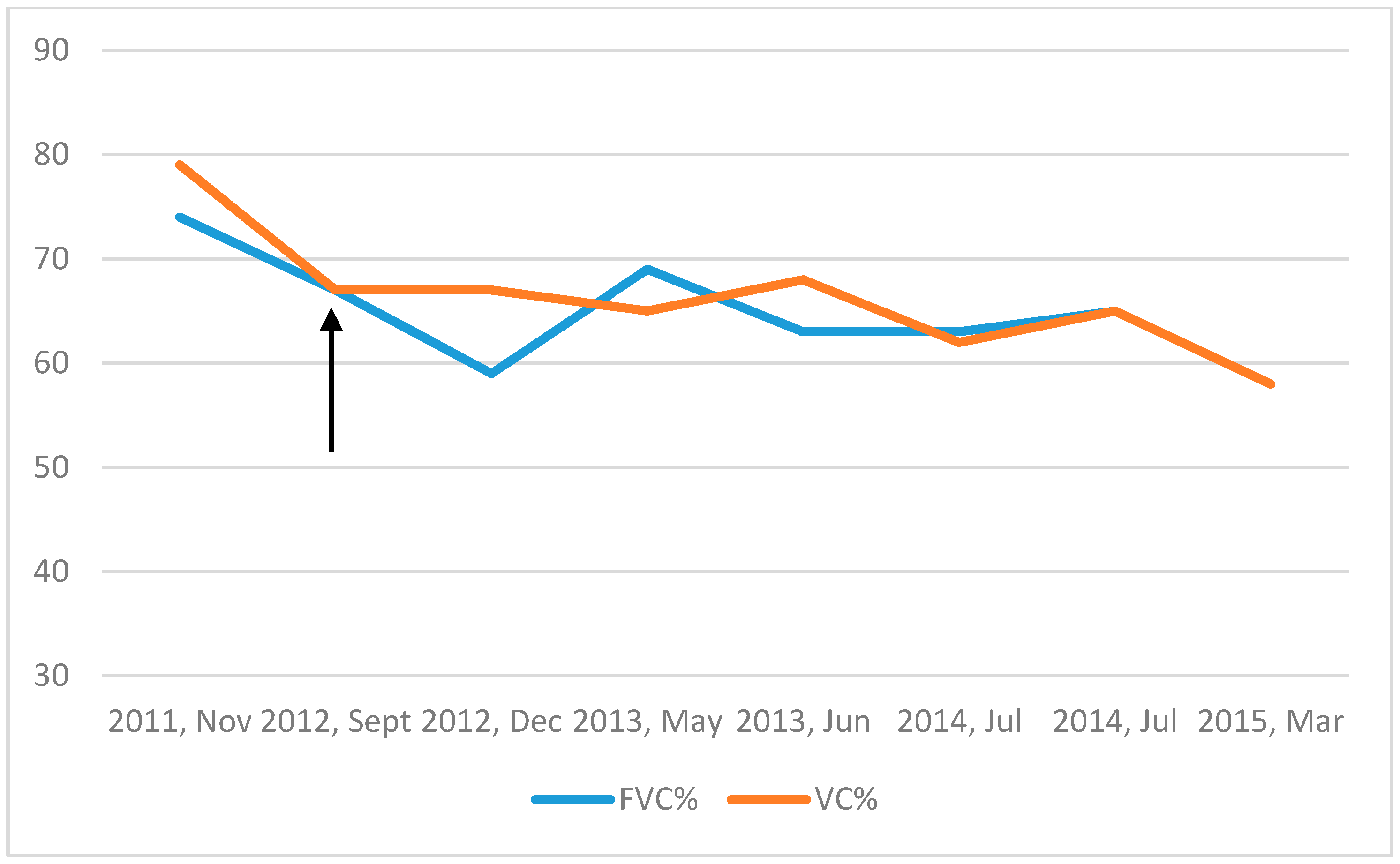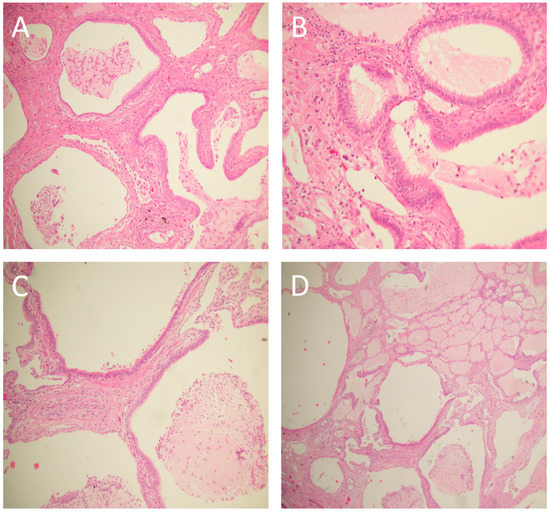 Figure 3. Lung biopsy of the patient. Hematoxylin and eosin-stained (H&E) images of peribronchiolar metaplasia: (A) H&E 10×, showing peribronchiolar proliferation of respiratory-bronchial epithelium lining thickened–fibrotic alveolar walls. (B,C) H&E 20×, at higher magnification the metaplastic epithelium consists of columnar-cuboidal ciliated cells without atypia and absence of goblet cells. (D) H&E 10×, peribronchiolar metaplasia associated with a probable usual interstitial pneumonia (UIP)/idiopathic pulmonary fibrosis (IPF) showing heterogeneous interstitial fibrosis with honeycomb, associated with nonfibrotic areas of normal lung parenchyma.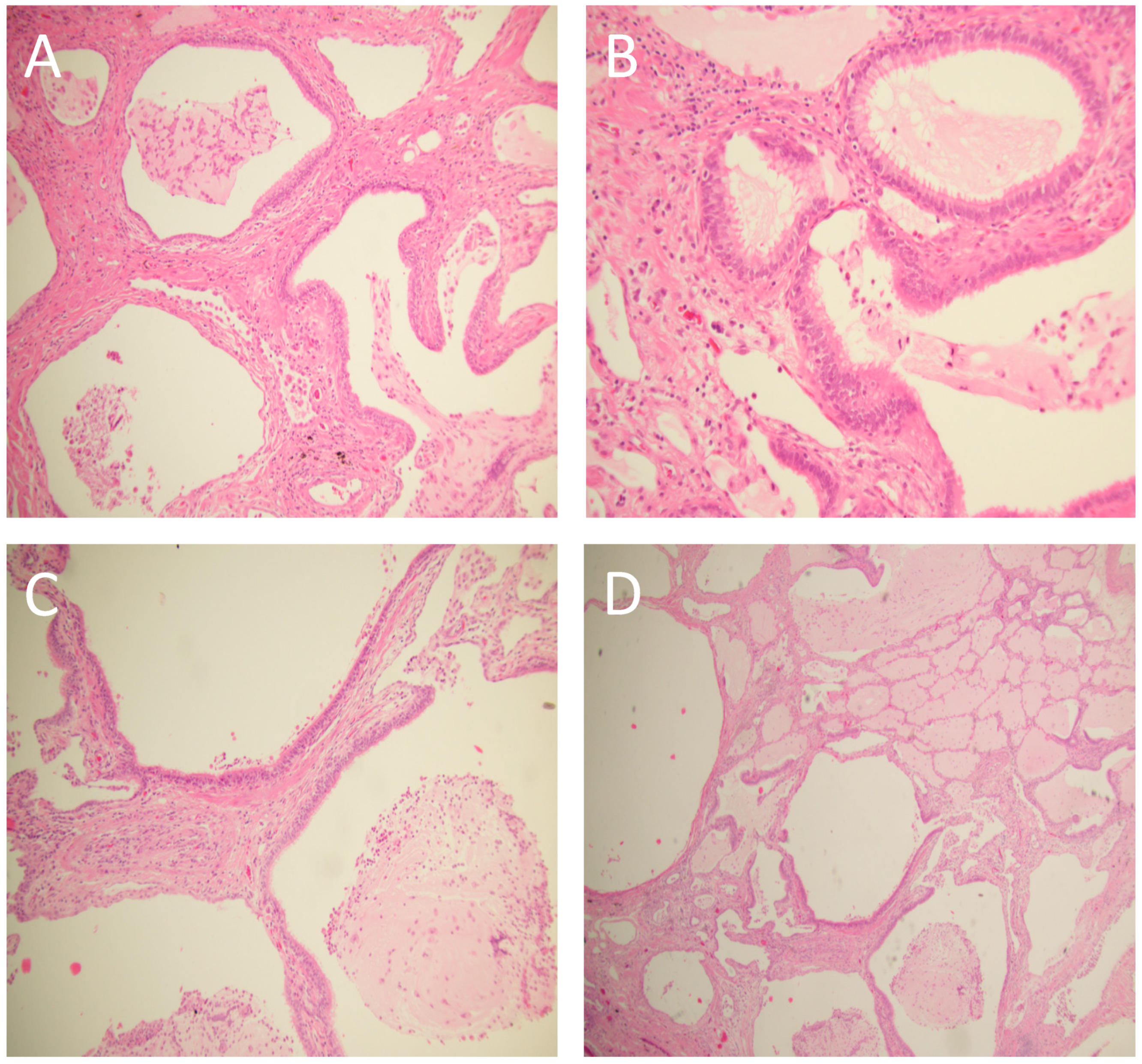 © 2019 by the authors. Licensee MDPI, Basel, Switzerland. This article is an open access article distributed under the terms and conditions of the Creative Commons Attribution (CC BY) license (http://creativecommons.org/licenses/by/4.0/).