Open Access This article is
freely available
re-usable
Review
Use of Magnetic Resonance Imaging in Evaluating Fetal Brain and Abdomen Malformations during Pregnancy
1
Department of Radiology, Nuclear Medicine and Medical Physics, Faculty of Medicine, Institute of Biomedical Sciences, Vilnius University, M. K. Čiurlionio g. 21, 03101 Vilnius, Lithuania
2
Faculty of Medicine, Vilnius University, M. K. Čiurlionio g. 21, 03101 Vilnius, Lithuania
3
Faculty of Medicine, Institute of Clinical Medicine, Vilnius University Clinic of Obstetrics and Gynaecology, Vilnius University Hospital Santaros Clinics, Santariškių g. 2, 08661 Vilnius, Lithuania
4
Faculty of Medicine, Institute of Clinical Medicine, Vilnius University Centre of Anaesthesiology, Intensive Care and Pain Treatment, Vilnius University Hospital Santaros Clinics, Santariškių g. 2, 08661 Vilnius, Lithuania
*
Author to whom correspondence should be addressed.
Received: 15 November 2018 / Accepted: 11 February 2019 / Published: 17 February 2019
Abstract
:
Magnetic resonance imaging (MRI) is used as a clarifying technique after a high-resolution ultrasound examination during pregnancy. Combining ultrasound with MRI, additional diagnostic information is obtained or ultrasound diagnosis is frequently corrected. High spatial resolution provides accurate radiological imaging of internal organs and widens possibilities for detecting perinatal development disorders. The safety of MRI and the use of intravenous contrast agent gadolinium are discussed in this article. There is no currently available evidence that MRI is harmful to the fetus, although not enough research has been carried out to prove enduring safety. MRI should be performed when the benefit outweighs the potential side effects. The narrative review includes several clinical cases of fetal MRI performed in Vilnius University Hospital Santaros Clinics.
Keywords:
fetal MRI; pregnancy; gadolinium
1. Introduction
Although ultrasound remains a major and preferred radiological study during pregnancy, due to its wide availability, low cost and safety, the benefits and possibilities of using magnetic resonance imaging (MRI) are rapidly developing. During pregnancy, a high-resolution ultrasound examination is usually followed by magnetic resonance imaging to clarify the results. The quality of MRI is not affected by factors such as maternal fatty layer, fetal position, overlap of bone structures and oligohydramnios. The optimal time to perform MRI depends on which pathology is suspected by ultrasound. Fetal organs up to 18 weeks are underdeveloped, fetal movements are increased, and some pathologies might not have been developed yet (i.e., cortical dysplasia) [
1
]. Although MRI can be performed at any time during pregnancy, it is usually performed at 20 weeks pregnant and onwards, when the fetal organs are already of sufficient size to be visualised. A team of specialists is often required with experience in obstetrics, gynecology and fetal magnetic resonance imaging [
2
]. After MRI is performed, the fetus anatomy is evaluated in detail. During this procedure, the examiner evaluates the volume of amniotic fluid, the placenta's position, its size and signal intensity in the uterus, the length and anatomy of the umbilical cord, the maternal uterus and the adnexa. The birth canal can also be assessed [
3
]. In this paper we discuss the two cases of magnetic resonance examination performed for fetal brain and abdomen malformations.
2. Fetal MRI Sequences
The adoption of ultrafast MRI sequences has led to an extreme improvement of fetal MRI by diminishing artifacts caused by an excessive fetal motion and the necessity to use sedation during this examination. Turbo spin echo is a standard sequence for fetal MRI examination using single time repetition (TR single shot) also known as single-shot fast spin echo (SSFSE). This sequence is based on a single slice acquisition in a very short time repetition (TR) (<3 ms) so the artifacts can be efficiently reduced. Two types of T1-w sequences are used: gradient echo (GE), with short TR and time echo (TE), and fast spin echo (FSE-T1). FSE-T1 grants improved spatial resolution but needs about 20 s of apnea, while GE requires 14–15 s of breath-holding but provides us with reduced spatial resolution. In contrast to T2-weighted SSFSE, slices in the gradient-echo sequence are acquired simultaneously meaning that even a slight fetal movement reflects in all slices as a motion artifact. T1-weighted sequences provide less information compared to T2-weighted SSFSE sequences, however, in T1 sequences, the organs such as pituitary gland, cortex and myelinated fibers are represented by a hyperintensive signal which allows the detection of hemorrhage or fat lesions. Fetal brain contains free fluid that increases the contrast between the cortex, basal ganglia and white matter in T1-weighted sequences with fat suppression [
4
,
5
].
3. Evaluating the Fetal Brain
Fetal magnetic resonance is a particularly informative technique to evaluate sonographically suspected abnormalities of the central nervous system. The most frequent fetal MRI indications are ventriculomegaly, agenesis of corpus callosum and the posterior fossa malformations.
4. Evaluating the Fetal Abdomen
6. Conclusions
Fetal MRI is a rapidly evolving technique in perinatology due to its accuracy and excellent quality of images. In many cases, the combination of fetal MRI with high-quality ultrasound facilitates additional diagnostic information which widens the possibilities for detecting early perinatal development disorders. Fetal MRI does not use ionizing radiation and is assumed to be safe, however, there is not enough evidence to prove its long-term safety.
Author Contributions
All authors contributed in conception and revision of the manuscript. All authors approved the final version of the manuscript.
Funding
This research received no external funding.
Conflicts of Interest
The authors declare no conflict of interest.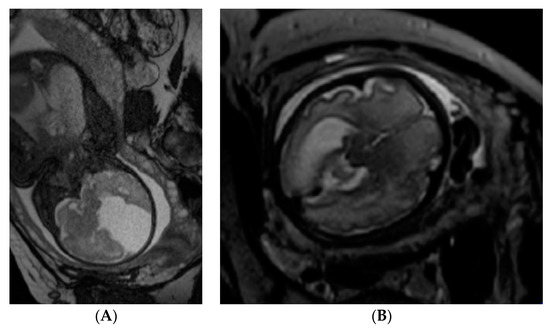 Figure 1. (A,B) Coronal and axial MRI scans of the fetuses brain. Left posterior and temporal horn was dilated—18 mm. From cisterna ambient interhemispheric fissure O-P-F and liquor collections O-P-F 6.7 × 3.3 cm with septum. Signs of corpus callosum agenesis.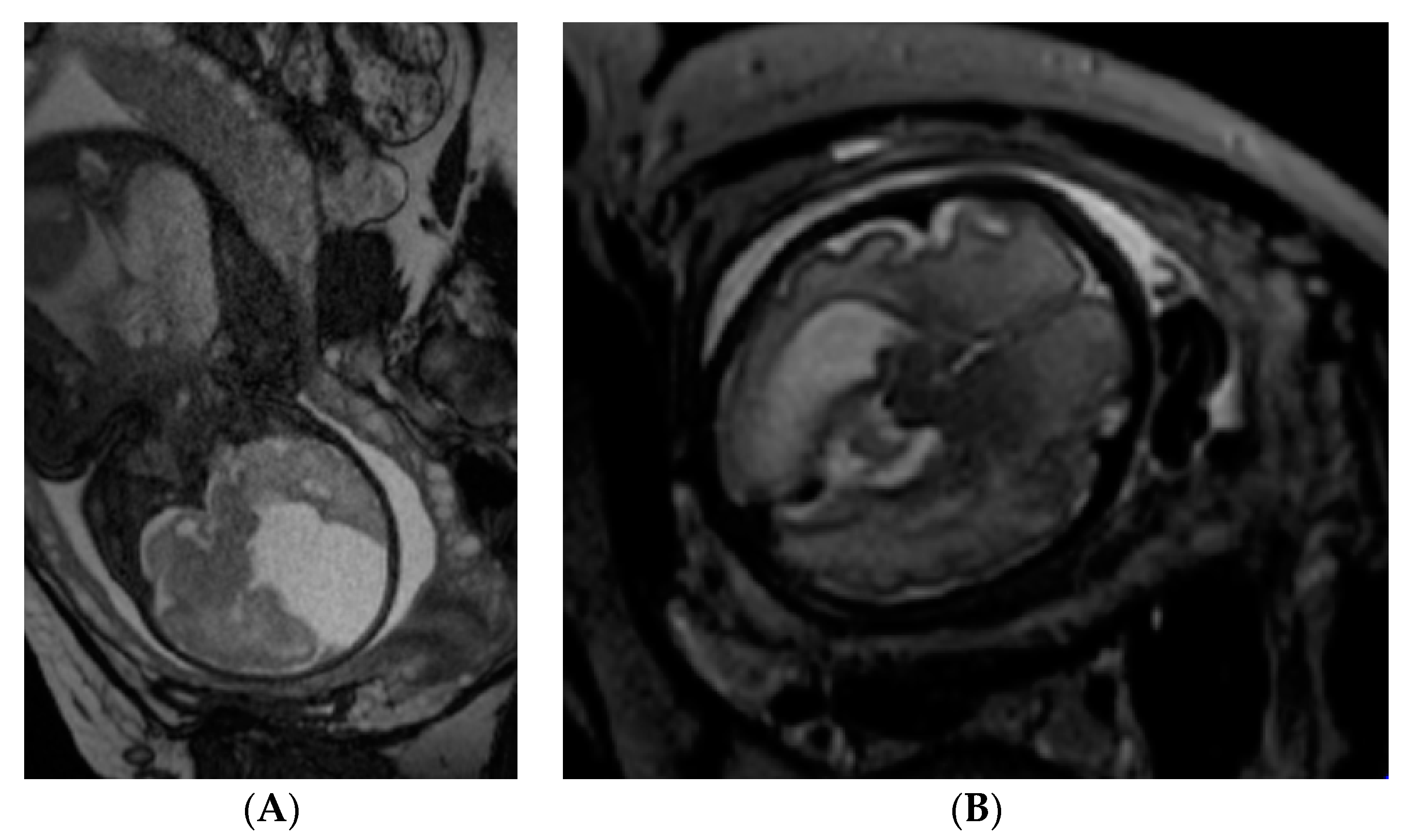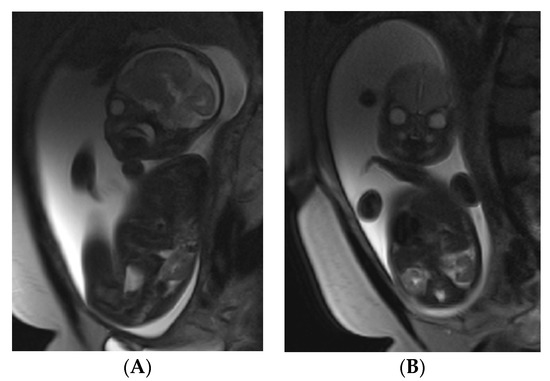 Figure 2. (A,B) Sagittal and coronal MRI scan of the fetus. Herniation in the left side of the diaphragm, the stomach, bowel loops and the left liver lobe in the chest cavity.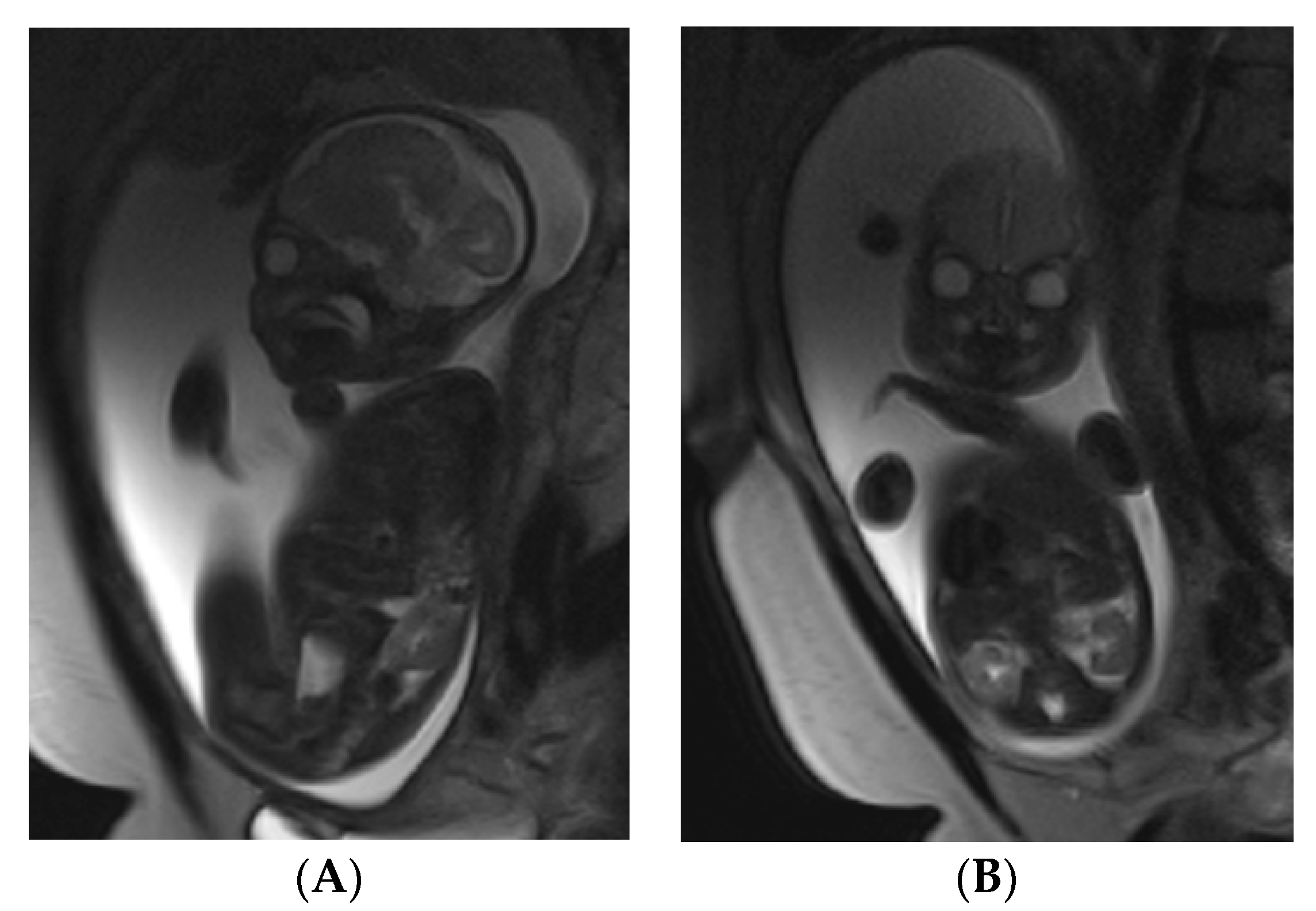 © 2019 by the authors. Licensee MDPI, Basel, Switzerland. This article is an open access article distributed under the terms and conditions of the Creative Commons Attribution (CC BY) license (http://creativecommons.org/licenses/by/4.0/).