Comparison of 30-Day MACE between Immediate versus Staged Complete Revascularization in Acute Myocardial Infarction with Multivessel Disease, and the Effect of Coronary Lesion Complexity
1
Department of Cardiology, Kosuyolu Heart Education and Research Hospital, University of Health Sciences, 34844 Istanbul, Turkey
2
Department of Cardiology, Hisar Intercontinental Hospital, 34844 Istanbul, Turkey
3
Department of Cardiology, Kahraman Maraş Sütçü İmam University, 46000 Kahraman Maraş, Turkey
*
Author to whom correspondence should be addressed.
Received: 6 January 2019 / Revised: 8 February 2019 / Accepted: 12 February 2019 / Published: 15 February 2019
Abstract
Background and objective:
In patients with acute myocardial infarction and multivessel disease, the timing of intervention to non-culprit lesions is still a matter of debate, especially in patients without shock. This study aimed to compare the effect of multivessel intervention, performed at index percutaneous coronary intervention (PCI) (MVI-I) or index hospitalization (MVI-S), on the 30-day results of acute myocardial infarction (AMI), and to investigate the effect of coronary lesion complexity assessed by the Syntax (Sx) score on the timing of multivessel intervention.
Materials and methods:
We enrolled 180 patients with MVI-I, and 425 patients with MVI-S. The major adverse cardiovascular events (MACE) for this study were identified as mortality, nonfatal myocardial infarction, nonfatal stroke, acute heart failure, ischemia driven revascularization, major bleeding, and acute renal failure developed within 30 days.
Results:
The unadjusted MACE rates at 30 days were 11.2% and 5% among those who underwent MVI-I and MVI-S, respectively (OR 3.02; 95% confidence interval (CI) 1.51–6.02;
p
= 0.002). Associations were statistically significant after adjusting for covariates in the penalized multivariable model (adjusted OR 2.06; 95%CI 1.02–4.18;
p
= 0.043), propensity score adjusted multivariable model (adjusted OR 2.46; 95%CI 1.19–5.07;
p
= 0.015), and IPW (adjusted OR 2.11; 95%CI 1.28–3.47;
p
= 0.041). We found that the Syntax score of lesions did not affect the results. Conclusion: MVI-S was associated with a lower incidence of major adverse cardiovascular events within 30 days after discharge.
View Full-Text
►

▼

Figures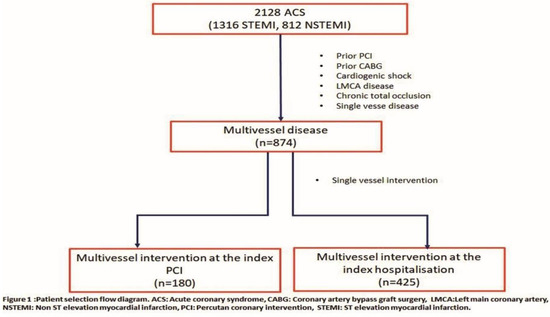 Figure 1
This is an open access article distributed under the
Creative Commons Attribution License
which permits unrestricted use, distribution, and reproduction in any medium, provided the original work is properly cited (CC BY 4.0).

Share & Cite This Article
MDPI and ACS Style
Doğan, C.; Bayram, Z.; Çap, M.; Özkalaycı, F.; Unkun, T.; Erdoğan, E.; Uslu, A.; Acar, R.D.; Guvendi, B.; Akbal, Ö.Y.; Karagöz, A.; Hakgor, A.; Karaduman, A.; Uysal, S.; Aykan, A.; Kaymaz, C.; Özdemir, N. Comparison of 30-Day MACE between Immediate versus Staged Complete Revascularization in Acute Myocardial Infarction with Multivessel Disease, and the Effect of Coronary Lesion Complexity. Medicina 2019, 55, 51.
Note that from the first issue of 2016, MDPI journals use article numbers instead of page numbers. See further details here.
Comments
[Return to top]