Open Access This article is
freely available
re-usable
Article
An Innovative, Unobtrusive Approach to Investigate Smartphone Interaction in Nonaddicted Subjects Based on Wearable Sensors: A Pilot Study
1
Institute of Clinical Physiology-National Research Council of Italy (IFC-CNR), Via Moruzzi 1, 56124 Pisa, Italy
2
University of Pisa, School of Engineering, Largo Lucio Lazzarino 1, 56122 Pisa, Italy
*
Author to whom correspondence should be addressed.
Received: 18 December 2018 / Accepted: 31 January 2019 / Published: 4 February 2019
Abstract
:
Background and objectives:
Smartphones are playing a pivotal role in everyday life, due to the opportunity they grant in terms of simplifying communication, entertainment, education and many other daily activities. Against such positive characteristics, smartphone interaction can result, in particular cases, in dangerous smartphone addiction patterns, possibly leading to several long-term detrimental psychophysiological conditions. Therefore, this pilot aims at assessing the feasibility of using an innovative approach, based on unobtrusive wearable sensors, used for the first time in this specific topic, and psychological questionnaires, to investigate the links between stress and emotions in a group of young, nonaddicted individuals performing smartphone interaction.
Materials and methods:
17 volunteers were enrolled for the present study. The study protocol was divided into three phases, with an initial resting state (baseline) of three minutes, a smartphone interaction session (task) of the same length, and a final resting state (recovery), lasting three minutes. In the overall procedure, electrocardiogram (ECG) and galvanic skin response (GSR) measurements, both monitored by wearable sensors, were acquired in order to assess the functioning of the autonomic nervous system (ANS).
Results:
A significant decrease was seen in pNN50 during the smartphone interaction with respect to the baseline (
Z
= −2.675,
p
= 0.007), whereas the Low-to-High Frequency (LF/HF) ratio at task was somewhat correlated with phubbing behaviors (
r
= 0.655,
p
= 0.029), assessed through dedicated questionnaires.
Conclusions:
Taken together with the slight changes in GSR data, such results suggest the feasibility of this approach to characterize the ANS activation during smartphone interaction among young individuals. Further studies should enlarge the study population and involve smartphone-addicted subjects in order to increase the scientific and clinical relevance of such findings.
Keywords:
internet addiction; quality of life; smartphone addiction; social anxiety
1. Introduction
Nowadays, the employment of technologically advanced mobile devices, including smartphones, represents an essential part of daily life. According to statistics, the number of smartphone users worldwide will exceed 2.5 billion by 2018 [
1
], with higher penetration among younger people [
2
]. In Italy alone, 33.3 million smartphone users are estimated by 2018 [
3
], roughly representing 55% of the overall population, thanks to the various opportunities offered by those devices, spanning communication, following up on appointments and calls, social networking, entertainment, internet access, music, banking and education. The extreme versatility and attractiveness of such devices [
4
] can give rise to the so-called "smartphone addiction" [
5
], mainly frequent among young people (see, for example, [
6
,
7
]). Smartphone addiction is defined as an "uncontrolled and excessive use of the phone at a level that will affect the daily lives of users" [
8
,
9
], possibly leading to a range of negative consequences on daily life. Such effects include physical and psychological problems, such as disorders related to the musculoskeletal system, pain, impairment in daily routines, sleep disorders, decreased physical activity, stress, deprivation, decreased academic performance, and changes in family and social relationships, including loneliness, as well as in communication abilities [
10
,
11
,
12
,
13
]. A growing number of studies, mainly conducted on young individuals and students in particular, confirm the negative impact of excessive smartphone use on psychological wellbeing [
14
,
15
], with evidence also concerning aggression, worry and anger in subjects with problematic smartphone use [
16
]. In addition, the growing phenomenon of "phubbing", in which a person snubs another in a social setting by concentrating on their phone instead of having a conversation, highlights the real negative consequences of the lack of communication that detrimentally affects relationships and feelings of personal wellbeing [
17
].
Taken together, those facts could lead to serious long-term consequences, which could be extremely burdensome for civil society at large (see [
18
] for some examples).
In smartphone addiction, like in other kinds of dependence, including technological ones, people usually repeat the smartphone interaction behavior leading to addiction. This act usually brings them short-term positive feelings that give them pleasure [
6
]. On the other side, preventing a person from using their smartphone elicits symptoms of tension, restlessness and deprivation, as occurring, for example, in drug addiction [
19
,
20
].
The monitoring of such psychophysiological processes is often difficult to perform, sometimes requiring expensive processes difficult to undertake in real time and causing annoyance to the subject evaluated. The use of minimally obtrusive wearable sensors could reduce this burden, without, at the same time, sacrificing accurate and timely estimation of key psychophysiological parameters.
Therefore, in this work we aimed at: (i) evaluating the feasibility of using wearable sensors for the extraction of autonomic parameters; (ii) estimating the effect of smartphone interaction on such parameters, extracted from electrocardiogram (ECG) and galvanic skin response (GSR) signals, in nonaddicted young individuals; and (iii) assessing eventually existing relationships between smartphone interaction, autonomic parameters and psychological questionnaires describing smartphone/technology addiction, as well as some features related to social behavior.
3. Results
3.1. ECG Parameters
A significant difference was observed among the three phases described above in the pNN50 (
F
= 10.941,
p
= 0.004), with a significant decrease reported during the task with respect to baseline (
Z
= −2.675,
p
= 0.007), while no variations were seen between task and recovery data (
Figure 2
).
We failed to find significant differences for all the other ECG-related parameters, including heart rate (
F
= 0.471,
p
= 0.790), SDNN (
F
= 3.294,
p
= 0.193), normalized low frequency (
F
= 3.970,
p
= 0.137), normalized high frequency (
F
= 3.970,
p
= 0.137), and LF/HF ratio (
F
= 3.970,
p
= 0.137).
3.2. GSR Parameters
Both mean GSR (
F
= 17.714,
p
< 0.001,
Figure 3
) and tonic GSR (
F
= 16.714,
p
< 0.001) signals were significantly different between the three phases. Going into depth in this analysis, both mean GSR (
Z
= 2.668,
p
= 0.008) and tonic GSR (
Z
= 2.480,
p
= 0.013) were higher at task with respect to the baseline signal, however, both reached their respective peaks during the recovery, which displayed higher values with respect to the task (
Z
= 2.856,
p
= 0.004 for mean GSR,
Z
= 2.794,
p
= 0.005 for tonic GSR).
3.3. Questionnaires
After multiple comparison correction, a significant negative correlation was seen between Self-Control Scale and Internet Addiction Test scores (
r
= −0.679,
p
= 0.022), as well as between Self-Control Scale and Phubbing Score (
r
= −0.618,
p
= 0.043). No other correlations were retrieved.
3.4. Correlations between Physiological Signals and Questionnaires
Significant correlations (
Figure 4
) were reported between the LF/HF ratio acquired at task and the Phubbing Score (
r
= 0.655,
p
= 0.029), between the ΔLF/HF ratio (task-baseline) and the same Phubbing Score (
r
= 0.655,
p
= 0.029), and between the ΔLF/HF ratio (recovery-task) and the Total Phubbing Score (
r
= −0.769,
p
= 0.006). On the other hand, no significant correlations were found between GSR parameters and psychological questionnaires.
4. Discussion
Smartphone interaction does appear to bring to slight changes in some well-defined autonomic parameters extracted from ECG and GSR signals.
Limitations
The results obtained in this study should be taken into account in light of some limitations. At first, the pilot nature of this study, performed on a rather limited number of subjects, makes it impossible to draw generalizable conclusions about the effective relationship between psychophysiological signals and smartphone addiction, investigated through questionnaires. Therefore, future research should address this limit involving a larger number of volunteers in the analysis.
Secondly, the present work included data of nonaddicted subjects only. However, the most scientifically and clinically relevant retrievals should be looked for among addicted individuals, and future research will deal with this point.
Finally, the cross-sectional nature of this work is appropriate for the present investigation, but should be overcome in future studies, in order to assess causality of the relationship between stress/anxiety, smartphone addiction and related behavior.
5. Conclusions
Summarizing, the present work demonstrated the feasibility of this approach to characterize the ANS activation in response to smartphone interaction in a cohort of young, nonaddicted volunteers. Even in a relatively small cohort, a slight effect of this interaction in the sympathetic/parasympathetic overall balance was seen, with an increase of the sympathetic contribution during the task administration, somewhat correlated with some well-defined psychological characteristics connected to the technological addiction.
Future works could take advantage of the positive outcomes obtained by the present research, for example, by enlarging the study population to smartphone-addicted subjects, with the involvement of a larger cohort in order to obtain more statistically relevant results.
In addition, the use of further technological tools to extract physiological signals including, for example, wearable wireless systems for the acquisition of electroencephalography (EEG), could allow us to investigate the problem in more depth, without sacrificing, at the same time, the noninvasiveness of the proposed approach.
Author Contributions
Conceptualization, A.T., L.B., C.D., R.C.; data curation, A.T., L.B., A.M.; formal analysis, A.T., F.S., A.M., A.P.P.; investigation, A.T., L.B., A.M.; methodology, A.T., C.D., R.C.; project administration, A.T., C.D., R.C.; supervision, A.T.; writing-original draft, A.T., L.B., C.D., R.C.; writing-review and editing, A.T., L.B., C.D., R.C.
Funding
This research received no external funding.
Conflicts of Interest
The authors declare no conflict of interest.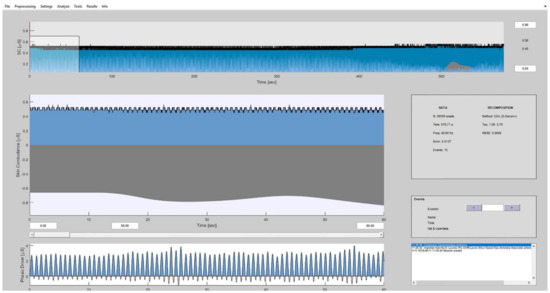 Figure 1. Matlab-based Ledalab interface for the analysis of the galvanic skin response (GSR) signal.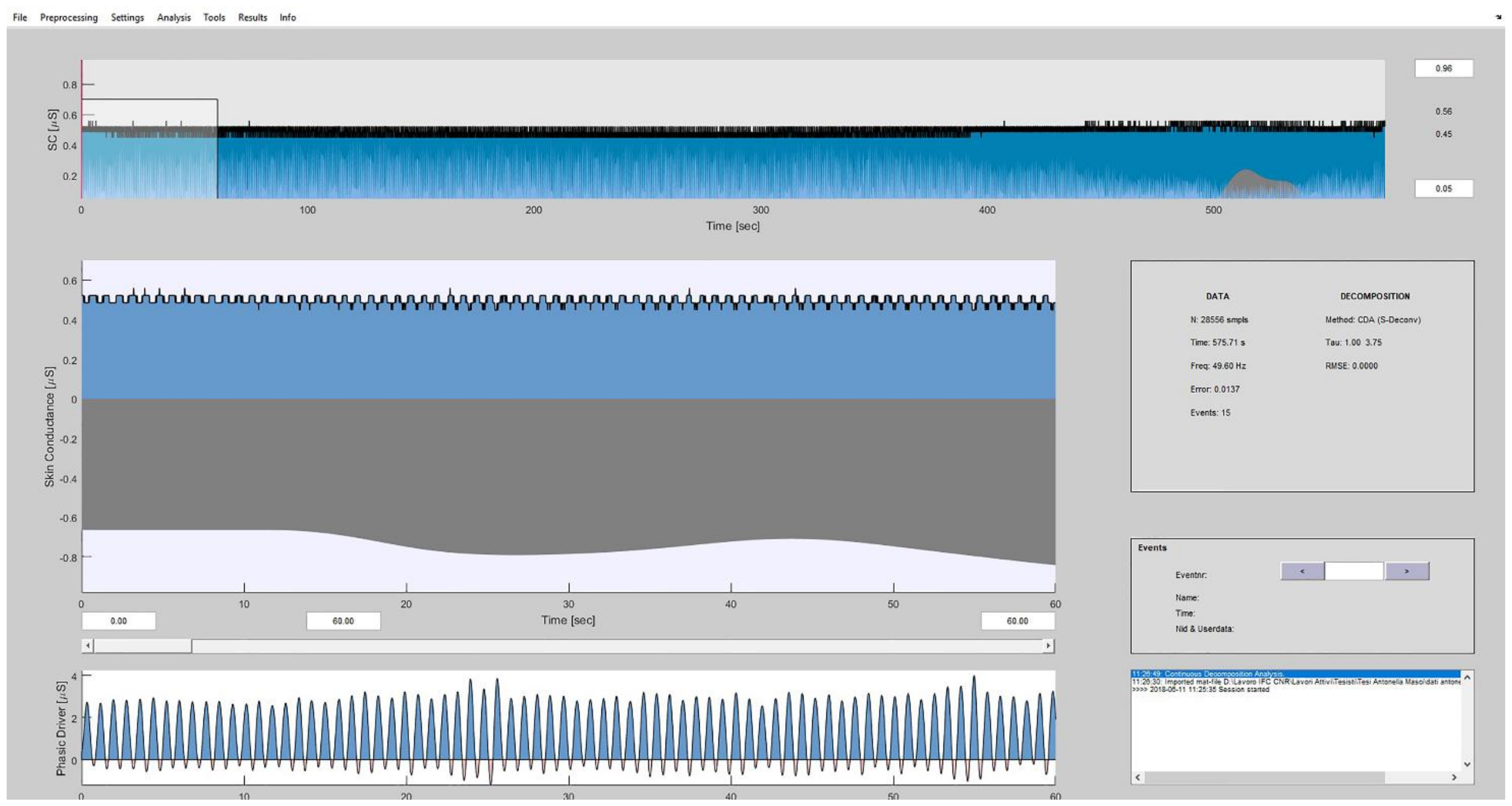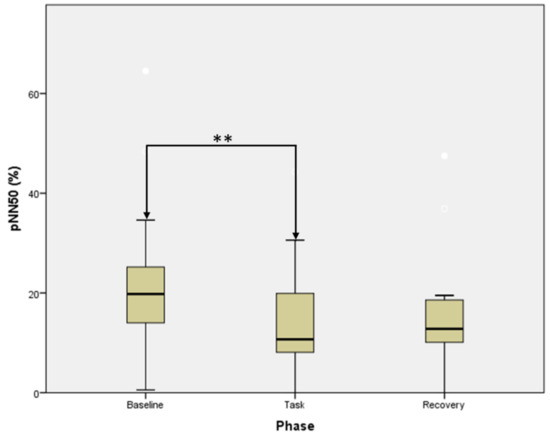 Figure 2.
pNN50 trend over the test phases (** statistical significance at
p
< 0.01 according to the Wilcoxon signed rank test). Error bars indicate the range of distribution; the box, the interquartile range; the horizontal line, median value.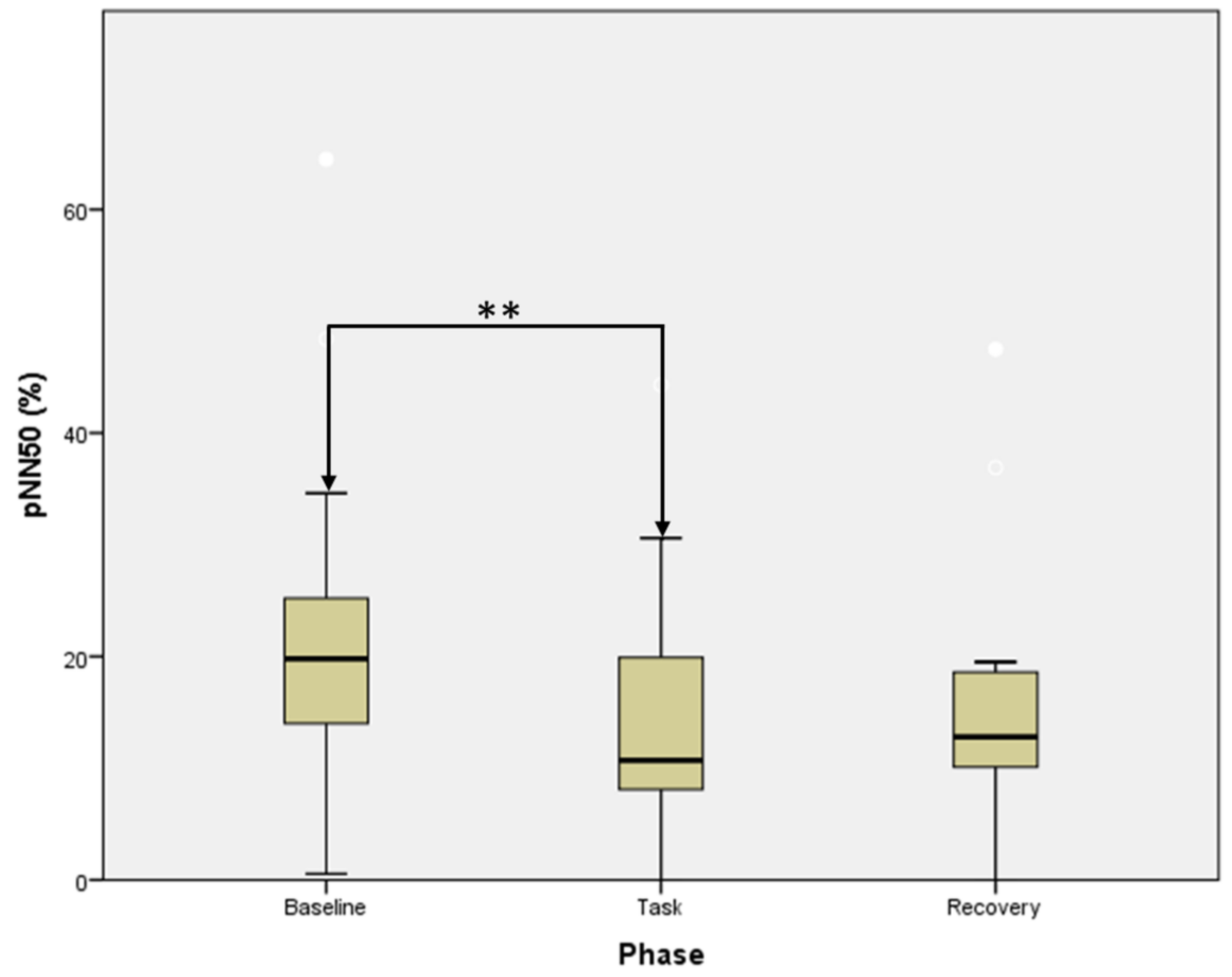 Figure 3.
Mean GSR trend over the test phases (* statistical significance at
p
< 0.05; ** statistical significance at
p
< 0.01 according to the Wilcoxon signed rank test). Error bars indicate the range of distribution; the box, the interquartile range; the horizontal line, median value.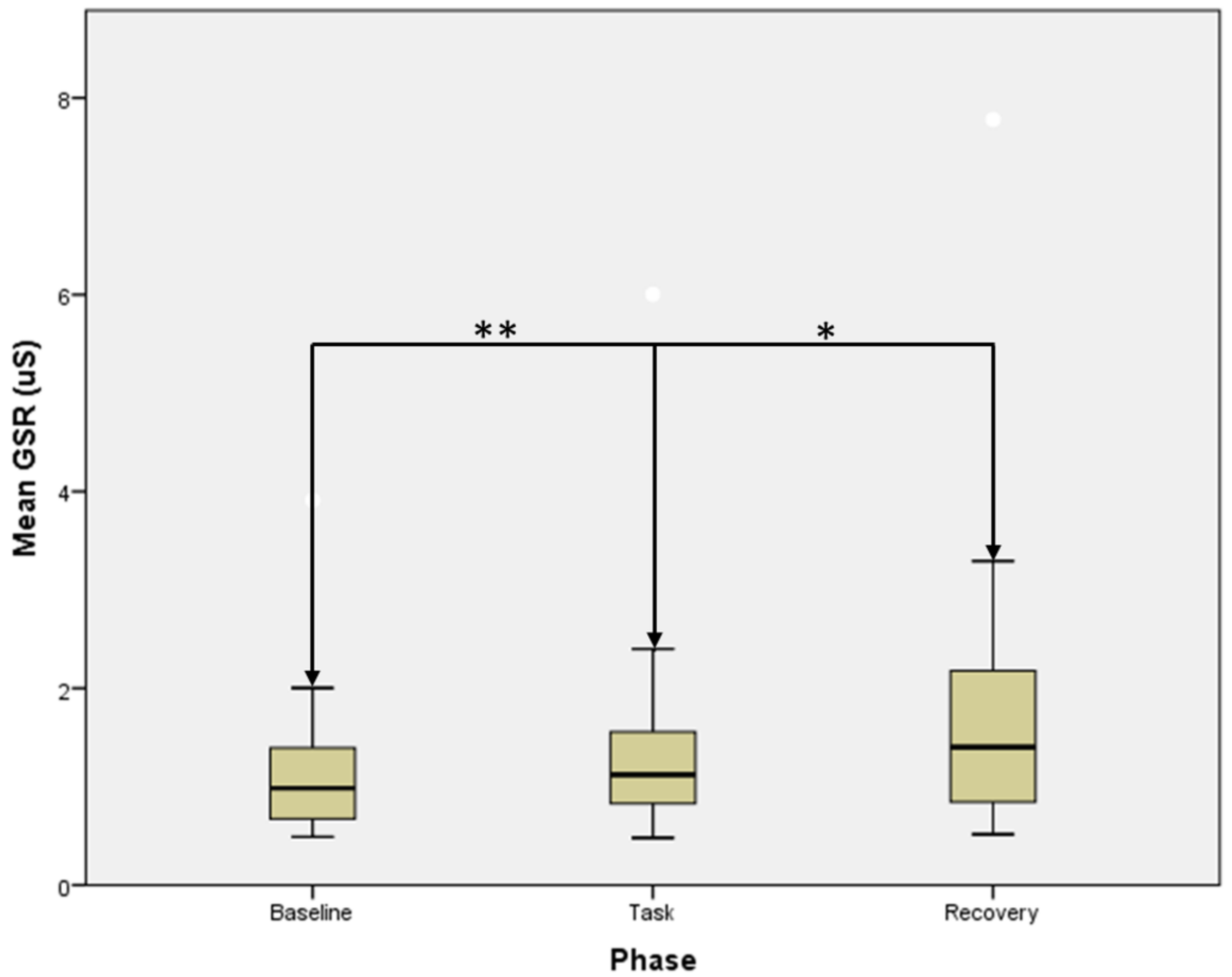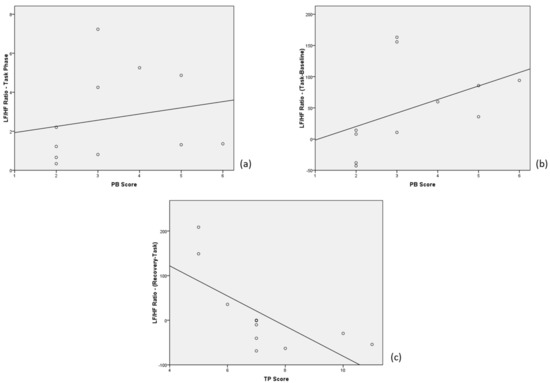 Figure 4. Significant correlations between physiological signals and questionnaires: (a) LF/HF (Low-to-High Frequency) ratio at task vs Phubbing Score (PB); (b) ΔLF/HF ratio (task-baseline) vs Phubbing Score (PB); (c) ΔLF/HF ratio (recovery-task) vs Total Phubbing Score (TP).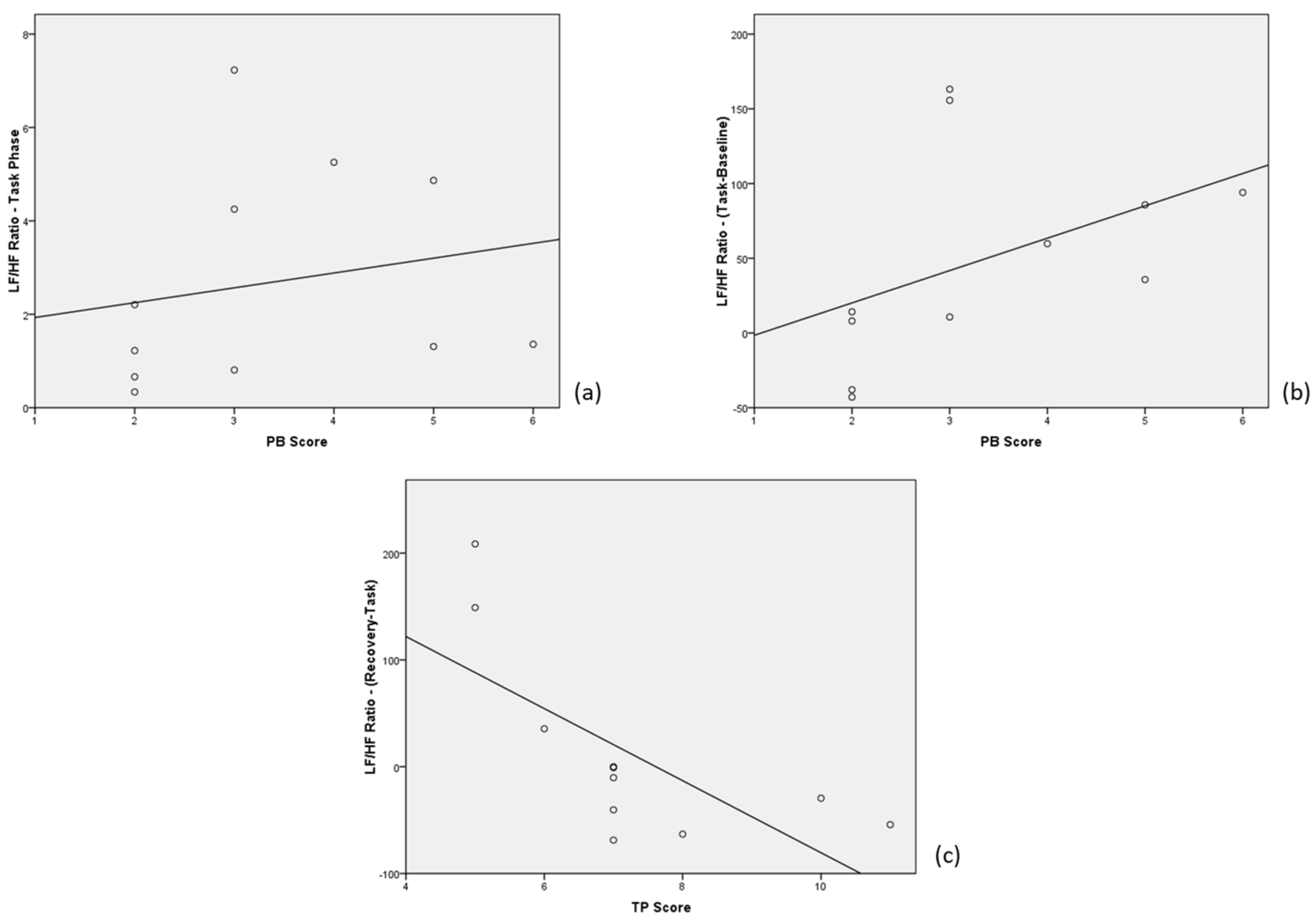 © 2019 by the authors. Licensee MDPI, Basel, Switzerland. This article is an open access article distributed under the terms and conditions of the Creative Commons Attribution (CC BY) license (http://creativecommons.org/licenses/by/4.0/).