Digenic Inheritance of
LAMA4

and

MYH7

Mutations in Patient with Infantile Dilated Cardiomyopathy

1

West Midlands Regional Genetics Laboratory, The Birmingham Women's and Children's NHS Foundation Trus, Birmingham B15 2TT, UK

2

Cardiogenetics Unit, Pediatrics Department, College of Medicine, Taibah University, Al-Madinah 30001, Saudi Arabia

3

Security Forces Medical Centre, Al-Madinah 30010, Saudi Arabia

4

Unit of Cardiogenetics Research, Division of Genetic Medicine, BT.02. 251, Beaumont 29, 1011 Lausanne, Switzerland

*

Author to whom correspondence should be addressed.

†

These authors contributed equally to this work.

Received: 23 November 2018 / Revised: 9 January 2019 / Accepted: 10 January 2019 / Published: 15 January 2019
Background and objectives
: Dilated cardiomyopathy (DCM) is a rare cardiac disease characterised by left ventricular enlargement, reduced left ventricular contractility, and impaired systolic function. Childhood DCM is clinically and genetically heterogenous and associated with mutations in over 100 genes. The aim of this study was to identify novel variations associated with infantile DCM.
Materials and Methods
: Targeted next generation sequencing (NGS) of 181 cardiomyopathy-related genes was performed in three unrelated consanguineous families from Saudi Arabia. Variants were confirmed and their frequency established in 50 known DCM cases and 80 clinically annotated healthy controls.
Results
: The three index cases presented between 7 and 10 months of age with severe DCM. In Family A, there was digenic inheritance of two heterozygous variants: a novel variant in
LAMA4
(c.3925G > A, p.Asp1309Asn) and a known DCM mutation in
MYH7
(c.2770G > A; p.Glu924Lys). The
LAMA4
p.Asp1309Asn variant was predicted to be likely pathogenic according to international guidelines. The other two families had no identifiable potentially deleterious variants.
Conclusions
: Inheritance of two genetic variants may have a synergistic or dose effect to cause severe DCM. We report of a novel p.Asp1309Asn variation associated with DCM. Targeted NGS is useful in the molecular diagnosis of DCM and to guide whole-family management and counselling.
View Full-Text
►

▼

Show Figures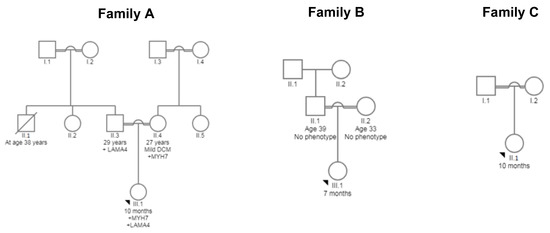 Figure 1
This is an open access article distributed under the
Creative Commons Attribution License
which permits unrestricted use, distribution, and reproduction in any medium, provided the original work is properly cited

MDPI and ACS Style
Abdallah, A.M.; Carlus, S.J.; Al-Mazroea, A.H.; Alluqmani, M.; Almohammadi, Y.; Bhuiyan, Z.A.; Al-Harbi, K.M. Digenic Inheritance of LAMA4 and MYH7 Mutations in Patient with Infantile Dilated Cardiomyopathy. Medicina 2019, 55, 17.
Show more citation formats
Show less citations formats
Note that from the first issue of 2016, MDPI journals use article numbers instead of page numbers. See further details
here
.